ROW International - vacations and travel
Galapagos Islands Adventure Cruises & Tours
"Thank you ROW for helping us choose the perfect cruise. "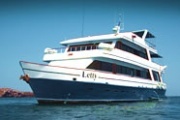 from $3,375* per person
7 Days
Year-round
Comfort accommodations

Exertion level: 3

Operator:

ROW International

20 people max
Quito, ecuador
Boats, Barges & Small Ship Cruises trips
Yachting and small ship tours are the traditional method for adventure travel in the Galapagos Islands. ROW offers its custom, one-of-a-kind multisport trip on the Galapagos Islands but also works with several reputable yacht owners to provide its guests with the more common, but less intimate, yacht tours.

For most people the Galapagos Islands are on the short-list of places they wish to explore. And rightly so. Few places on Earth allow for such close contact with a dazzling array of wildlife as the Galapagos Islands. Words truly cannot describe the intense feeling of wonder experienced while exploring these oceanic islands where the birds and animals have little or no fear of humans.

On ROW's Galapagos Islands adventure cruise you get up close and personal with sea lions, blue footed boobies, marine iguanas and giant Galapagos tortoises. You watch pelicans dive for fish, snorkel in transparent waters that are rich with diverse sea-life and, if you want, you can even swim with sharks.

The Galapagos Islands became a national park of Ecuador in 1959 and organized tourism began in the 1960s. In order to conserve this wealth of aquatic life, the Galapagos Marine Resources Reserve (GMRR), with waters totaling 27,000 square miles, was signed into law in 1986. This protects marine life within 15 nautical miles of shore.

Because of the famous natural history and remarkable creatures, the Galapagos Islands are revered the world over. Colorful fish and unique animals inhabit the waters around the Galapagos and delight divers and snorkelers. Seventeen percent of the fish and 35 percent of the marine invertebrates of the Galapagos Islands are found only on this isolated archipelago. Both land and marine animals exhibit bold curiosity and lack the fear that's typical of terrestrial wildlife.

ROW offers 7-day Galapagos adventure cruise trips on small ships that carry as few as eight passengers, and can also book trips on larger vessels that carry up to 100 passengers. Trips depart year-round and have comprehensive itineraries that visit the most spectacular sites in the tropical archipelago. Private charters are available for larger groups, and family-only Galapagos Island adventure tours are available on some of the yachts.
Locations visited/nearby
Galapagos islands , galapagos , Santa Cruz , Isabela , San Cristobal , Baltra , Kicker Rock , Sierra Negra , North Seymour , South Seymour , Cerro Brujo , Puerto Baquerizo Moreno , Puerto Villamil , Tintoreras , Los Tuneles , Isla Lobos, Ecuador, South America, Galapagos
2 testimonials about this trip
Reviewer:

L. Andrews

located in

St. Louis

,

MO

USA

"Thank you ROW for helping us choose the perfect cruise."

5

Reviewer:

J. Johnston

located in

Denver

,

CO

USA

"The yacht, guide and crew were all superb. Many thanks to Candy at ROW for setting this up so well."

5
0 testimonials about the provider, ROW International:
Comments from Facebook
Special information
This is a custom departure, meaning this trip is offered on dates that you arrange privately with the provider. Additionally, you need to form your own private group for this trip. The itinerary and price here is just a sample. Contact the provider for detailed pricing, minimum group size, and scheduling information. For most providers, the larger the group you are traveling with, the lower the per-person cost will be.
Itinerary
ROW offers Galapagos Island cruises on several different partner vessels. Each tour accommodates different group sizes and has an itinerary designed to maximize your exploration of the tropical archipelago. Please see the full itinerary for more detail.
Galapagos Island Cruises - Letty, Eric, Flamingo I
This signature fleet of three 20-passenger first class motor-yachts, the M/Y ERIC, FLAMINGO I, and LETTY were custom-designed exclusively for Galapagos excursions. The 83-foot long yachts have 24-foot beams that offer spacious accommodations for small groups. Twenty passengers and two guides per yacht ensure each guest has a personalized voyage to the Galapagos.
The yachts' interiors are polished teak and feature public spaces, dining rooms, well-stocked bars, conference areas with television, VCR, stereo equipment and book and video libraries, and fully air-conditioned sleeping cabins. Snorkeling equipment, wet suits, sea kayaks and beach towels are provided with no additional charge.
Accommodations include ten cabins located on three decks, each with a large private bathroom and shower.
A seasoned captain, eight dedicated crewmembers, and two experienced, English-speaking naturalist guides attend to the details of your Galapagos Island adventure cruise. The naturalists take groups of no more than 10 passengers on shore excursions and shares extensive insights into the Islandsí diverse wildlife. Small wooden boats, locally called pangas, ferry passengers to shore for island visits.
Galapagos Island Tours aboard Sky Dancer
M/Y Sky Dancer is a 16-passenger, 100-foot first-class dive and live-aboard yacht. Custom-built in 2000, the M/Y Sky Dancer offers the newest and best-equipped vessel for scuba diving in the Galapagos Islands. The nine-person crew includes a captain, two dive instructors or divemaster/naturalist, and six crewmembers.
The Galapagos Islands have excellent scuba diving, especially the renowned northern islands of Wolf and Darwin, which are famous for schools of hammerhead sharks, giant manta rays and whale sharks. In between dives, you can walk the shores and marvel at the volcanic rocks dotted with rare plants, seabirds, and reptiles.
Sky Dancer's accommodations include eight comfortable staterooms on two decks. Each cabin has two twin beds, a private bathroom/shower, wardrobe, full-length mirror, window or portlight view, bathrobes, hairdryer, toiletries and fresh towels.
Sky Dancer is fully air-conditioned and features teak paneling and furnishings, a dining area, a fully stocked bar, and a main salon with an audio/video entertainment center. Scuba divers appreciate the large dive platform with fresh water showers, fresh water rinses, dive deck assistance and photo and dive equipment rental services. Zodiac rafts will ferry you between exquisite dive sites and the anchored yacht. Most underwater forays are drift dives. Sky Dancer offers up to four dives per day on a planned, yet flexible, itinerary.
Galapagos Island Cruises - Evolution, Alta, Parranda, Lammer Law, Mistral
With 12-32 traveler capacity, these yachts cruise year round in the Galapagos Islands.
The M/V Evolution is a 32-passenger Expedition Vessel with 16 Cabins. Alta is a Motor Sailer with 8 cabins for 16-passengers. Parranda is a Motor Yacht with 8 cabins for 16-passengers.
We offer dive/live aboard adventure cruises on Lammer Law, a trimaran with 8 cabins for 16-passengers, and on the Mistral, a Motor Yacht with 6 cabins for 12-passengers.
Each day you'll make an average of two land visits with your naturalist guide, and will have plenty of swimming and snorkeling opportunities. Yachts anchor off each visitor site, and visitors take a 'panga' (zodiac raft) ashore for an easy landing.
More information from ROW International: