Thomson Family Adventures - vacations and travel
Galapagos Multi-Sport Adventure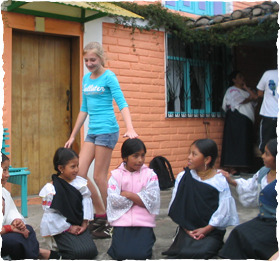 from $5,390* per person
9 Days
February-April, June, July, December
Comfort accommodations

Exertion level: 3

Operator:

Thomson Family Adventures

20 people max
Airport, ecuador near quito, ecuador
Family & Friends trips
W ith our new Galapagos Islands Multi-Sport itinerary, we've replaced the ship portion of our Galapagos visit with camping and hotel stays on the islands. Leave the crowds of visitors and well-worn paths behind and spend time with your family actively exploring the islands.

The extra time on the islands will be used to maximize opportunities for wildlife viewing and exploration. Your family will discover wildlife as you kayak around the nesting grounds at Tijeretas and spend a night camping on the beach at Manglecito. You will also have the opportunity to view the amazing underwater wildlife while snorkeling around the lava remains at Kicker Rock.

In the Andean Highlands, we're sticking with the activities that we know kids love, including doing GPS orienteering activities and exploring Otavalo's indigenous marketplace. You'll have the opportunity to do a community culture activity with the Huarmi Maqui organization and also visit the Condor HUASI project and enjoy a bonfire at our Hacienda. At every turn, this itinerary offers something to keep your family active and interested.

This trip is for the adventurous family that is eager to trade the comforts of a cruise ship for a tent on a beach and a quaint bed and breakfast in order to discover the flora and fauna of the Galapagos in a unique way. If it's luxury that you're looking for, you may want to see about joining one of our cruises.


Locations visited/nearby
Ecuador and Galapagos Islands. Wildlife , Charles Darwin Research Center., Ecuador, South America, Galapagos
Comments from Facebook
Special information
May accommodate certain types of disabilities. Contact the operator for more information.
Family oriented trip.
Itinerary
Day 1 – Depart U.S. / Arrive Quito
Upon arrival at the airport, you will be met and transferred to your hotel, where your Ecuador family vacation begins.
Days 2 and 3 – Andean Highlands
So many families vacation in Ecuador and don't get to experience the beauty and adventure of the highlands. With Thomson, your family will take in all this diverse region has to offer, and may even learn a thing or two in the process. In the highlands, kids will learn how to operate a GPS device that will later be used to find a buried treasure during an orienteering activity.
Orienteering
Itchimbia Hill and view of Quito
Mitad del Mundo
Otavalo Market
Community service activity arrow Condor Project
Welcome to Darwin's Enchanted Islands…
We'll discover the magic of the Galapagos Islands in a way that's different than the norm: by land, not sea! The Galapagos Islands, with their intriguing natural history, rich marine and bird life and incredible geology, are simply unique. Spend your days kayaking, snorkeling, hiking, swimming, exploring volcanoes, wildlife viewing and discovering the infinite natural wonders of the amazing Galapagos. Overnighting on the islands will allow your family more flexibility and more time for exploration!
Days 4 and 5 – Isabela, Galapagos Islands
Flight from San Cristobal to Isabela Island
Isabela Island
Puerto Villamil
Days 6 and 7 – San Cristobal, Galapagos Islands
San Cristobal Island
Kicker Rock
Isla Lobos
Day 8 – Galapagos Islands / Quito
After breakfast, we'll head to Baltra's airport to catch our flight back to Quito. There will be free time this afternoon for shopping or enjoying the hotel's swimming pool.
Day 9 – Quito / Arrive U.S.
Optional Community Service Extension
Have an extra week, and interested in community service?
More information from Thomson Family Adventures: