Thomson Family Adventures - vacations and travel
Galapagos Islands for Teens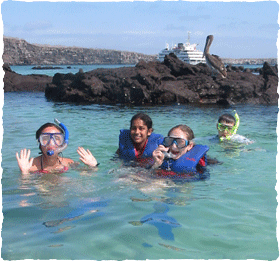 from $5,290* per person
9 Days
March, June, July, December
Comfort accommodations

Exertion level: 3

Operator:

Thomson Family Adventures

20 people max
Airport, ecuador near guayaquil, ecuador
Family & Friends trips
T his teen trip is ideal for the family who wants to do it all. You can hop on a mountain bike and go for a ride through the stunning Andean Highlands, learn how to use a handheld GPS and read topographical maps for a treasure hunt, and of course snorkel, swim and hike among the planet's most fascinating ecosystem – the Galapagos Islands. Each day we disembark on a different island to explore, swim and view the almost tame wildlife. Ecuador is one place where "been there, done that" just does not apply, so get your teens ready for a vacation where each day is filled with discovery and adventure.

If you have a few more vacation days to take advantage of while you're in South America, go on our Peru extension. A family adventure that includes the Galapagos Islands AND Machu Picchu can't be beat.
Locations visited/nearby
Ecuador and the Galapagos Islands. Wildlife , Charles Darwin Research Center., Ecuador, South America, Galapagos
Comments from Facebook
Special information
May accommodate certain types of disabilities. Contact the operator for more information.
Family oriented trip.
Itinerary
Day 1 – Depart U.S. / Arrive Guayaquil
Welcome to Ecuador! With a stunning landscape and a history dating as far back as 3,500 B.C., the first leg of your two-part adventure has much to offer. From ancient archeological sites of the Cañari and the Inca to modern villages where locals are happy to share their traditions, you and your family will be immersed in the rich cultural heritage waiting to be discovered in Ecuador.
Days 2 to 4 – Andean Highlands
Leaving behind coastal Guayaquil, we'll venture up into the Andean Highlands. Rolling hillsides nestle ruins of lost civilizations such as the Cañari, a sophisticated society of astronomers who ruled this area for a thousand years before being conquered by the Incas. The Incas controlled the Andean Highlands for less than a century; the Spanish arrived in the 1530s, and by 1557 the rubble of Incan buildings was being used to create the colonial city of Cuenca.
Aguarongo Forest hike
Rock climbing at Cojitambo Mountain
Explore the Cojitambo ruins
Bargain at Mercado 10 de Agosto in Cuenca
Pumapungo Inca ruins
Find a treasure using GPS
Artisan villages
Orchid greenhouses
Days 5 to 7 – Galapagos Islands Cruise
Let's go island hopping! Board the Cormorant Luxury Catamaran for four days of incredible land and sea explorations. The ship's naturalists will be your guides in the Galapagos and will lead two shore expeditions per day to seek out wildlife and learn about the natural history of these fascinating volcanic islands. When not snorkeling or discovering the islands on foot, you can enjoy all the amenities this first class ship has to offer – a Jacuzzi, solarium, reading room, internet access and your comfortable air-conditioned cabins.
Welcome to Darwin's Enchanted Islands…
Fly into Baltra Island
Visit the Charles Darwin Research Station
South Plaza Island
Santa Fé Island
Relax at Gardner Bay
Suárez Point
Day 8 – Galapagos Islands /Guayaquil
After one more activity in the Galapagos, we say goodbye to these enchanted isles and hello to mainland Ecuador once again!
North Seymour Island
Farewell dinner
Transfer to the airport
Day 9 – Depart Guayaquil / Arrive U.S.
More information from Thomson Family Adventures: