Thomson Family Adventures - vacations and travel
Alaska Cruising the Inside Passage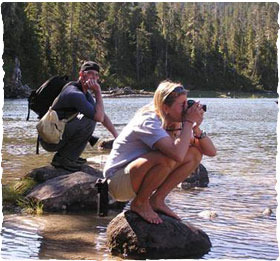 from $3,962* per person
8 Days
July
Comfort accommodations

Exertion level: 3

Operator:

Thomson Family Adventures

20 people max
Airport near juneau, ak, united states
Family & Friends trips
B ig, bold, and wild, Alaska is hands down one of the planet's most exciting destinations for a family adventure. Join us aboard the small, comfortable Wilderness Adventurer for an unforgettable cruise through the hidden bays and isolated waterways—places few travelers ever get to see—of the magical Inside Passage.

Watch your teen take on a rugged trail hike, returning excitedly with tales of an old abandoned mining town "discovered" along the way. Marvel at your youngster's wide-eyed wonder as a native Tlingit carver reveals the stories carved into colorful totem poles. And, as you stand on the ship's deck in the late light of a summer's evening, give your video camera a workout as magnificent humpback whales breach just off starboard... then document the setting sun as it turns the surrounding snow-capped peaks to violet.

In addition to the daily wide-ranging choice of included activities, Thomson Family Adventures offers a series of optional excursions such as jet-boating, flight-seeing, angling for the big one, and even the chance to watch bears catch river salmon in mid-air.

Our Inside Passage cruises—also perfect for grandparents and grandkids traveling together—put you right up front and center to the real Alaska, from the roar of calving glaciers to the ethereal beauty of ancient forests and to so many amazing wildlife encounters you'll probably lose count—all in the company of friendly guides who are ultimately passionate about this awe-inspiring "Great Land."
Locations visited/nearby
Alaska, United States
Comments from Facebook
Special information
May accommodate certain types of disabilities. Contact the operator for more information.
Family oriented trip.
Itinerary
Day 1 – Flight to Juneau / Embark Wilderness Adventurer
Welcome to Alaska and friendly Juneau—the only U.S. capital with an international border! Your family vacation begins as you step aboard the Wilderness Adventurer, bound for the stunning eastern coves of the lesser-traveled Inside Passage. As we cruise out of Juneau's bustling harbor, watch for eagles, seals, sea lions, and playful porpoise. And keep your camera ready for the telltale signs of orca and humpback whales that feed in these nutrient-rich waters.
Embark the Wilderness Adventurer
Welcome dinner
Every evening as the sun sets, our Thomson Family Adventures mentor will brief you on the next day's activities and the options available.
Day 2 – Windham Bay / Chuck River Wilderness Area / Frederick Sound
Rise and shine to the glories of Windham Bay, a unique combination of lush temperate rain forests, and numerous estuaries harboring fresh and saltwater habitats. Explore the region by kayak or skiff, and on exhilarating hikes through some vintage Alaska scenery—think dramatic rock cliffs, abandoned mining camps, and perhaps even a black bear sighting! Later cruise into splendid Frederick Sound— the summer feeding ground for the largest concentration of humpback whales in the Northern Hemisphere. Kayaks are available all morning for unguided touring at your leisure. Additional morning activities swimming, hiking and whale watching.
Whale watching in Frederick Sound
Taylor Lake trail kayak and hike
Chuck River trail kayak and hike
Day 3 – Thomas Bay / Baird Glacier / Cascade Creek
Along with its strange tales of Kushtaka—a local Bigfoot-type creature—Thomas Bay is also fabled for its glaciers, gold and quartz deposits, and an incredible variety of wildlife, including moose, brown and black bears, wolves and many species of birds. Exposed terminal moraine leads to the top of Baird Glacier and we'll explore the area on a choice of hikes and guided kayak excursions.
Baird Glacier trail hike
Scenery Cove to Cascade Creek kayak
Cascade Creek Hike arrow Storytelling
Day 4 – LeConte Bay / Ideal Cove
Wake to the sounds of bergy bits and brash ice gently nudged by the hull of the ship as she eases through the ice-rich waters of LeConte Bay. Home to the Northern hemisphere's most southerly tidewater glacier, the Bay offers a glittering arena for exploring by kayak or skiff.
Three Lakes loop trail hike
LeConte Bay kayak
OPTIONAL LeConte Glacier floatplane tour
OPTIONAL Wilderness kayaking, hiking, and overnight camping
Day 5 – Wrangell / Chief Shakes Tribal House
Today, this friendly town proudly showcases its native Tlingit culture, and you'll have the chance to hear native stories and photograph an amazing collection of totem poles. Bear-lovers may choose an optional jet boat trip to watch the black and brown bears fishing for salmon at Anan Creek. During dinner we cruise to Canoe Pass to enjoy some of the most scenic kayaking of the trip. End the day with a soak in the hot tub as the Wilderness Adventurer cruises toward Yes Bay on the northern end of Behm Canal.
Chief Shakes Island and Tribal House tour
Canoe Pass kayaking
Optional: Anan Creek bear observatory river boat tour, Stikine River boat tour, Anan Creek bear and wildlife flightseeing, Wrangell saltwater fishing excursion.
Day 6 – Yes Bay
It's tough to say "no" to Yes Bay (you know we had to say it!). Wildlife abounds here and in the surrounding Tongass National Forest—from black and brown bears, mink, marten, and eagles to humpback whales, orca, porpoise, seals, sea lions, and otters. Additional afternoon activities include snorkeling and swimming. Other optional activities include: fly-fishing, flight tours, and wilderness hiking.
Swimming race and platform diving
Wolverine Creek trail hike
Day 7 – Misty Fjords National Monument
This magical, mysterious landscape is a haven for ducks, brown and black bear, mountain goats, Sitka deer, mink, river otters, and, in a few places, moose. Humpbacks and orca, porpoise, sea lions, and seals ply the waters of Behm Canal and its many inlets.
Walker Cove kayaking
Walker Cove skiff tours
Day 8 – Ketchikan / Disembark / Transfer to Airport
Join your new friends on deck one last time this morning as we arrive in Ketchikan—"Salmon Capital of the World." After breakfast, disembark the Wilderness Adventurer.
Farewell breakfast
More information from Thomson Family Adventures: