Lindblad Expeditions - vacations and travel
Alaska, British Columbia and San Juan Islands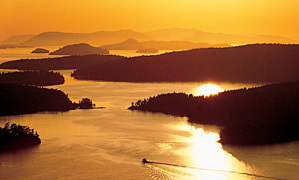 Contact provider for price
12 Days
May, September
Luxury accommodations

Exertion level: 3

Operator:

Lindblad Expeditions

24 people max
Sitka airport, sitka, alaska, usa
Boats, Barges & Small Ship Cruises trips
A Longer Alaska Cruise Means More Opportunities for Adventure
The coast of Southeast Alaska and British Columbia is a maze of fjords, channels, rivers and glaciers. This majestic region is ideally suited for small ship Alaska cruising and enables up close and personal exploration from Seattle, Washington to Alaska's Glacier Bay National Park, including the San Juan Islands.

See Bears, Eagles & Whales and Explore Mist-Shrouded Fjords
This wilderness expedition Alaska cruise travels through some of the most spectacular scenery in North America, sailing past deep fjords and tidewater glaciers. These waters are among the best for whale watching, and we'll explore in search of humpback and orca whales on all of our expeditions.

Interesting People and Local Experts
Meet people of Native American, Russian and Scandinavian ancestries. Plus, learn the lore and legends of Glacier Bay National Park from a native Huna Tlingit Interpreter and a National Park Ranger will both join us on board our cruise ship.

Alaska Through Your Viewfinder
Every Alaska cruise sails with an on board Lindblad Expeditions-National Geographic-certified Photo Instructor. Exclusive to Lindblad Expeditions, this Naturalist is specially trained to help you capture the moments at the heart of your Alaska cruise.

Explore more Alaska – Add a Denali National Park Extension
Begin or extend your Alaska expedition with a 7-day journey into of one of North America's natural treasures – Denali National Park.
Locations visited/nearby
British Columbia & San Juan Islands North America , Alaska, United States
Comments from Facebook
Special information
May accommodate certain types of disabilities. Contact the operator for more information.
Itinerary
DAY 1 — Sitka, Alaska/Embark
Our Forest Service Special Use Permit for Tongass National Forest enables you to hike and kayak in wild and remote areas of Southeast Alaska.
In the native Tlingit language, Sitka means the village behind the island, and it has been home to various cultures for thousands of years. Sitka has a strong Russian heritage, which is readily apparent as you visit St. Michael's Russian Orthodox Church with its onion domes right in the middle of town. Gaze up at the grand totem poles throughout Sitka National Historic Park. At the Raptor Rehabilitation Center, we have views of species normally seen in the wild — bald eagles, hawks, falcons and owls. Sitka's oceanfront setting is framed by the volcanic peak of Mount Edgecumbe and a string of small islands. The crystalline waters of Sitka Bay abound with sea stars and translucent moon jellyfish. (D)
NOTE: Some departures travel in reverse. Please inquire when making your reservation.
DAY 2 — Southeast Alaska's Islands, Bays and Fjords
Today is a day with the luxury of no specific plan. There are many options for landings on islands such as Baranof and Chichagof, where bald eagles nest and brown bears make themselves at home. If you're a beachcomber, the shoreline is rich with treasures. The forest trails are dense and beautiful, whether you choose the long walk option or a short stroll, accompanied by one of our Naturalists familiar with the local terrain. Hemlock and spruce abound in the old-growth forest. When kayaking, we always offer choices. If you're looking for exercise and excitement, choose a more strenuous course. If you want scenery and relaxation, you'll have the option to paddle slowly — exploring, poking into little inlets and relishing the quiet and up-close, personal view. (B,L,D)
DAY 3 — Glacier Bay National Park
We spend the entire day amidst the coves, fjords, tidewater glaciers, freshwater lakes and majestic mountains of Glacier Bay National Park. You'll see glaciers that end abruptly at the water's edge and observe them "calving" — tons of ice crashing into the sea — accompanied by an exhilaratingly thunderous sound. Mountain goats scaling the peaks as well as harbor seals and Steller sea lions are some of the creatures we may observe. You may have the opportunity to see not only one, but two kinds of puffins: the tufted and the horned puffin. A visit to Tidal Inlet may bring the sight of brown bears lumbering up the hillside. If the timing is right, a bear and her cub may be playing in the water. We'll watch their interactions, knowing the cub will be on its own next year. Plus, a native Tlingit interpreter joins us to share the lore and legend of the area. (B,L,D)
DAY 4 — Juneau, Alaska
Today we'll visit Juneau, Alaska's state capital. Here we'll explore the Alaska State Museum, viewing its fascinating permanent collection with an emphasis on Alaska's native peoples and natural history. We'll also visit Mendenhall Glacier and observe the stunning, ice-carved valley up close. (B,L,D)
DAY 5 — Tracy Arm-Ford's Terror Wilderness
Voyage into Tracy Arm or Endicott Arm, both spectacular fjords, with waterfalls cascading from glacially carved walls. See the soaring Dawes or South Sawyer Glacier up close and take a Zodiac cruise for an unbeatable view of sculpted icebergs. Keep an eye out for harbor seals and porpoises, Arctic terns and Bonaparte gulls. (B,L,D)
DAY 6 — Frederick Sound and Chatham Strait
Join naturalists on deck to search for orca whales, humpback whales, and Steller sea lions. Go ashore for a walk along a quiet forest trail and visit the fishing village of Petersburg, known as "Alaska's Little Norway". (B,L,D)
DAY 7 — Misty Fiords
Misty Fiords National Monument, often referred to as "Yosemite of the sea" for its sheer majesty, is 2.3 million acres of pristine wilderness that will leave you with exquisite memories of your stay in Alaska. Head out on a personal kayak reconnaissance or take a Zodiac cruise beneath glacier-carved cliffs with saw-tooth tops. Float past sheer cliffs and icy waterfalls, easily navigating in and out of areas the "big white boats" that ply Alaska's waters can't get near. (B,L,D)
DAY 8-9 — Inside Passage of British Columbia
You'll feel like a true explorer as we continue southward looking for whales, dolphins, bears, deer and other wildlife. This is an area where vast sections of untouched coastal rain forest still exist — and where an expedition ship proves to be the perfect vessel. Without a specific plan, open to spontaneity and adventure, we'll freely rove within the near-limitless expanse of pristine wildness — to explore any intriguing bay or inlet we happen upon, or reverse course to follow a sighted whale pod. Our small ship gives us this freedom. Our onboard kayaks and Zodiacs can be lowered swiftly to bring it all closer. Wherever we choose to stop and explore, we're certain to be the only human life, accompanied by spectacular birds and animals. In such a populated and busy world, these opportunities are tonic for the mind, body and soul. (B,L,D)
DAY 10 — Johnstone Strait and Alert Bay
Johnstone Strait is one of the foremost viewing areas for orca whales in the entire Northern Hemisphere and since nineteen whale pods are known to spend part of the year here, there is a chance of exciting whale watching.
We arrive in Queen Charlotte Sound on course for Alert Bay on Cormorant Island. Once the ship is secured, we make our way to the U'Mista Cultural Center, home to a stunning collection of potlatch masks created by the Kwakwaka'wakw peoples. At the Center, anyone related to any member of this tribe is able to trace their ancestry. We then walk or ride to the Big House, just a short distance away where the Tsasala Cultural Group puts on a dance and the performers explain the story of the dance movements. (B,L,D)
DAY 11 — San Juan Islands, Washington
The San Juan Islands are the gems of northern Washington State and today we explore them with the freedom of no specific plan. Search for orca whales among 170 forested islands with varied coastlines. Explore this idyllic area further by Zodiac and kayak. (B,L,D)
DAY 12 — Seattle, Washington/Disembark Ship
Disembark the ship in the heart of Seattle, with the Olympic Mountains, majestic Mount Rainier and the Seattle skyline as the backdrop. (B)
More information from Lindblad Expeditions: