Lindblad Expeditions - vacations and travel
Monteverde + Costa Rica and Panama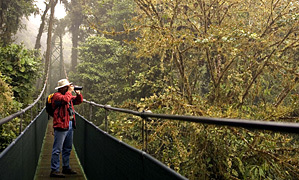 Contact provider for price
11 Days
March, November, December
Luxury accommodations

Exertion level: 3

Operator:

Lindblad Expeditions

24 people max
San jose, costa rica
Boats, Barges & Small Ship Cruises trips
There is an aura about Monteverde's cloud forest that soothes the spirit. The mist drifting past silhouettes of majestic trees, the cool quiet and the haunting music of a bird called "solitaire." Trees draped in a profusion of bromeliads and orchids create a powerful impression of abundance and life. Amid such greenery, the lacy-fronded tree fern, unchanged since early ecological times, stands out as a signature cloud forest specimen. For those lucky enough to glimpse the elusive resplendent quetzal, one of the world's most beautiful birds, it becomes clear how color and grace could inspire the reverence of Mayan civilizations. The cloud forest is a secretive place, revealing its magic to the trained eye of our Naturalists, who will help you observe all facets of this marvelous habitat. On our Costa Rica cruises, you will have a ground-level experience by walking the forest trail and then head up into the canopy to take a Skywalk — a series of suspension bridges — for a bird's-eye view. Combine Monteverde with your National Geographic Sea Lion sailing for an in-depth perspective.

Locations visited/nearby
Monteverde + Costa Rica and Panama , Costa Rica, Central America
Comments from Facebook
Special information
May accommodate certain types of disabilities. Contact the operator for more information.
Itinerary
DAY 1 — U.S./San Jose, Costa Rica
Depart Miami mid-morning via American Airlines on a non-stop flight to San Jose, Costa Rica. Flying time is approximately three hours. Upon arrival, a short drive brings us to the Doubletree Cariari. (D)
Monteverde Cloud Forest
DAY 2 - 3 — Monteverde Cloud Forest
A scenic drive, approximately five hours over some bumpy roads for the last half, up the mountain takes us to Monteverde Cloud Forest, an acclaimed private reserve. Bathed in cool, year-round moisture, the forest is covered with mosses and 300 species of orchids. Walk trails rich with butterflies, insects and birds and watch for the rare resplendent quetzal. We ascend the Skywalk, a series of suspension bridges, for a bird's-eye view of the rain forest canopy. Later, learn about life in the early Monteverde community, which was established by the Quakers in the 1970s. Eleven families left Alabama and came to Costa Rica in search of peaceful living. Among the original homesteaders is Marvin Rockwell who documented the emigration. He will give us a talk on the trials and triumphs of rural life in the tropics. We spend the night at a charming, family-owned lodge. (B,L,D)
Monteverde/Herradura/<i>N.G. Sea Lion</i>
DAY 4 — Monteverde/Herradura/N.G. Sea Lion
Continue our exploration of Monteverde and travel to Herradura to embark our ship. (B,L,D)
Manuel Antonio National Park
DAY 5 — Manuel Antonio National Park
The abundant wildlife here is most active in the early morning, so we are sure to get an early start. Lethargic three-toed sloths can be easy to spot, but it often takes the expert eye of a naturalist to point out monkeys or vividly colored birds as they zip through the forest. In the afternoon, we explore Costa Rica's beautiful coast where we'll find a great spot for a hike or swim. (B,L,D)
Osa Peninsula
DAY 6 — Osa Peninsula
The National Geographic Sea Lion anchors off the remote Osa Peninsula and the environs of Corcovado National Park. Our exact landing spot for the day will depend on sea conditions. You may swim in waterfall pools, horseback ride on the beach or kayak. Trek through the rain forest for a chance to see three species of monkey in one day: howler, spider and squirrel! (B,L,D)
DAY 7 — Gulfo Dulce
Today we visit Casa Orquideas, a privately owned garden accessible only by boat and special invitation, where we see a profusion of orchids; and look for tanagers, parrots and gaudy toucans. Later, explore the forested bay of Golfo Dulce, ideal for kayaking or swimming. (B,L,D)
Isla Coiba, Panama
DAY 8 — Isla Coiba, Panama
Isla Coiba is one of Panama's most remote national parks, where you may hike the tropical, moist forest trails. The area is also perfect for swimming and snorkeling amid tropical fish. Our staff will assist both novice and expert snorkelers alike. For those preferring a drier clime, our Naturalists take underwater footage, which animates our evening gathering in the lounge. (B,L,D)
Gulf of Panama Islets/Gatun Lake
DAY 9 — Gulf of Panama Islets/Gatun Lake
Explore a cluster of islands in the Gulf of Panama via Zodiac or kayak. It's a wonderful introduction to the region's varied bird life. Observe large numbers of roosting and nesting seabirds: magnificent frigate birds, brown pelicans and blue-footed boobies of Galápagos fame. (B,L,D)
Panama Canal Transit
DAY 10 — Panama Canal Transit
After breakfast, board Zodiacs for Barro Colorado Nature Monument in Lake Gatun. The island is inaccessible to most travelers and, by special arrangement, guides from the Smithsonian Tropical Research Institute accompany us through the tropical forest that so challenged the builders of the Canal. Reboard National Geographic Sea Lionto continue our crossing. A daylight transit cannot be guaranteed since cargo ships have priority over passenger ships. The Canal, however, is dramatically lit at night. (B,L,D)
Colon/Disembark/Panama City/Home
DAY 11 — Colon/Disembark/Panama City/Home
Disembark after breakfast in Colon. Drive to the airport in Panama City for flights home. (B)
More information from Lindblad Expeditions: