Bushtracks Expeditions - vacations and travel
8 Day Peru Family Adventure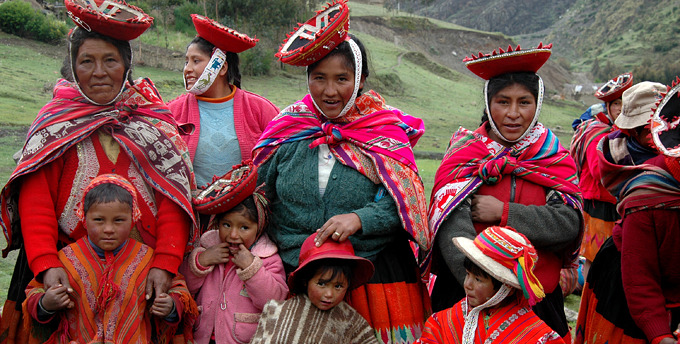 from $5,995* per person
8 Days
Year-round
Comfort accommodations

Exertion level: 3

Operator:

Bushtracks Expeditions

24 people max
Lima international airport, peru
Family & Friends trips
Take your family on a trip which combines the ancient civilization of the Incas with Peru's vibrant culture of today. Begin the journey in Cusco, the former capital of the Inca Empire and experience the historical influence of the Inca culture. Enjoy Inca architecture in preserved towns and temples. Board the Vista Dome train to the legendary city of Machu Picchu. Conclude the adventure by exploring Cusco.
Highlights

Watch a private magic show
Take traditional dance lessons with special costumes in Sacsayhuaman
See the sunrise over the legendary "lost city" of Machu Picchu
Meet your pen pal from Urubamba Valley
Receive our suggested reading lists, and an age-appropriate gift book
Enjoy the participation of our specially trained Bushtracks Ranger leader


Locations visited/nearby
Peru, South America
Comments from Facebook
Special information
This is a custom departure, meaning this trip is offered on dates that you arrange privately with the provider. Additionally, you need to form your own private group for this trip. The itinerary and price here is just a sample. Contact the provider for detailed pricing, minimum group size, and scheduling information. For most providers, the larger the group you are traveling with, the lower the per-person cost will be.
May accommodate certain types of disabilities. Contact the operator for more information.
Family oriented trip.
Itinerary
Day 1
Lima, Peru
International flights into Lima, Peru - a World Heritage Site in Peru's north. On arrival transfer to your hotel for an evening of rest.
Lodging: Costa del Sol Ramada Airport Hotel Lima
Day 2
Lima and Cusco, Peru
This morning fly to Cusco, former capital of the Inca Empire and the oldest continuously inhabited city in the Western hemisphere. Drive down into the lush Sacred Valley, an area rich in history and culture, and former heart of the vast Inca Empire filled with incomparable Inca ruins amidst stunning view of the Andes Mountains. This afternoon, visit the colorful village of Pisac, famed for its vibrant market and take time to walk around its market stalls and take in the scents, sounds and images of your first day in the land of the Incas.
This evening enjoy a special show interpreting Peruvian myths and folklore followed by a special barbeque at your stylish hotel.
Lodging: Libertador Tambo del Inka Hotel (B, L, D)
Day 3
Urubamba/Sacred Valley
Today is market day in Urubamba. Take time to stroll through the market enjoying the sights, sounds and wonderful scents of a typical and bustling village market. After lunch at Orihuela House, explore the site of Ollantaytambo, a well preserved Inca town and fortress. History comes alive as you discover intact irrigation systems and terraces from which Inca warriors fought off Pizarro's forces in 1536.
Lodging: Libertador Tambo del Inka Hotel (B, L, D)
Day 4
Urubamba/Sacred Valley
Enjoy a morning at leisure in this fabulous village for a choice of two optional activities: participate in a cooking school or ceramics lesson - or just relax and explore on your own. Lunch at Huacatay Restaurant, enjoying some of the food cooked during your cooking lesson! This afternoon visit the village of Chincheros for a private weaving demonstration by a craftswoman master weaver, who is well known for her weaving exhibits and workshops. Return to your hotel for dinner.
Lodging: Libertador Tambo del Inka Hotel (B, L, D)
Day 5
Machu Picchu/Sacred Valley
This morning board the Vista Dome train and head to the legendary city of Machu Picchu. On arrival, enjoy lunch at your hotel followed by a late afternoon visit. Enjoy your first visit to the fabled city of terraces and temples, and explore the ruins until closing time, when the setting sun on the mountains and ruins can form a once-in-a-lifetime experience. This impressive site known as the "Lost City of the Incas"¯is surrounded by precipitous mountains, was discovered by Hiram Bingham in 1911 and is considered one of the new wonders of the world.
For our bolder guests, you may choose to disembark the train at Kilometer 104 and enjoy an 8-mile hike on the famed Inka Trail which will take you directly into Machu Picchu. Some say there is no better introduction to Machu Picchu than to crest a peak and walk directly into one of the Seven Wonders of the Ancient World!
After cocktails this evening, adults hear a lecture on the Incas and Machu Picchu while the Rangers enjoy a magic show.
Lodging: Sanctuary Lodge (B,L,D)
Day 6
Machu Picchu and Cusco
Enjoy a spectacular sunrise visit to Machu Picchu when it has fewer visitors, before heading back to your hotel for lunch. After lunch, check out and take the Vista Dome train to Cusco.
Lodging: Libertador Cusco Hotel (B,L,D)
Day 7
Cusco
Today explore the beautiful Peruvian city of Cusco, a jewel of both Inca and Colonial architecture. Huge walls of intricately laid stone pay testament to the civilization that 500 years ago controlled much of this continent. Take a walking tour of the city, including the Plaza de Armas and artisan shops that sell a dazzling array of Andean handicrafts, as well as a stop at the magnificent cathedral. Visit the great fortress of Sacsayhuaman, where 200 ton stone blocks fortify the hilltop overlooking Cusco. This afternoon is free to shop and explore on your own, followed by a festive farewell dinner.
Lodging: Libertador Cusco Hotel (B,L,D)
Day 8
Cusco and International Flights Home
Depart Cusco late morning, to connect in Lima, for international flights home. (B)
More information from Bushtracks Expeditions: