Mountain Travel Sobek - vacations and travel
Galapagos Signature Guide Cruise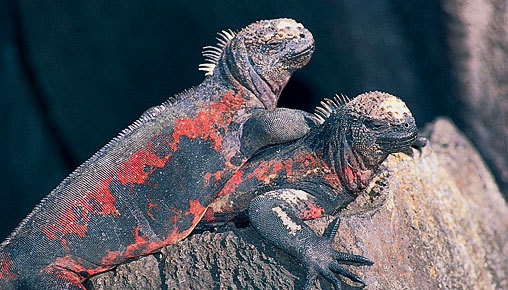 from $4,395* per person
11 Days
Year-round
Boutique accommodations

Exertion level: 4

Operator:

Mountain Travel Sobek

15 people max
Airport, ecuador near quito, ecuador
Boats, Barges & Small Ship Cruises trips
Cruise the Galapagos with Mountain Travel Sobek for an interactive tour through a real-life never-never land: hiking, swimming, snorkeling, sea kayaking, and watching a world where wonders never cease. See each island in style on an MTS charter aboard one of our small, luxury yachts (12-16 passengers max) for the best up-close wildlife encounters.

On an MTS Signature Guide Cruise in the Galapagos, you'll travel in the company of one of our top naturalist guides. All have 15-20 years of experience guiding in the Enchanted Isles, and comprise a superior team of experts whose depth of knowledge and passion for this truly unique wildlife paradise comes through in everything they do. They are simply without equal in providing their guests the best possible Galapagos experience!

TRIP HIGHLIGHTS

Enjoy up close and personal encounters with wildlife in the world's top nature destination, including snorkeling with sea lions and green sea turtles!
The most comprehensive Galapagos experience available, with nature hikes, snorkeling, and sea kayaking excursions
We do it right: many yachts to choose from, 5-star hotel in Quito, the best naturalist guides!
A dedicated in-country staff to see to your every need


Locations visited/nearby
Ecuador, South America, Galapagos
Comments from Facebook
Special information
This is a custom departure, meaning this trip is offered on dates that you arrange privately with the provider. Additionally, you need to form your own private group for this trip. The itinerary and price here is just a sample. Contact the provider for detailed pricing, minimum group size, and scheduling information. For most providers, the larger the group you are traveling with, the lower the per-person cost will be.
May accommodate certain types of disabilities. Contact the operator for more information.
Family oriented trip.
Itinerary
Day 1 : Arrive in Quito, Ecuador
Arrive in Quito, Ecuador. A Mountain Travel Sobek representative will meet you outside the customs and immigration area at the airport. He or she will answer questions, brief you on the immediate arrangements, and escort you to your hotel.
Day 2 : Quito
A free day in Quito to explore on your own or tour the colonial Old Town, visit Otavalo Market or visit the cloud forest!
Day 3 : To the Galapagos Islands
Fly to the Galapagos Islands. Board yacht and begin your Galapagos cruise.
Days 4 - 9 : Cruise Among the "Enchanted Isles"
Each day of your Galápagos tour contains magical moments of discovery, with a naturalist guide helping you see the wonders of the islands. The Galápagos cruise itinerary varies, but you'll visit a combination of islands: Plazas, North Seymour, Tower, James (Santiago), Bartolomé, Fernandina, Isabela, Santa Cruz, Española (Hood), and Floreana. Each has its own special highlights: the soft, powdery sands, blue-footed boobies, and waved albatross colony at Española; great snorkeling and a volcano hike on Bartolomé; tide pools and fur seals on James; the giant tortoises in the highlands of Santa Cruz; flightless cormorants and hordes of marine iguanas on Fernandina.
Day 10 : End Cruise and Return to Quito
Motor back to the port. Transfer to the airport and fly to Quito, arriving in the late afternoon.
Day 11 : Fly Home
Transfer to the airport for homeward bound flight or join one of our extensions in Ecuador or Peru!
More information from Mountain Travel Sobek: