Mountain Travel Sobek - vacations and travel
Hidden Madagascar Safari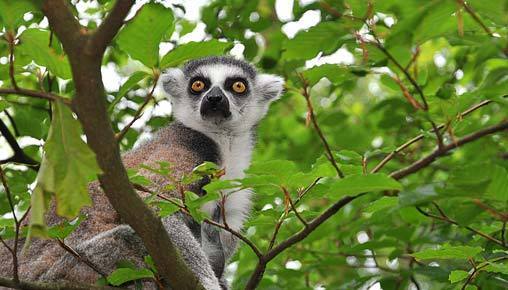 from $5,095* per person
16 Days
June, November
Boutique accommodations

Exertion level: 4

Operator:

Mountain Travel Sobek

12 people max
Antananarivo international airport, madagascar
Active & Adventure trips
Isolated by millions of years and miles of Indian Ocean, Madagascar's exotic wildlife, cultures, and landscapes transport the intrepid traveler into a strange and wonderful world. All of the island's mammals, most of its birds, and over eighty percent of its plants are found nowhere else on Earth, creating a nature-lover's dream. Be captivated by lemurs literally dancing across trails, gigantic baobab trees framing tropical sunsets, and brilliantly colored birds and butterflies flying among a thousand species of orchids.

Just as Madagascar is unlike anywhere else, our journey to this otherworldly destination differs from any other tour. Rather than of viewing the island's wonders only from vehicles, we get out and hike deep into the most remote mountains, river valleys, and rainforests. This is an ideal trip for active travelers who long to experience firsthand Madagascar's unparalleled nature on a once-in-a-lifetime expedition!

TRIP HIGHLIGHTS

Experience a Madagascar most travelers miss-up close and action-packed!
Search Nosy Mangabe, the "Great Blue Island," for the world's rarest lemur-the nocturnal Aye-Aye
Traverse the sandstone mountains and canyons of Isalo National Park, Madagascar's hiking mecca, and home to the famous ring-tailed lemur


Locations visited/nearby
Hidden Madagascar Safari , Madagascar, Africa
Comments from Facebook
Special information
May accommodate certain types of disabilities. Contact the operator for more information.
Itinerary
Day 1 : Arrive in Antananarivo
Arrive in Antananarivo, Madagascar.
Day 2 : Antananarivo, city tour
Antananarivo city tour.
Day 3 : Fly to Maroantsetra and visit Nosy Mangabe Island
Depart for the island of Nosy Mangabe, the "Great Blue Island," for a full-day excursion. This tiny island is a natural reserve for the world's rarest lemur: the nocturnal Aye-Aye.
Mad04
Day 4 : Masoala National Park and the Tampolo Marine Reserve
Take an exhilarating boat ride to Tampolo in Masoala National Park-habitat of the red-ruffed lemur, brightly colored frogs and chameleons, and the endangered Madagascar red owl and serpent eagle. Snorkel among the rich sea life of Tampolo's coral reefs.
Mad01
Day 5 : Return to Antananarivo
Return to Antananarivo today and visit the Lemur Park.
Mad02
Day 6 : Fly to Tulear, drive to Isalo
Morning flight to the coastal town of Tulear, after which we'll drive inland to Isalo National Park.
Day 7 : Isalo National Parkóday hike
Full day hike to Canyon des Nymphes, a spectacular hidden waterfall with an emerald green pool.
Day 8 : Tulear
Visit to Piscine Naturelle before the return drive to Tulear.
Mad03
Day 9 : Fly to Morondava, drive to Bemaraha
Early morning flight to Morondava, where we'll meet our vehicles for the all-day drive to Bemaraha.
Days 10 - 11 : Tsingy de Bemaraha
Hiking and exploring in Tsingy de Bemaraha, an area of true wilderness and unspoiled wildlife habitat.
Day 12 : Return to Morondava
Depart Tsingy de Bemaraha for the long drive back to Morondava.
Day 13 : Perinet, Mantadia National Park
Fly from Morondava to Antananarivo, then drive to Perinet and Mantadia National Park.
Day 14 : Exploring Mantadia National Park
A full day to explore the wonders of Mantadia National Park.
Day 15 : Explore Perinet and return to Antananarivo
Full morning in Perinet Reserve to search for the indri indri before heading back to Tana after lunch.
Day 16 : Depart Antananarivo
Transfer to the airport today for your flight home.
More information from Mountain Travel Sobek: