Mountain Travel Sobek - vacations and travel
Antarctic Adventure - Expedition Cruising to the Antarctic Peninsula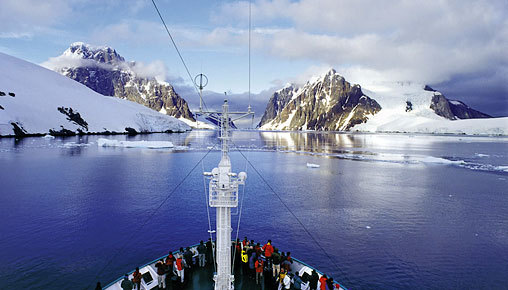 from $5,495* per person
12 Days
November-March
Boutique accommodations

Exertion level: 4

Operator:

Mountain Travel Sobek

18 people max
Ushuaia, airport, argentina near ushuaia, tierra del fuego, argentina
Boats, Barges & Small Ship Cruises trips
Antarctica is the last wild, unspoiled place on earth, the largest, purest wilderness we know, the only continent that has been almost free of human contact since the beginning of time. It is a realm whose beauty is so spectacular and otherworldly that it often leaves visitors speechless.

And on the Antarctic Peninsula, a 700-mile-long finger of land pointing toward the tip of South America, it's not just the breathtaking scenery that beckons, it's also the spectacular display of wildlife. Thousands of penguins and numerous other seabirds such as petrels, skuas, and albatross. There is also an abundance of marine mammals in this region of Antarctica, including most of the world's great whale species and many kinds of seals.

Aboard a small, maneuverable ice-class expedition ship and in the company of a team of expert naturalist guides, you'll journey south to the "last continent" for an unforgettable, once-in-a-lifetime experience that may change your life forever.

TRIP HIGHLIGHTS

A once-in-a-lifetime experience to the "last continent," the most remote destination on earth
See a spectacular wonderland of mountains, glaciers, and icebergs in a pristie environment
Interactive Antarctica on an expedition-style ship - not from the deck of a huge cruise ship!


Locations visited/nearby
Antarctica, Antarctica and Arctic
Comments from Facebook
Special information
May accommodate certain types of disabilities. Contact the operator for more information.
Itinerary
Day 1 : Meet in Ushuaia, Argentina.
Meet in Ushuaia, Argentina.
Day 2 : Board ship and set sail
Board your expedition vessel and begin the journey to Antarctica with a scenic sail through the Beagle Channel, then enter the waters of the Drake Passage.
Days 3 - 4 : At sea, crossing the Drake Passage
Continue to motor across the 620 miles of the Drake Passage, passing over the Antarctic Convergence, where nutrient-rich waters attract many species of seabirds and whales.
Days 5 - 9 : Explore the islands, bays, and channels of the Anta...
Explore the islands, bays, and channels of the Antarctic Peninsula, with plenty of time for shore walks through penguin colonies and "ice cruises" by Zodiac for close-up inspection of towering bergs and creaking glaciers. Our itinerary focuses on scenic areas with large concentrations of wildlife, including Paulet and Cuverville Islands, the flooded caldera of Deception Island, Paradise Bay, and the Lemaire Channel, hemmed in by mountain walls rising thousands of feet straight out of the water (it's nicknamed "Kodak Alley"). We also usually visit one or more research stations.
Days 10 - 11 : sea, crossing the Drake Passage
At sea, crossing the Drake Passage and rounding Cape Horn en route to Ushuaia.
Day 12 : Ushuaia – fly home
Arrive in Ushuaia.
More information from Mountain Travel Sobek: