Il Campo Cucina
In business since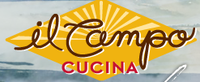 Experience the real Italy with Il Campo Cucina...
Cook with local women and some of Italy's top chefs, make cheese with a shepherd, bake bread in a wood-fired oven, dine with a Count, taste amazing wines, explore the farms and forests of this unspoiled region, and become an honorary Tuscan. Celebrate the flavors and sights of Tuscany in a village you will never forget.

Address
Website(s):
Leave a comment using Facebook
This operator has not posted any deals at this time.
most popular Trips (out of 1 total)
Airport near Florence, Italy for 7 Days • Contact provider for price

Operator: Il Campo Cucina

Offered May, June, September, October: This is a sample itinerary for our seven day culinary immersion adventure.Please check back periodically for calendar updates. Approximately 30 days prior to your scheduled arrival, your week's specific itinerary will be posted. The final itinerary… more

| | |
| --- | --- |
| Exertion level: | 3/7 |
| Accommodation: | Comfort |
| Max group size: | 12 people |
| Must form your own group? | No |
Is Il Campo Cucina your company? Register to get access.
You can get access to the Trips listed on TravelDragon, allowing you to add/edit your products. Register as a provider if you'd like to edit these Trips and become a member of TravelDragon.