In business since 1978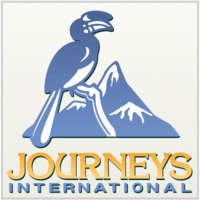 JOURNEYS INTERNATIONAL is the longest standing family-owned global ecotourism company in the US. We offer full-service exotic, guided cross-cultural explorations, nature safaris, treks and eco-tours in remote corners of Asia, Africa, the Americas and the Pacific. Founded by current directors Will and Joan Weber in 1978, JOURNEYS boasts an extraordinary record of client and staff satisfaction and several industry awards.
Join one of JOURNEYS' small groups or request a private journey or custom plan for yourself, your family, your student travel group or your organization. JOURNEYS promises immediate, enthusiastic and meticulous attention to your international adventure travel needs.
We offer you the best nature holidays and cultural trips on earth. Whether you call it specialty travel, ecotravel, ecotour, sustainable travel or responsible travel, for nearly 30 years we have been creating ecologically sensitive and culturally responsible vacations to exotic destinations around the world. Specialty ecotrips include women's tours, Kilimanjaro climbs, exploration cruises, festival trips, Galapagos cruises, student group trips and wildlife safaris.
Address
107 Aprill Drive, Suite 3
Ann Arbor, MI
800-255-8735 USA
Website(s):
Testimonials (3)
Reviewer:

G. Wallace

located in

Chagrin Falls

,

OH

USA

We love that JOURNYES is eco-minded. The quality of the overseas tour companies are excellent. We have been very pleased with the quality and diversity of the content of your tours. We will definitely be back.

Reviewer:

L. Linker

located in

Sahuarita

,

AZ

USA

The major reasons that we enjoy traveling with JOURNEYS, are the fast responses to questions and information, talking to a real person who is friendly and empathetic to individual needs, the professionalism of the staff and the knowledge of all trips we have taken.

Reviewer:

L. Kofoid

located in

Chicago

,

IL

USA

This trip captured our souls and will live with us forever.  Our daughter still talks everyday of the Masaai people in the Sinya camp who carried her during our stay.  Our son bores anyone who comes through our door with our slide show.  We all look at our pictures and pinch ourselves…..were we really there?!  Did we really watch and listen as a mother lion "spoke" to her cubs and they sassed back?  Did we really see giraffes, monkeys, elephants and zebra….all in the same spot?!  Could we really see for hundreds of miles across the savannah?!  Could the sky hold any more stars and has the Milky Way ever been clearer?!  Could the people have been any nicer!?  It is all like a magical dream…
Prominent affiliations & awards
Adventure Travel Trade Association
Other affiliations & awards
National Geographic Traveler: 50 Tours of a Lifetime, 2009 Conde Nast Top Travel Specialist for Family Travel - 2006-2010
Our commitment to sustainable travel
MISSION STATEMENT FOR JOURNEYS INTERNATIONAL
The JOURNEYS INTERNATIONAL mission is to set a standard for innovative travel to remote destinations in order to:
1. support traditional cultures and natural environments
2. provide travelers with personally meaningful experiences
3. encourage cross-cultural understanding
CODE OF ETHICS
JOURNEYS International Eco Policy outlines high standards of respectful, environmentally and culturally-conscientious behavior. These are our expectations for ourselves, our partners and the projects we support.
Adapt and fit-in with the local culture 

Observe, but do not disturb natural systems. Learn proper local etiquette and observe all locally established rules and regulations for conduct. Learn the names of your project leaders and hosts and a little of their native language. Determine from your guide the most culturally appropriate way to reciprocate for local hospitality.
Act directly to accomplish conservation 

Minimize your impact on the environment: Conserve water and minimize usage of non-biodegradables. Do not buy or consume animal or plant products harvested from unmanaged wild populations. Advocate for sustainable use of the natural environments when visiting a threatened eco-system. Join local conservation organizations and make donations to organizations working to preserve cultural heritage and natural environments. Discuss conservation with your friends, family, and children.
Support Sustainable Businesses

 Do not patronize accommodations, organizations, vendors, operators, villages, or individuals who violate environmental regulations or cultural principles. Support businesses that work with local communities to preserve culture and their environment. Purchase souvenirs from the original makers and do not drive an excessively hard bargain.
Embrace Diversity 

Realize that no culture is better than another, just different. Listen and learn; do not preach or criticize cultural practices. Celebrate the uniqueness of each culture.