Pure Adventures
In business since 1994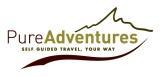 Pure Adventures is a leader and specialist in active vacations in Europe for cycling tours and hiking tours. Since its inception Pure Adventures has been a pioneer in popularizing the self-guided cycle touring travel concept with creative itineraries that feature the best of each country at the greatest possible value to you. The company will arrange your routes, accommodations, luggage transfers, and more by only using the expertise of locals for guides, route development, sites to see, people to meet, where to eat, shop and experience life as a local would. With many different itineraries lasting as few as four days or as many as 14 days ranging from easy to challenging, every traveler is sure to find a tour to fit their needs.

Address
6501 E. Greenway Pkwy #103-439
Scottsdale, AZ
85254 USA
Website(s):
Testimonials (3)
Reviewer:

Andy C.

'The trip was great! I lived in France for 5 years and took many great trips around Europe, but this may well have been the most memorable!'

5

Reviewer:

B. Van Hook

The trip exceeded my expectations in just about every way. It was awesome and challenging to be alone on a bike in a foreign country. I would recommend it to anyone with a sense of adventure who is in good health.

5

Reviewer:

Heidi Ray

located in

CO

USA

Costa Brava Explorer - This is a WONDERFUL tour.  Bo was amazing and helpful, as were his directions and additional information in the hand-outs of things to see and recommended stops and restaurants.  I will recommend Pure Adventures to my bicyclist friends, and will certainly return to you for our next European bicycle adventure!


5
Leave a comment using Facebook
This operator has not posted any deals at this time.
Prominent affiliations & awards
Adventure Travel Trade Association
Our commitment to sustainable travel
In 2008, LRB Flagship, which owns the brands Pure Adventures, Discover France, and Cycling Classics is continuing its commitment to the environment and to conservation. We joined Sustainable Travel International (STI) in 2006 and starting purchasing the carbon offsets to make tours carbon neutral for all tours in 2007. We are continuing again in 2008. Some may ask, "What does this mean, exactly?"
We are pleased to say that because we buying offsets through STI, we have verifiable projects that are making measurable differences. Our program in 2008 is the purchase of Green-e Certified Green Tags; they are USA Renewable Energy projects. Specifically: Bonneville Environmental Foundation (BEF) Green Tags are also known as renewable energy certificates (REC) which are market based commodities representing 1,000 kilowatt hours (1 Megawatt hour) of electicity generation from renewables such as solar, wind, hydro, and biomass. The tags meet strict criteria including Green-e certification. (www.green-e.org) The following projects are receiving support from the dollars we contribute when you purchase a tour:

White Creek Wind Project - 205 MW wind farm in Roosevelt, WA. USA
Condon Wind Project - 49.8 MW wind farm near Condon, OR. USA
Foote Creek Wind Project - multi-phase wind farm in Carbon County, WY. USA
A host of other wind projects located in the USA are also recipients; for a full list and details, please visit the STI website on this link.
What else does LRB Flagship do to minimize environmental impact?
1. We eliminated brochures in 2003; all of our tour listings and details are online, among these pages, and we make every effort to be available quickly by email and phone to answer questions so as to make brochures unnecessary for booking a trip.
2. Our travel documentation is sent electronically cutting down on huge amounts of paper and shipping.
3. Our tours are mostly self-guided which means that support vehicles are not in service most of the time.
4. In the host country, we do our best to work with suppliers and properties that also adhere to ecological, low impact ways of doing business. It certainly isn't always available, but where it is, we try to reward those businesses with your patronage.
5. Our staff and owners do their part to live lightly and conserve. We are not eco-warriors, just concerned citizens of the planet doing what we can to rethink how we get things done. We believe that a little contribution by everyone will make a big impact and doing so doesn't require an unreasonable sacrifice.
We are putting money behind our convictions. Certainly, carbon contributions from a cycling and hiking tour are very small by comparison to other forms of travel. Nonetheless, we are pledging $9000US worth of offsets to make our trips carbon neutral, and we don't see this as negligible and something to be considered when comparing our tours to the competition.
Ecological/Environmental Impact
Same as above; impact is very low by virtue of the self-guided cycling and hiking tour concept. Vehicle support is not included and not necessary.
Sociological Impact
Our destinations occur in Europe in developed areas where culture is westernized and very similar to that of most of our clients. Cycling and hiking routes travel over developed trails and roads and never on undevelopped overland routes. Our customers travel to rural areas and their purchases and stays help to sustain these small communities and hopefully enhance the hiking or cycling access with added investment.
Economic Impact
Our tours have no known negative economic impact unless a customer were to cause an accident. We believe our tours are 100% positive for all the regions we visit.
Best Practices
Doing away with print brochures in 2003. One of the early adaptors of the net as a resource for travelers. Providing an interactive website where prospect travelers can get all the info they need to make a decision and not requiring unnecessary resources. Our tour formula is also very innovative and growing - it is a formula that minimizes adverse environmental impacts, more than other group, guided tour companies in the same activities.
3 most popular Trips (out of 27 total)
Bruges Airport, Belgium for 8 Days • from €1,095* per person

Operator: Pure Adventures

Offered May-October: Cycling Belgium - a tour of Flanders from Bruges to discover four authentic Flemish towns of northern Belgium.This "self-guided" tour offers you the opportunity to discover the western part of North Belgium at your own pace.… more

| | |
| --- | --- |
| Exertion level: | 4/7 |
| Accommodation: | Boutique |
| Max group size: | 24 people |
| Must form your own group? | Yes (custom departure). Price based on group size. |

Pienza, Italy for 5 Days • from €995* per person

Operator: Pure Adventures

Offered March-November: Tuscany is an iconic name, symbolizing the good life - a vacation to enjoy all that is good: food, sun, lifestyle, wine, amusement, and relaxation. The culture of the region adds charm, and you can indulge… more

| | |
| --- | --- |
| Exertion level: | 4/7 |
| Accommodation: | Boutique |
| Max group size: | 24 people |
| Must form your own group? | Yes (custom departure). Price based on group size. |

Strasbourg Airport, Entzheim, France for 7 Days • from €999* per person

Operator: Pure Adventures

Offered April-October: Alsace cycling travel is a unique experience as you explore a part of the region that is nestled between the beautiful Vosges mountains in France and the borders of Germany and Switzerland, Alsace is a region… more

| | |
| --- | --- |
| Exertion level: | 4/7 |
| Accommodation: | Boutique |
| Max group size: | 24 people |
| Must form your own group? | No |
Is Pure Adventures your company? Register to get access.
You can get access to the Trips listed on TravelDragon, allowing you to add/edit your products. Register to get access if you'd like to add or edit Trips for Pure Adventures.