Journeys Within Tour Company
In business since 2003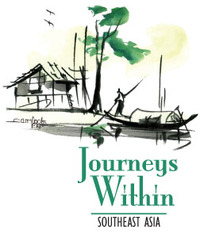 Journeys Within is a boutique Southeast Asia tour company dedicated to delivering its guests unforgettable, customized independent trips through Cambodia, Thailand, Laos, Myanmar, and Vietnam.
Conde Nast Traveler described Journeys Within as a ''pioneer in philanthropic travel.'' We believe that a tour company not only has a responsibility to its guests, but also a responsibility to the countries in which we live and work.
When Andrea Ross started Journeys Within in 2003, she was told she had to choose: be a travel agent, based in the US, or be a ground operator, based in Southeast Asia. Refusing to be limited, Journeys Within became both, earning Journeys Within the reputation it has today of offering guests seamless, custom trips from when they first contact or email our tour consultants to when they explore Southeast Asia with our amazing team in each country.
Not only does Journeys Within offer incredible custom Southeast Asia tours to places such as Bangkok, Chiang Mai, Phuket, Luang Prabang, Hanoi, Hue, Mandalay, Bagan, Angkor Wat and more, we also offer unique opportunities to leave these tourist hubs and get out into the countryside for an authentic experience getting to know the cultures and the people.
For more information regarding customized Southeast Asia tours, please view our website www.journeys-within.com
For more information about our non-profit organization helping the local Cambodian community, please view our website www.journeyswithinourcommunity.org
Address
Journeys Within Tour Company Angkor Shopping Arcade, No A-17 National Road 6
Siem Reap, Siem Reap
Cambodia
Website(s):
Testimonials (3)
Reviewer:

Leslie

located in

USA

Journeys Within provided us with the travel experience of a lifetime. Our trip was full of contrast—adventure, wonder, relaxation, history, emotion, excitement, connection with new cultures and people. Journeys Within is not just another tour company. They take the work out of traveling. We loved the quiet of their B & B in Siem Reap and were spoiled by the care and service their staff provided. We traveled with another couple and we are still speaking which attest to how stress free and enjoyable our trip was.

5

Reviewer:

Edna and Steve

located in

New York

USA

Steve and I have travelled extensively world-wide but never to SE Asia and we rarely rely on agencies. I put feelers out for organizations within the US as well as in this region of the world. From the first conversation with Andrea of Journeys Within there was an immediate connection, a comfort level in terms of their knowledge, warmth, experience, listening skills, suggestions and their patience for answering all of my many and on-going questions. Being a curious and detail-oriented person I was constantly finding areas and events that i just "had to see" and would ask another question. Realizing that time and money was somewhat of a factor Andrea was a magician and always was able to make it all happen. Their humanitarian goals, through Journeys Within Our Community, in a country that has so many needs, was also a large part of why we chose them.

Through the many conversations we had they were able to focus on our main interests (photography, seeing the cultures of each country by viewing the people within their daily life in rural villages that many times showcased their handicrafts, the Buddhist religion and seeing the monks in their saffron robes) and created an extensive itinerary with memorable experiences. We don't go on tours that include large groups of people and so love being able to go off the beaten track on our own with just a guide and driver. Their guides are exceptional, both knowledgeable and so proud of their country and wanting to share it with us. They were all very astute as to what would give us the best experience.

There were numerous instances where unplanned additions were spontaneously added to our day. For example, we remember getting up at 4 AM in Siem Reap because our guide, Sima, had a special relationship with the abbot in one one the wats and knew that we would enjoy seeing the monks meditate. We ran across fields in Angkor Wat and up steep stairs to listen to monks chanting. Throughout, our guides also knew the best vantage points for us to get that "perfect" photograph. We, also, laughingly remember getting out of our car on the way to the ferry in order to cross the Mekong to view the floating markets at Cai Be and Cai Rang and our guide, Kha, arranging for each of us to hop on the back of a motor bike in order to to whiz along and circumvent the 7 km backup which would have taken hours. We definitely appreciated his problem-solving skills. The challenge of successfully crossing the streets in Hanoi and Saigon amid the cacophony of horns and disregard for the traffic lights was masterfully taught and we took great pleasure when we were able to do this on our own. Obviously, we are alive to tell the tale!

If we had to single out (an impossiblity) our favorite places one would have to be the idyllic Luang Prabang, a totally unspoiled area of Laos. Another would be Hoi An, in Vietnam, and it's beautiful walking areas along the Perfume River and throughout the village. Getting up at 5 AM and watching the fishing boats come in and the markets being set up was amazing. When we took the overnight Victoria Express train in our private berth from Hanoi to get to the Sunday Bac Ha market north of Sapa we felt as if we were in a foreign film. The market was an experience in itself that was extraordinary. Seeing the ethnic minority tribes come together in their colorful attire where each group is easily identified put my head on a swivel. My camera continually snapped away. There was so much to see. I think I bought Steve a water buffalo for his birthday! Everything imaginable was sold there.

One very important highlight was the time we spent with Journeys Within Our Community (JWOC) and learning about and from them. It happened to be Valentine's Day and about 130 children wandered in, first carefully washing their hands, to take part in an arts and crafts project of making heart baskets using paper plates. We were privileged to be able to participate and help. Although we could not verbally communicate, our faces and bodies spoke volumes and we all got along so well. Each child left with a basket to bring home, a smile and an orang e to eat. JWOC focuses on basic needs such as clean water, education, health and many other community-based issues. There is even a program that they started in the local prison where the women are taught how to use a sewing machine and make clothing. This will enable them, upon their release, to be productive and contributing members of their community. By breaking this cycle of poverty and building self-esteem by giving them the tools to enrich their lives by making them independent bodes well for their future, their children's future, and ultimately, the future of their country. We plan on being a contributing part of making this part of the world and it's people a better place via JWOC.

Journeys Within provided us with a trip of a lifetime!

5

Reviewer:

Tricia

Hi Andrea:

We're home and had a wonderful trip so thanks for all of your guidance. As you suggested, The Nam Hai exceeded our expectations and was the perfect ending to our busy and extremely hot trip. We all loved our time there. Considering the heat and Charlie's ongoing struggle with stomach issues, I'm not sure I'd attempt the Hanoi bikeride again -- though our sweaty morning and lunch with Vinh will doubtless provide great stories for years to come. The kids were not up for another waltz through a pagoda, so we did the Hoi An market instead. It was the first market exploration of our entire trip and was fascinating, especially the area with fresh seafood and veggies. We bought some bamboo placements and small pottery. Vinh seemed to relax a lot once we were settled down for lunch at his home, beautifully prepared by his wife and mother-in-law. Lunch was delicious.....if only it weren't so hot out. Cold beers helped a lot.

yes, it was extremely disappointing to miss Halong Bay. If we were to do it again, as an alternative plan because of the typhoon, I think we'd drive out to Halong Bay for the day (around 3 hours) instead of the excursion we chose to Perfume Pagoda. Perfume Pagoda ended up being much longer and more strenuous than we were prepared for because of the heat, though I'll bet it's a very different experience in the fall or winter. (I really should send you the photos of our sweaty group midway and following the hike.) when I spoke first with Du, we loved the idea of a one-hour drive to a 45-min. boatride to a one-hour hike. unfortunately, the drive was more like 2.5 hours and the boatride was stifling hot (not that interesting) with a difficult climb at the end. In the end, of course, we definitely are proud of what we accomplished that day and will be talking about our adventure for years to come. We loved Du and really enjoyed the time we spent with him in Hanoi.

finally, Cambodia was a huge hit with the kids. The temples were incredible and I would recommend the short balloon ride to anyone with kids. We got terrific photos. Plus, we loved your Journeys Within, which made the visit extremely special. Your staff there were magnificent and we felt like we had our own private pool -- perfect for cooling off. (The whole experience reminded me of some places we stayed in Zimbabwe --then Rhodesia --more than 30 years ago.) Leap was a charming guide and we enjoyed our time with him as well.

All in all, a wonderful trip for all of us. I think the weather in August is truly a challenge at every step. But, we loved being there in the off-season (it was already WAY more crowded in HK when we returned in mid-August) and would visit again if only it weren't SO FAR away.

Best,




5
Leave a comment using Facebook
This operator has not posted any deals at this time.
Prominent affiliations & awards
Other affiliations & awards
Conde Nast Traveler Southeast Asia Specialist, Wendy Perrin WOW List Trusted Travel Expert, Travel and Leisure A-List Expert, 2008 Conde Nast Travel World Savers Award
Our commitment to sustainable travel
Having been described by Conde Nast Magazine as "pioneers in philanthropic travel," Journeys Within believes not just in empowering the local people to better their own lives, but believes in empowering travelers to help give them that chance. This is why JW started Journeys Within Our Community, or "JWOC," in 2005 (web site: www.journeyswithinourcommunity.org).
Whether donating a well, or supporting a scholarship student or microloan recipient, Journeys Within wants its guests to be a part of the positive impact travel can have. Named as a 2008 Conde Nast World Saver, Journeys Within and JWOC work together to bring guests a unique and rewarding experience that helps empower the communities they visit.
Journeys Within Our Community (JWOC)
When Andrea and her business partner Brandon first came to Cambodia, it was easy to get involved helping the local community. There was definitely no shortage of need, and Brandon and Andrea immediately started offering the "Give and Take Tour" as a way for guests to visit Cambodia and see the highlights, but also focus some of their time on making their visit as beneficial as possible for those they came into contact with
Please read on to learn more about our projects and see how you can change the world as you go.
3 most popular Trips (out of 7 total)
Vietnam for 15 Days • from $6,800* per person

Operator: Journeys Within Tour Company

Offered October-July: Journeys Within Founder and CEO, Andrea Ross, recently returned from an inspection tour of Vietnam inspired to create a new itinerary that offers special access to Vietnam's best sights and experiences with luxurious accommodations along the… more

| | |
| --- | --- |
| Exertion level: | 6/7 |
| Accommodation: | Boutique |
| Max group size: | 8 people |
| Must form your own group? | Yes (custom departure). Price based on group size. |

Vietnam for 14 Days • from $2,415* per person

Operator: Journeys Within Tour Company

Offered Year-round: This is an adventure tour like no other, as you really get off the beaten track in some of Southeast Asia's most beautiful scenery. Enjoy Hanoi's bustling Old Quarter, where you can sample some of the… more

| | |
| --- | --- |
| Exertion level: | 6/7 |
| Lodging: | Villa, Train, Spa, Resort, Luxury Tented, Hotel, Homestay, Eco-Resort, Camping, Boutique Hotel, Boat |
| Accommodation: | Comfort |
| Max group size: | 8 people |
| Must form your own group? | Yes (custom departure). Price based on group size. |

Cambodia and Lao, People's Democratic Republic for 15 Days • from $4,840* per person

Operator: Journeys Within Tour Company

Offered Year-round: At Journeys Within, we've specialized in custom Southeast Asia tours for philanthropically minded travelers from the very beginning – what we call "active philanthropy." So for us, the 15-day "Give As You Go: Laos & Cambodia"… more

| | |
| --- | --- |
| Exertion level: | 3/7 |
| Accommodation: | Boutique |
| Max group size: | 12 people |
| Must form your own group? | Yes (custom departure). Price based on group size. |
Is Journeys Within Tour Company your company? Register to get access.
You can get access to the Trips listed on TravelDragon, allowing you to add/edit your products. Register to get access if you'd like to add or edit Trips for Journeys Within Tour Company.