Journeys Within Tour Company - vacations and travel
Northern Vietnam Adventure Hilltops, Homestays & Halong Bay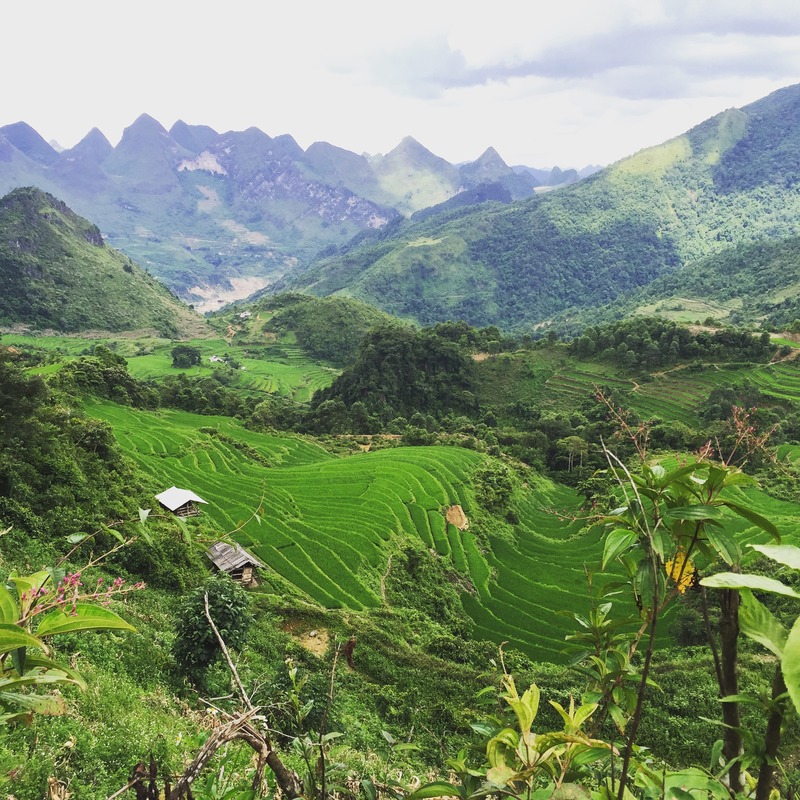 Vietnam
Active & Adventure trips
This is an adventure tour like no other, as you really get off the beaten track in some of Southeast Asia's most beautiful scenery. Enjoy Hanoi's bustling Old Quarter, where you can sample some of the best food in the world. Get lost in Hoang Su Phi's rolling paddy fields where you can trek to a remote village and stay overnight, surrounded only by the sounds of village life around you. Continue on north to Dong Van and drive over some of Indochina's highest passes with spectacular views, before continuing on to the magical Ba Be National Park, all the while staying in the homes of local families who will welcome you with delicious home-cooked meals and stories of life in the area. End the trip with a couple of days relaxing on a Vietnamese junk as you float through Halong Bay and learn more about life on the water.
Locations visited/nearby
Vietnam
0 testimonials about this trip.
Reviewer:

Leslie

located in

USA

Journeys Within provided us with the travel experience of a lifetime. Our trip was full of contrast—adventure, wonder, relaxation, history, emotion, excitement, connection with new cultures and people. Journeys Within is not just another tour company. They take the work out of traveling. We loved the quiet of their B & B in Siem Reap and were spoiled by the care and service their staff provided. We traveled with another couple and we are still speaking which attest to how stress free and enjoyable our trip was.

5

Reviewer:

Edna and Steve

located in

New York

USA

Steve and I have travelled extensively world-wide but never to SE Asia and we rarely rely on agencies. I put feelers out for organizations within the US as well as in this region of the world. From the first conversation with Andrea of Journeys Within there was an immediate connection, a comfort level in terms of their knowledge, warmth, experience, listening skills, suggestions and their patience for answering all of my many and on-going questions. Being a curious and detail-oriented person I was constantly finding areas and events that i just "had to see" and would ask another question. Realizing that time and money was somewhat of a factor Andrea was a magician and always was able to make it all happen. Their humanitarian goals, through Journeys Within Our Community, in a country that has so many needs, was also a large part of why we chose them.

Through the many conversations we had they were able to focus on our main interests (photography, seeing the cultures of each country by viewing the people within their daily life in rural villages that many times showcased their handicrafts, the Buddhist religion and seeing the monks in their saffron robes) and created an extensive itinerary with memorable experiences. We don't go on tours that include large groups of people and so love being able to go off the beaten track on our own with just a guide and driver. Their guides are exceptional, both knowledgeable and so proud of their country and wanting to share it with us. They were all very astute as to what would give us the best experience.

There were numerous instances where unplanned additions were spontaneously added to our day. For example, we remember getting up at 4 AM in Siem Reap because our guide, Sima, had a special relationship with the abbot in one one the wats and knew that we would enjoy seeing the monks meditate. We ran across fields in Angkor Wat and up steep stairs to listen to monks chanting. Throughout, our guides also knew the best vantage points for us to get that "perfect" photograph. We, also, laughingly remember getting out of our car on the way to the ferry in order to cross the Mekong to view the floating markets at Cai Be and Cai Rang and our guide, Kha, arranging for each of us to hop on the back of a motor bike in order to to whiz along and circumvent the 7 km backup which would have taken hours. We definitely appreciated his problem-solving skills. The challenge of successfully crossing the streets in Hanoi and Saigon amid the cacophony of horns and disregard for the traffic lights was masterfully taught and we took great pleasure when we were able to do this on our own. Obviously, we are alive to tell the tale!

If we had to single out (an impossiblity) our favorite places one would have to be the idyllic Luang Prabang, a totally unspoiled area of Laos. Another would be Hoi An, in Vietnam, and it's beautiful walking areas along the Perfume River and throughout the village. Getting up at 5 AM and watching the fishing boats come in and the markets being set up was amazing. When we took the overnight Victoria Express train in our private berth from Hanoi to get to the Sunday Bac Ha market north of Sapa we felt as if we were in a foreign film. The market was an experience in itself that was extraordinary. Seeing the ethnic minority tribes come together in their colorful attire where each group is easily identified put my head on a swivel. My camera continually snapped away. There was so much to see. I think I bought Steve a water buffalo for his birthday! Everything imaginable was sold there.

One very important highlight was the time we spent with Journeys Within Our Community (JWOC) and learning about and from them. It happened to be Valentine's Day and about 130 children wandered in, first carefully washing their hands, to take part in an arts and crafts project of making heart baskets using paper plates. We were privileged to be able to participate and help. Although we could not verbally communicate, our faces and bodies spoke volumes and we all got along so well. Each child left with a basket to bring home, a smile and an orang e to eat. JWOC focuses on basic needs such as clean water, education, health and many other community-based issues. There is even a program that they started in the local prison where the women are taught how to use a sewing machine and make clothing. This will enable them, upon their release, to be productive and contributing members of their community. By breaking this cycle of poverty and building self-esteem by giving them the tools to enrich their lives by making them independent bodes well for their future, their children's future, and ultimately, the future of their country. We plan on being a contributing part of making this part of the world and it's people a better place via JWOC.

Journeys Within provided us with a trip of a lifetime!

5

Reviewer:

Tricia

Hi Andrea:

We're home and had a wonderful trip so thanks for all of your guidance. As you suggested, The Nam Hai exceeded our expectations and was the perfect ending to our busy and extremely hot trip. We all loved our time there. Considering the heat and Charlie's ongoing struggle with stomach issues, I'm not sure I'd attempt the Hanoi bikeride again -- though our sweaty morning and lunch with Vinh will doubtless provide great stories for years to come. The kids were not up for another waltz through a pagoda, so we did the Hoi An market instead. It was the first market exploration of our entire trip and was fascinating, especially the area with fresh seafood and veggies. We bought some bamboo placements and small pottery. Vinh seemed to relax a lot once we were settled down for lunch at his home, beautifully prepared by his wife and mother-in-law. Lunch was delicious.....if only it weren't so hot out. Cold beers helped a lot.

yes, it was extremely disappointing to miss Halong Bay. If we were to do it again, as an alternative plan because of the typhoon, I think we'd drive out to Halong Bay for the day (around 3 hours) instead of the excursion we chose to Perfume Pagoda. Perfume Pagoda ended up being much longer and more strenuous than we were prepared for because of the heat, though I'll bet it's a very different experience in the fall or winter. (I really should send you the photos of our sweaty group midway and following the hike.) when I spoke first with Du, we loved the idea of a one-hour drive to a 45-min. boatride to a one-hour hike. unfortunately, the drive was more like 2.5 hours and the boatride was stifling hot (not that interesting) with a difficult climb at the end. In the end, of course, we definitely are proud of what we accomplished that day and will be talking about our adventure for years to come. We loved Du and really enjoyed the time we spent with him in Hanoi.

finally, Cambodia was a huge hit with the kids. The temples were incredible and I would recommend the short balloon ride to anyone with kids. We got terrific photos. Plus, we loved your Journeys Within, which made the visit extremely special. Your staff there were magnificent and we felt like we had our own private pool -- perfect for cooling off. (The whole experience reminded me of some places we stayed in Zimbabwe --then Rhodesia --more than 30 years ago.) Leap was a charming guide and we enjoyed our time with him as well.

All in all, a wonderful trip for all of us. I think the weather in August is truly a challenge at every step. But, we loved being there in the off-season (it was already WAY more crowded in HK when we returned in mid-August) and would visit again if only it weren't SO FAR away.

Best,




5
Comments from Facebook
Special information
This is a custom departure, meaning this trip is offered on dates that you arrange privately with the provider. Additionally, you need to form your own private group for this trip. The itinerary and price here is just a sample. Contact the provider for detailed pricing, minimum group size, and scheduling information. For most providers, the larger the group you are traveling with, the lower the per-person cost will be.
Accommodates certain types of disabilities. Contact the operator for more information.
Itinerary
Day 1: Arrive Hanoi
Welcome to Vietnam! On arrival you will be met in immigration for your fast-track arrival service. Look for the person with our welcome sign for you. Hand over your photo, visa letter and passport to the person meeting you. You will then be invited to sign the visa form already completed on your behalf before receiving the visa label in your passport. Collect your luggage and clear customs. Your guide will be waiting for you at the arrivals meeting area just outside the airport entrance doors, and will transfer you to your hotel.
Meals Included: None
Overnight at Oriental Central Hotel – 1 Double Junior Suite
Day 2: Hanoi: City Tour
Hanoi, originally named Thang Long or "City of the Ascending Dragon," was the first capital of Vietnam in A.D. 1010. Situated in the Centre North of Vietnam, the city is known as one of the most attractive and interesting places for visitors. Plus, after the fusion in 2008, Hanoi ranks in top 20 biggest cities of the world. Hanoi's sightseeing highlights, which cannot be missed, include the Ho Chi Minh Mausoleum and Museum, where you can see Uncle Ho laid out to rest. Ho Chi Minh was the founder and president of the Democratic Republic of Vietnam. Also, the National Art Museum or Fine Art Museum; the Hoa Lo Prison; central Hoan Kiem Lake, where Hanoians enjoy their early mornings with Tai Chi and Vietnamese style" aerobics in a very peaceful atmosphere; the Old Quarter, where streets are named after the individual trades practiced here since the 15th century; the Hanoi Hilton, where John McCain and other prisoners were held during the war now houses a museum; the Ethnology museum and the Temple of Literature as an example of Vietnamese architecture where it is always relaxing to take a stroll. And don't forget the Vietnamese Women's Museum, a fantastic museum which showcases the role of women throughout Vietnam's history and society.
Hanoi is Vietnam's cultural center, and the galleries, puppetry, music, and dance performances are worth staying at least a few days to take in. This morning start by discussing options with your guide what you would like to do and see today. Your guide will be with you all day so discuss what suits you and then have fun!
Meals included: Breakfast, Lunch
Overnight at Oriental Central Hotel – 1 Double Junior Suite
Day 3: Hanoi: Street Food Tour and Dong Ngac Village Tour
You will be met by a chef, private car, and driver at your hotel at 8:30am. Start the day with a typical Vietnamese breakfast, the famous beef or chicken and rice noodle soup, Pho, or one of the other favorite breakfasts of Hanoi - Xoi, sticky rice with savory toppings. Next explore the local market to learn about and taste some of the ingredients used in the local cuisine and watch the buying and selling rituals of a Vietnamese market. Mid-morning enjoy a Ca Phe (coffee) or Tra (tea) with the locals at one of the chef's favorite sidewalk cafes in the Old Quarter. Walk to Truc Bach Lake for a snack of Pho Cuon, a grilled beef and rice noodle roll with fresh herbs and dipping sauce, along with several other favorite local snacks. Lunch will follow with the chef at one of Hanoi's Bun Cha establishments to enjoy traditional grilled pork and rice vermicelli noodles with fresh herbs, greens, and crispy spring rolls (Nem Ran) like true Hanoians.
From here, say goodbye to your chef and along with your guide you will drive out to Dong Ngac Cultural Village, located about 15km from Hanoi center. This is an ancient village and a Cultural Heritage Site in honor of its educated and heroic people recognized by the kings of Vietnam. It is only a 30-minute drive and soon you will find yourself entering the gate of the village to visit Dong Ngac Communal House, the grounds and architecture of which are built in the shape of a dragon. As you wander deeper in to the village you will learn about the importance of the ancestor worship palaces to the Pham, Do and Hoang families living in the neighborhood. The oldest house in the village belongs to the Do family and is more than 300 years old. Here you will hear about the King and why he respected his general who lived here. Take special note as you walk down the cobbled streets of the village in and out of the historical homes that each brick is part of a dowry of brick cobbles paid for by grooms' families in earlier times when the daughters of Dong Ngac Village wed. Leave the village around 4:30pm to return to your hotel in town.
Meals included: Breakfast, Lunch
Overnight at Oriental Central Hotel - 1Double Junior Suite
Day 4: Hanoi - Hoang Su Phi
Today you will say goodbye to the city and set off north to the beautiful rice paddies of Huang Su Phi. This is a long drive (6-7hrs) but you will pass through some stunning scenery as you slowly make your way deeper into one of northern Vietnam's lesser known but supremely beautiful provinces. Arrive late afternoon at Ecolodge Pan Hou Village and relax for the evening. They have a great spa so take advantage before your trek tomorrow!
Meals included: Breakfast, Lunch, Dinner
Overnight at Ecolodge Pan Hou Village – 1 Double Standard Room
Day 5: Hoang Su Phi: Trekking
Today you will begin your trek along rice paddies and through bamboo forests, enjoying some stunning views along the way. This area does not see as many visitors and so you can really get off the beaten track and soak up the atmosphere of this beautiful hill tribe area. This evening you will stay with a local Red Dzao family in their home, where you can enjoy a delicious home-cooked meal and learn more about life in the village.
Meals included: Breakfast, Lunch, Dinner
Overnight at Homestay
Day 6: Hoang Su Phi: Trekking
Wake up to the sounds of village life and enjoy a local breakfast before saying goodbye to your host family and trekking back to the ecolodge. You will take a different route so you can enjoy more of the surrounding area before arriving back early afternoon. Spend the rest of the day relaxing in your room, in the lovely gardens or in the spa.
Meals included: Breakfast, Lunch, Dinner
Overnight at Ecolodge Pan Hou Village – 1 Double Standard Room
Day 7: Hoang Su Phi - Nam Dam
Set off once more and drive east to Nam Dam. This drive is only a few hours, and so on arrival you can enjoy some time in the afternoon to explore the surrounding area by foot, before settling down to a delicious dinner with your host family.
Meals included: Breakfast, Lunch, Dinner
Overnight at Homestay
Day 8: Nam Dam - Dong Van - Meo Vac
Today you will continue on to the northernmost part of Vietnam as you explore the ''roof of Vietnam'', taking in some of the most breathtaking views in all of Indochina. Stop along the way to visit the house of the King of the H'Mong and also the ancient town of Dong Van. From Dong Van drive on via Ma Pi Leng, the highest and most imposing pass in Indochina, where you can enjoy some fantastic views of the Nho Que River in the valley below. Arrive in Meo Vac in the afternoon and check in to the Auberge de Meo Vac where you can relax for the evening.
Meals included: Breakfast, Lunch, Dinner
Overnight at The Auberge De Meo Vac – 1 Double Standard Room
Day 9: Meo Vac - Ba Be National Park
Today is another long but beautiful drive as you make your way further east to Ba Be National Park. On arrival at the national park, you will board your boat on Ba Be Lake, one of the most beautiful fresh water lakes in the world, which will take you to your homestay for the evening. This village is remotely located on the edge of a beautiful valley which you can explore by foot or by bicycle. Enjoy another delicious meal with your host family and settle in for the evening.
Meals included: Breakfast, Lunch, Dinner
Overnight at Homestay
Day 10: Explore Ba Be National Park
Along with your guide set off and explore this beautiful secluded valley by foot as you really get off the beaten track, following trails through evergreen forest, surrounded by towering Limestone Mountains.
Meals included: Breakfast, Lunch, Dinner
Overnight at Homestay
Day 11: Ba Be National Park - Hanoi
Once again say goodbye to your host family and set off back to Hanoi, about a 3 ½ hour journey by road. Arrive in Hanoi and check into your hotel. Enjoy your afternoon at leisure.
Meals included: Breakfast
Overnight at Oriental Central Hotel – 1 Double Junior Suite
Day 12: Hanoi - Halong Bay
Your guide will meet you at your hotel at 8 am. Today, you leave bustling Hanoi behind on your private transfer to wonderful Ha Long Bay. Your journey will take around 3 ½ hours through the historical countryside of the Red River Delta peppered with hundred year old villages.
Arrive at Halong city by midday where you will transfer to the pier to board your junk. Enjoy a welcome drink before relaxing with a fresh seafood lunch, while cruising through the magnificent Bai Tu Long Bay (the peaceful northern part of Halong Bay, commonly overlooked by most visitors). Take in the breathtaking serenity of your surroundings, before stopping mid-afternoon to visit Thien Can Son Cave. A short cruise further will bring you to Hon Co Island where you can spend the late afternoon relaxing on board the junk or on the white sandy beach. If weather permits, enjoy some kayaking around the bay. You will finish the day on board with dinner around 7pm followed by time to relax and reflect on your day.
Meals included: Breakfast, Lunch, Dinner
Overnight at Dragon's Pearl Junk Cruises – 1 Double Cabin
Day 13: Halong Bay - Hanoi
Today's early start with breakfast around 7:30am is a wonderful opportunity to admire the bay waking up around you. An hour later you will be taken in a traditional rowboat to meet the local people who call Vung Vieng fishing village their home. Learn all about their daily life, the floating school and fish farms. Enjoy your lunch as you cruise back to Hon Gai Harbor to disembark at the pier around midday.
Your guide will meet you as you disembark and you will have a private car transfer to Noi Bai airport for your onward flight. By 3pm you will reach Hai Duong province where you will stop at Ninh Giang Village to enjoy an hour water puppet show at Hong Phong Water Puppet Theater. After the show you will visit the Ninh Giang Communal house. Around 5pm you will leave to complete your remaining journey back to Hanoi, where you will check into your hotel for the night.
Meals included: Breakfast, Lunch
Overnight at Oriental Central Hotel – 1 Double Junior Suite
Day 14: Depart Hanoi
Your guide and driver will meet you at your hotel for your private transfer to Noi Bai airport in time for your onward flight.
Meals included: Breakfast
PLEASE NOTE
This itinerary is currently in progress and does not reflect hotel room availability. The pricing is not final until the itinerary has been confirmed and booked.
Price includes:
· Boat tickets as specified above
· Accommodation as specified above
· Air-conditioned car/van with driver
· Licensed English speaking guides
· Tours and admission fees as mentioned above
· Meals as specified in itinerary, including water
Price excludes:
· Personal expenses
· Visa fees
· Airport tax
· Drinks (except water) and meals not mentioned in itinerary
· Tips
More information from Journeys Within Tour Company: