50 Degrees North
In business since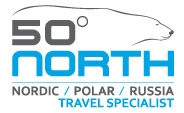 50 Degrees North is a specialist travel company focusing on tours, voyages and adventures to the Nordic & Polar regions, Scandinavia, Greenland, Iceland, Russia, China, Mongolia and Japan. We specialise in the most enriching style of travel; high in quality and full of real life experiences. Our wide range of holidays ensures there is something for everyone; from comfortable tours and voyages; to treks and remote expeditions.

Our Director and Co-Founder, Tietse Stelma, is Norwegian and was born far north of the Arctic Circle in a Sami village called Karasjok. He grew up in Hvaler in the outer Oslo fjord and is has the last 7 years been living and working in Melbourne, Australia. Tietse joined the travel industry in the early 90's in Norway working with off the beaten track travel, as well as specialist tours to China. In the late 90's lead tours in North Asia, and later established the China product for Intrepid Travel in Australia. From 2005 to 2010 he headed up the global operations team for Peregrine Adventures to ensure high class product delivery.

With 20 years in the industry, Tietse has spent years exploring the extraordinary northern region and knows the area better than most. Tietse is also the sitting President of the Norwegian club of Victoria (Friends of Norway), speaks fluent Norwegian and Dutch, and has over the years built an extensive network of operators and suppliers in the northern region.
Address
Suite 203 7 Jeffcott St
West Melbourne, Victoria
3003 Australia
Website(s):
Testimonials (3)
Reviewer:

Sue Williams

located in

Malvern

,

Victoria

Australia

Hi Jayde and "T", I just wanted to thank you for organizing our trip so efficiently and creatively. The variety of accomodation in such wonderful country villages, princely homes and character filled hotels and the myriad ideas for activities in each village, town and city demonstrated your depth of research, your knowledge of the country and people and your careful consideration for our needs and interests. Your inspired suggestion of having a driver, BJ, who was so good, kind, experienced and trustworthy added to the total enjoyment of our trip. Thank you. I look forward to another trip with you at 50 degrees north in the near future.




5

Reviewer:

Marion Hunt

located in

Ballarat

,

Victoria

Australia




"Thank you for your thorough and prompt service for our recent trip. We had a lovely time and really enjoyed the special hotels you recommended. I look forward to travelling with 50 Degrees North again, perhaps Mongolia next time..."




5

Reviewer:

Berenice Kincaid

located in

Leitchville

,

VIC

Australia

We enjoyed a Polar Bear Cruise with 50 Degrees North in July 2012. We were thrilled by the trip - we loved the adventure and constant chase of finding wild animals in their habitat. 4 Polar bears, arctic foxes, heaps of Walrus and whales really made the trip special.




We made lots of friends on board with a great comradeship created in the adventure of the Zodiac missions, the BBQs on the decks and the Iceberg cocktails. We would recommend this voyage to those wanting to see something new and different. 50 Degrees North helped us with all our flights and suggested great hotels and side excursions to make the whole trip very unique. Thanks!

5
Leave a comment using Facebook
This operator has not posted any deals at this time.
Other affiliations & awards
Pure Life Experiences Supplier Australian Travel Compensation Fund Member
Our commitment to sustainable travel
Environmentally friendly and sustainable tourism is at the forefront of the 50 Degrees North philosophy.Our sustainable focus is perfectly matched with the region in which we operate. The area north of the 50th parallel comprises some of the last true wilderness on earth. We like to call it the last frontier wherein some areas the development of sustainable tourism infrastructure is still in its experimental stage. Our aim is to ensure that this development takes a sustainable path.
50 Degrees North promotes partnerships with local businesses in the destinations we travel rather using international chain hotels or companies. This also means that the people you meet on the ground are locals who know their area better than anyone, and can take you deep under the skin of their home country or region.
50 Degrees North has pledged to donate a percentage of our annual profit to Arctic conservation efforts, with particular emphasis on protecting
the habitat of the majestic Polar Bear - the symbol of the Arctic with its content being a gauge of our success in fighting dangerous climate change.
3 most popular Trips (out of 9 total)
Oslo Norway for 15 Days • from $7,100* per person

Operator: 50 Degrees North

Offered November-April: Our most popular independent itinerary, the Nordic Winter Odyssey is designed to optimise the chances to see the Aurora Borealis. It travels from Oslo, over the North Cape, through the Lyngen Alps, to Tromsø and Swedish… 1 testimonial & more

| | |
| --- | --- |
| Exertion level: | 2/7 |
| Accommodation: | Boutique |
| Max group size: | 8 people |
| Must form your own group? | No |

Kittilä Finland for 9 Days • from $3,540* per person

Operator: 50 Degrees North

Offered February: Join our only Nordic winter small group Journey to Northern Scandinavia. We will take you snow mobile riding, dog mushing and reindeer sledding; all under the spectacle of the Northern Lights. We travel through beautiful winter… 1 testimonial & more

| | |
| --- | --- |
| Exertion level: | 2/7 |
| Accommodation: | Boutique |
| Max group size: | 16 people |
| Must form your own group? | No |

Longyearbyen Svalbard Airport, Longyearbyen, Svalbard and Jan Mayen for 7 Days • from $4,100* per person

Operator: 50 Degrees North

Offered July, August: High above the Arctic Circle, high mountain peaks pointing the sky, azure blue glacier fronts, unspoiled scenery and a magnificent wildlife. In combination with the high level of comfort at Basecamp Isfjord Radio and exciting days… more

| | |
| --- | --- |
| Exertion level: | 3/7 |
| Accommodation: | Boutique |
| Max group size: | 16 people |
| Must form your own group? | No |
Is 50 Degrees North your company? Register to get access.
You can get access to the Trips listed on TravelDragon, allowing you to add/edit your products. Register to get access if you'd like to add or edit Trips for 50 Degrees North.