Epicurean Ways - vacations and travel
Classic Andalucía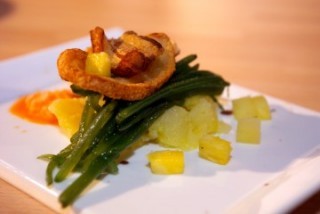 from $2,400* per person
8 Days
Year-round
Boutique accommodations

Exertion level: 3

Operator:

Epicurean Ways

16 people max
Seville, spain
Culinary & Wine Travel trips
Tasting Spanish Traditions
Interested in tapas – the real thing? Would you love an in-depth tapas tour in Sevilla and a private cooking class with a renowned Spanish chef? Do you want to taste aged Sherry right out of the barrel? Visit multiple UNESCO World Heritage Sites? Customize this trip to suit your tastes and preferences. Enjoy private guided walking tours, great meals and tapas, cooking with a professional, winery tours and tastings, an olive oil tasting . . . It's a mouthwatering trip.
Take a journey that reveals the classic flavors of Andalucía, the region many call the real Spain. On guided private tours, explore the tapas of Sevilla (the Spanish city that best embodies the tapeo as a way of life), wineries and sherry making, an artisanal olive oil mill, and the Moorish architectural heritage in the hilltop pueblos blancos. Visit Sevilla's market and cook meals with a professional chef. Visit the charming old "white village" of Ronda, one of Hemingway's favorite places, the historic city of Cordoba, a true cultural crossroads, and Granada, with its world-famous Alhambra.
Locations visited/nearby
Albania
0 testimonials about this trip.
3 testimonials about the provider, Epicurean Ways:
Reviewer:

Carl

located in

NYC

,

San Sebastian's charm and having eaten at Etxebarri that day definitely made a positive impression. Everything was wonderful and perfect. Gabriella was a delight, generous, and so well connected.  Thank you so much for such a fantastic trip.  We could not have done it without you and Gabriella, and everyone else involved with the tour.
–Carl, NYC

5

Reviewer:

Deborah

located in

Indiana

Just returned from a fabulous trip to Spain. Thanks to Jane and her superb connections with great tour guides, my husband and I enjoyed a trip of a lifetime! We visited 7 wineries, learned much about Spanish wines, history (including my Sephardic Jewish ancestory) and culture and ate delicious food. The arrangements and accomodations were perfect. Will go back, hopefully soon!
–Deborah, Indiana

5

Reviewer:

Manuel, Viridian Farms

located in

Oregon

I just wanted to let you know how delighted we were with our cooking class in San Sebastian. Chef Haritz did an incredible job of exposing us to what San Sebastian has to offer on a deeper, market-driven level—and made our day with him at the market and cooking class the highlight of our trip. 

By introducing us to various fish mongers, farmers, produce importers, and specialty food shopkeepers, we gained a greater understanding of how Donosti chefs acquire the raw products for their culinary creations. Later, the dishes we prepared during our cooking class were inspired by what we selected at the market in the morning—improvised and truly driven by what was fresh and in season. His friendliness, professionalism, culinary knowledge, and sincere enthusiasm in helping us learn about gastronomy in San Sebastian were outstanding.

We typically shy away from organized tours, but we were so impressed with our Epicurean Ways experience that we will definitely "travel" with you again whenever we go to Spain.

–Manuel, Viridian Farms, Oregon

5
Comments from Facebook
Special information
This is a custom departure, meaning this trip is offered on dates that you arrange privately with the provider. Additionally, you need to form your own private group for this trip. The itinerary and price here is just a sample. Contact the provider for detailed pricing, minimum group size, and scheduling information. For most providers, the larger the group you are traveling with, the lower the per-person cost will be.
Itinerary
Itinerary
8 days/7 nights
Sevilla
Day 1
Check in to your historic hotel, which is located in the Barrio de Santa Cruz, Sevilla's central district and medieval Jewish Quarter. This charming neighborhood is one of Spain's largest intact historic districts and today mostly pedestrianized. In the early evening your private guide will pick you up for a tapas tour through the Barrio de Santa Cruz and the perhaps Triana district across the river. Sample authentic traditional tapas, accompanied by wine and beer, at a four or five tapas bars, each with their own specialty.
Cooking in Sevilla
Day 2
This morning meet one of Sevilla's renowned chefs for a walk through the market and cooking class. At the market, he will explain some of the most typical ingredients used in Andalusian cuisine, including the many types of fish and shellfish from both the Atlantic Ocean and the Mediterranean Sea. Proceed to his restaurant for a cooking class where you will prepare traditional dishes such as Salmorejo, Gambas al ajillo, Arroz con mariscos or paella, and Torrijas. After finishing, appreciate your efforts by savoring your creations with marvelous wine pairings. After lunch your local Sevilla guide will take you on guided walking tour through historic Sevilla and its charming labyrinthine streets. Marvel at this ancient city's astonishing monuments, including the Alcázar, a Moorish-built palace complete with traditional patios, fountains and amazing hand-crafted tile work. Visit the Gothic cathedral – the third-largest church in the world – and climb to the bell tower to appreciate magnificent panoramic views of the city, including of the Guadalquivir River and the many stunning bridges that span it, old and new. This evening, you may want to enjoy a flamenco performance in one of Sevilla's flamenco performance centers.
Sanlúcar de Barrameda on the Atlantic coast
Day 3
Embark on a full-day excursion to undiscovered Sanlúcar de Barrameda, a beautiful city that lies 60 miles from Sevilla at the mouth of the Guadalquivir estuary. Scenic Sanlúcar faces Doñana National Park, overlooks the Atlantic Ocean, and is unsurprisingly known as one of the best places in Spain for fine seafood. Manzanilla sherry is produced here, and although Sanlúcar is the second most important sherry town, it remains unknown to the majority of foreign visitors. Pass by vineyards on the way from Sevilla to Sanlúcar and, upon arriving in town, participate in a short walking tour of the old town to see its fantastically inviting local market, filled with seafood, meats and fresh fruits and vegetables. Proceed to one of the local bodegas (wineries), where the spectacular buildings filled with row after row of sherry butts will remind you of the impressive architecture usually reserved for cathedrals. Learn about the special aging process for sherry wines and enjoy a rare treat by tasting many different wines directly from the cask. Some of these selections will be over 30 years old; rare jewels reserved for privileged visitors. After the bodega visit and wine tasting, you will go to one of the fantastic seafood restaurants and indulge in a meal of great seafood and a preferred local wine. Consider the finest manzanilla, a sherry similar to fino but lighter, with a salty hint to it. Stroll along the beach before returning to Seville. Free evening in Sevilla.
Córdoba
Day 4
Take the 45 minute high-speed train trip to nearby Córdoba, which was once the most populous city in the world, the intellectual center of Europe, and the capital of an Islamic caliphate. Enjoy a private walking tour of the old city including the charming, winding streets of the Juderia and the impressive Mezquita, an 8th-century Moorish mosque with a 13th-century Christian Cathedral inserted within it. In the afternoon, savor a delicious lunch of tapas in one of Córdoba's best tapas restaurants, and explore Córdoba's charming neighborhoods. Return to Sevilla for a free evening, perhaps returning to your favorite tapas bars from your tapas tours.
Ronda
Day 5
Journey through the countryside with your private driver, across endless acres of olive trees, stopping first in the mountains to visit an artisanal olive oil mill in the rolling hills outside Ronda, where skilled producers make organic olive oil in much the same way as they have for hundreds of years. After observing the process, partake in a special olive oil tasting.and taste the varieties of extra virgin olive oil. Next you will visit a traditional goat cheese maker and have lunch at a country venta in the mountains. Then it's on to the magical town of Ronda, Andalucía's rural and most beautiful pueblo blanco, or white village. Of Moorish and Christian legacy, Ronda is known for its spectacularly dramatic gorge, its picturesque bullring and for being one of Hemingway's favorite inspiring haunts. Explore the beautiful old town, the finely preserved Arabic baths, and the Neoclassical bullring. Spend the evening on your own in Ronda.
Ronda - Vejer de la Frontera
Day 6
Ronda is becoming well-known among enthusiasts as a producer of very good red wines and, to a smaller extent, whites, which are being made in boutique wineries with extraordinary attention to detail: grapes are picked by hand, companion planting is used to organically control insects, and natural yeasts are used in the winemaking process. Join the winemakers as they share their wines, their stories and their expertise, followed by a private lunch in a boutique winery. You will then head to Vejer de la Frontera, a white village perched atop a hill near the Atlantic coast. Enjoy an evening tapas tour stopping at bars for southern Andalusian specialties.
Vejer de la Frontera
Day 7
Today you will spend the day on one of the gorgeous beaches on the Costa de la Luz, or if you prefer, stay local in Vejer for the day. Dinner tonight celebrates a chef's mastery of seafood, at Angel Leon's Michelin starred Aponiente in El Puerto de Santa Maria.
Departure From Sevilla
Day 8
Private transfer to Sevilla for your return journey.
More information from Epicurean Ways: