Tour de Forks - Uncommon Epicurean Adventures - vacations and travel
A Cultural and Culinary Hot Pot: Sicily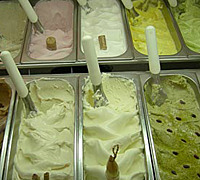 Palermo airport, cinisi, italy
Culinary & Wine Travel trips
Italy offers one of the world's greatest cuisines and so it is fitting that it is the birthplace of the now-international Slow Food Movement. Slow Food's mission is to protect our precious food heitage - and no destination is more deserving of that than Sicily.

Discover Sicily's diverse and exciting cuisine that has evolved from the influence and the ancient traditions of its conquerors, the Greeks, Romans, Arabs and Normans. Travel from Palermo to Taormina and along the way see the salt being harvested from the marshes, make ricotta cheese, tour olive mills, and delight in the sights, sounds and tastes of colorful markets. Dining will include: authentic farm-to-fork feasts, elegant Michelin starred experiences, savor organic wines, and, enjoy stops in cafes for gelati and extravagant deserts. Sicily - its people, the culture, the land, the sea - and the food.
Locations visited/nearby
Italy, Europe
0 testimonials about this trip.
Reviewer:

Chef Anita Lo

located in

New York

,

NY

USA

"I'd recommend Tour de Forks to my own mother. I'd even require it for all serious foodies and food professionals if I could, so they all would experience the fresh new ideas of 'Mod Oz' (modern Australian cuisine: a cutting edge, urban cuisine influenced by nearby Asia), and the exceptional cheeses, wines, meat and produce from that continent.

You could do it on your own, but chances are, even if you have several good guide books, you're going to be disappointed with more than just a couple of meals, and you won't get the personalized, VIP treatment you get from having a few famous, local food professionals showing you around as you do on Tour de Forks. I wish every country I've visited had a Meera Freeman, a George Biron, and a Melissa Joachim to take me out to dinner. These are people whom chefs want to impress and who routinely get the best tables and the best service-these are the people you want at your dinner table. Not only are they your insider's ticket to the culinary cognoscenti circle, they are also passionate teachers who give illuminating demonstrations throughout the tour and take you to find the best jamon, the best lobster, and the best cheeses the country has to offer.

The tour, however, is not just about food. The accommodations are luxurious. You stay at only the most fabulous hotels. Some of the highlights didn't even have anything to do with food. If you go on your own, try not to miss a private plane ride over the "12 Apostles"-12 stunning rock formations off the south-eastern coast on the way to King Island, home to award winning cheeses, fabulous seafood and fantastic beach views. Also don't miss the wild kangaroos that hang out in the golf courses on the way to Sunnybrae, George Biron's home, farm and former restaurant in some of the most beautiful, unspoiled countryside left in the world. And don't forget to take a boat ride with local dolphins on your way back to Melbourne from wine tastings at local vineyards. Or, just sign up for the tour, relax, and let Meera, George and Melissa guide you through a trip to remember."


5

Reviewer:

Jackie Chasey

located in

New York

,

NY

USA

My Tour de Forks culinary adventure was a foodie dream come true. Of course, the Tour de Forks team arranged every detail to please the most sophisticated, discriminating traveler-that was expected, although probably shouldn't have been taken for granted-but what was unique about this trip was the access to experiences you could never have traveling on your own unless you're a celebrity or restaurant royalty.

My fellow travelers were a diverse lot, interesting, accomplished and extremely congenial, and our small group felt like a bunch of friends enjoying each other's company and not like everyone's stereotype of a tour group. I'm sure this was due largely to our tour organizers and guide who did an amazing job of taking individual needs and preferences into account and dealing with every situation with humor and the utmost flexibility.
I will travel with Tour de Forks again, and I recommend it without reservation to anyone who loves food and wine and wants a luxurious, informative and uniquely pleasurable vacation experience.

5
Comments from Facebook
Special information
This is a custom departure, meaning this trip is offered on dates that you arrange privately with the provider. Additionally, you need to form your own private group for this trip. The itinerary and price here is just a sample. Contact the provider for detailed pricing, minimum group size, and scheduling information. For most providers, the larger the group you are traveling with, the lower the per-person cost will be.
Itinerary
Day 1
Arrive in Palermo and transfer (via private car) to the five-star Grand Hotel Villa Igiea overlooking the sea. Enjoy a welcome prosecco - Italy's signature sparkling wine - and canapes on the hotel terrace, followed by dinner al fresco in a local ristorante in Palermo.
Day 2
Day trip to the western side of the island. After viewing the ancient Greek temple at Segesta, continue to Trapani to see the salt pans. The harvesting of salt in Trapani (home to some of Europe's oldest salt marshes) dates back to the time of the Greeks and Romans and flourishes to this day. Many cooks prefer sea salt to that harvested from other sources. This pure salt, with its trace elements is perfect for fish, like the seafood couscous for which Trapani is famous. This afternoon we will tour an ancient salt mill on the water and lunch on seafood couscous. We continue on to Marsala, this seaport town has an indissoluble bond with the wine that bears its name. We will visit the renowned Cantine Florio, one of the oldest and most influential producers of Sicily's famous Marsala wine for a special tasting. Dinner of fresh seafood in the seaside town of Mondello.
Day 3
Morning tour of the colorful Capo outdoor food market with Mary Taylor Simeti, food historian and well-known author of On Persephone's Island: A Sicilian Journal and other works. Simeti has lived in Sicily for decades, where the outdoor market tradition dates back to the 9th century. We will stroll the narrow medieval streets where tarocchi (blood oranges), giri (leafy greens), herbs, artichokes, cuttlefish, swordfish, gutted goats, lambs, breads and cheeses will all vie for our attention.Lunch of piatti tipici palermitani (Palermitan specialties) at Mary's favorite trattoria in the Borgo. Afternoon and evening free to explore Palermo.
Day 4
This morning, a guided tour of Monreale Cathedral famous for its gold mosaics. After a light lunch, a demonstration and tasting of the classic Sicilian dessert, Cassata Siciliana at Bar Alba. The Sicilians are known for their extravagant desserts and most of their pastries are tied to a religious, mystical, or historic significance. Cassata Siciliana is a yellow layer cake filled with a ricotta cheese mixture, frosted with marzipan and decorated with candied fruit in flowerlike patterns. For dinner, we are guests of an aristocratic Palermitan family for cucina baronale. La cucina Baronale began in the medieval kitchens of the nobility and evolved with the arrival of French aristocracy on the island.
Day 5
Depart Palermo for Regaleali, the grand country estate of the family of the cookbook author, the late Anna Tasca Lanza. Her daughter Fabrizia, now runs the cooking school. Regaleali-Tasca d'Almerita is one of the most important wine-producing estates in Sicily and a working farm that provides almost all of the the produce - and the wines - it serves its guests. In addition to the vineyards, there are olive groves, orchards, chickens, and sheep. After a tour of the winery, a cooking class and a ricotta cheese making demonstration. Dinner here will be a true farm-to-fork experience. Overnight at Regaleali.
Day 6
Breakfast. Early departure to the Roman Villa Casale, to view some of the finest mosaic floors that have survived intact for centuries. After a light lunch, proceed to Eremo della Giubiliana, outside of Ragusa. Once a 15th-century convent, it has been converted to a breathtaking five star hotel. Tonight, dine - under the stars - on dishes created from the ancient recipes of the Ibla aristocrats. The produce comes from Eremo's garden and the pasta and breads are made with only hard grain flour.
Day 7
Visit the charming baroque town of Modica for a demonstration and tasting of the cold-processed chocolate at Antica Dolceria Bonajuto. The tradition of preparing bitter chocolate and using it in savory cuisine has survived here unscathed.
This evening enjoy a seven-course degustation dinner, with matching wines, prepared by Chef Ciccio Sultano, one of Sicily's most acclaimed chefs and the only one with two Michelin stars. At his small elegant restaurant Il Duomo, he delivers simple chic cuisine - his own interpretation - but always tied to the Sicilian seasons, Sicilian ingredients and Sicilian traditions.
Day 8
Depart for Siracuse, noted for its rich Greek history, culture, amphitheatres, architecture and association to Archimedes; it is over 2,700 years old. Guided tour of archaelogical park. Lunch and afternoon at your leisure. Overnight at the belle epoque Grand Hotel on the waterfront. Dinner at a local trattoria.
Day 9
Depart for Taormina, stopping in the baroque town of Noto, which is a UNESCO world heritage site and the location for Antonioni's film L'Aventura. Lunch will be on the beach at a seaside taverna in Marzamemi. An afternoon stop at Buonvini for tour and wine tasting. Arrive at the five-star San Pietro Palace Hotel in Taormina, with views over the Ionian Sea. Evening at your leisure.
Day 10
A day to explore, shop, visit the Greek theatre, or simply relax. Farewell dinner.
Day 11
Morning transfer to the Catania airport.
More information from Tour de Forks - Uncommon Epicurean Adventures: