Tour de Forks - Uncommon Epicurean Adventures - vacations and travel
Provence and the Volcanic Heartland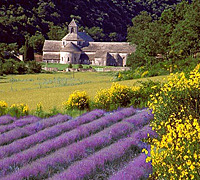 Lyon airport, france
Culinary & Wine Travel trips
This trip was designed by our tour guides Kathryn Morton and Debra Fioritto, who are winners of the 2006 Culinary Trust's Julia Child Endowment Fund Scholarship. This journey, like no other you'll find anywhere, is a delightful gastronomical discovery of France's Sites of Exceptional Culinary Taste, places dedicated to outstanding products. We'll take a culinary pilgrimage to unveil different facets of local ingredients, broadly expanding your knowledge of French food, the countryside, the people and their methods of production. We'll have intimate conversations with producers and growers, be welcomed by great chefs of the region, prepare local cuisine, dine in private homes and Michelin starred restaurants, visit olive orchards, vineyards, candy and pottery workshops, all the while savoring the quality of exceptional products. And, of course, you'll have time to shop for all these local products!
Locations visited/nearby
France, Europe
0 testimonials about this trip.
Reviewer:

Chef Anita Lo

located in

New York

,

NY

USA

"I'd recommend Tour de Forks to my own mother. I'd even require it for all serious foodies and food professionals if I could, so they all would experience the fresh new ideas of 'Mod Oz' (modern Australian cuisine: a cutting edge, urban cuisine influenced by nearby Asia), and the exceptional cheeses, wines, meat and produce from that continent.

You could do it on your own, but chances are, even if you have several good guide books, you're going to be disappointed with more than just a couple of meals, and you won't get the personalized, VIP treatment you get from having a few famous, local food professionals showing you around as you do on Tour de Forks. I wish every country I've visited had a Meera Freeman, a George Biron, and a Melissa Joachim to take me out to dinner. These are people whom chefs want to impress and who routinely get the best tables and the best service-these are the people you want at your dinner table. Not only are they your insider's ticket to the culinary cognoscenti circle, they are also passionate teachers who give illuminating demonstrations throughout the tour and take you to find the best jamon, the best lobster, and the best cheeses the country has to offer.

The tour, however, is not just about food. The accommodations are luxurious. You stay at only the most fabulous hotels. Some of the highlights didn't even have anything to do with food. If you go on your own, try not to miss a private plane ride over the "12 Apostles"-12 stunning rock formations off the south-eastern coast on the way to King Island, home to award winning cheeses, fabulous seafood and fantastic beach views. Also don't miss the wild kangaroos that hang out in the golf courses on the way to Sunnybrae, George Biron's home, farm and former restaurant in some of the most beautiful, unspoiled countryside left in the world. And don't forget to take a boat ride with local dolphins on your way back to Melbourne from wine tastings at local vineyards. Or, just sign up for the tour, relax, and let Meera, George and Melissa guide you through a trip to remember."


5

Reviewer:

Jackie Chasey

located in

New York

,

NY

USA

My Tour de Forks culinary adventure was a foodie dream come true. Of course, the Tour de Forks team arranged every detail to please the most sophisticated, discriminating traveler-that was expected, although probably shouldn't have been taken for granted-but what was unique about this trip was the access to experiences you could never have traveling on your own unless you're a celebrity or restaurant royalty.

My fellow travelers were a diverse lot, interesting, accomplished and extremely congenial, and our small group felt like a bunch of friends enjoying each other's company and not like everyone's stereotype of a tour group. I'm sure this was due largely to our tour organizers and guide who did an amazing job of taking individual needs and preferences into account and dealing with every situation with humor and the utmost flexibility.
I will travel with Tour de Forks again, and I recommend it without reservation to anyone who loves food and wine and wants a luxurious, informative and uniquely pleasurable vacation experience.

5
Comments from Facebook
Special information
This is a custom departure, meaning this trip is offered on dates that you arrange privately with the provider. Additionally, you need to form your own private group for this trip. The itinerary and price here is just a sample. Contact the provider for detailed pricing, minimum group size, and scheduling information. For most providers, the larger the group you are traveling with, the lower the per-person cost will be.
Itinerary
Day 1, Lyon
Arrive in Lyon, a city of Roman ruins and the capital gastronomique of France. Transfer to a luxury hotel. Enjoy a welcome cocktail. Our welcome dinner and cooking demonstration in the ambiance of a unique cookbook store showcase the fantastic food finds we'll discover on this tour.
Day 2, Provence, the land of ocre
On the way to a sumptuous chateau in Provence, we'll have private access to an ancient wine quarry storehouse and be treated to a unique wine tasting. Weather permitting, an open-air motorboat weaves it's way to Valence throughout the Isere, Ardeche and Drome departments, past the Hermitage, Cotes du Rhone, St. Joespeh, St Peray and Cornas vineyards. Lunch is taken in the middle of Valence's old village. The young chef, trained by Pic, Chabran, Robuchon, and les Freres Pourcels among others, is an upcoming star on France's culinary scene. The chef's "menu de degustation" accompanied by local wines, awaits us before we continue the short trip to our luxury accommodations. This will be our home base in the Drome to explore the Provencal Sites of Exceptional Culinary Taste. A light dinner under the stars of Provence completes the day, before a restful night's sleep in the quiet luxury chateau.
Day 3, Nyons
Glimmering olive orchards and old gnarled trees of Tanche olives lure us to Nyons, a Site of Exceptional Culinary Taste. A trip to a local market begins our Provencal cuisine experience. A cooking course includes a leisurely lunch dining on our own creations. Stroll though an ancient olive grove with a local producer who will take us to his olive oil mill. This incredible opportunity includes a visit to the Institute of Olive Oil with a lesson on how to taste this fruity oil with its buttery aroma and banana finish. You'll have time to stroll though the quaint village, savor ice cream and cr¸me brulee made with olive oil or lavender and take a tour of a lavender distillery. Shop at one of the local boutiques, like Maison Dozol, for Provencal products such as soaps and lotions made from local lavender and olive oil.
Day 4, Beaumes-de-Venise and Chateauneuf du Pape,
This is some of the most breathtaking landscape in Provence! Beaumes-de-Venise, a Site of Exceptional Culinary Taste because of its Muscat wine, welcomes us with a bumpy ride through the uniquely terraced vineyards of the Dentelles de Montmirail. In the shadow of Mount Ventoux, we'll enjoy a scenic picnic lunch of local wine, cheese, fruit, sandwiches and chocolate. We'll visit the Caves des Vignerons de Beaumes-de-Venise and learn the secret of creating this unusual, light wine. Later in the day we'll head to Chateau-neuf-du-Pape, yes, a Site of Exceptional Culinary Taste for its world-famous wine. This evening promises to be like no other: we've been invited to dine on local cuisine in the ambiance of a private vineyard. Chateau-neuf-de-Pape's wines are classified among the "best wines in the world," according to Wine Spectator.
Day 5, Apt
After a leisurely morning and optional activies at our chateau, we'll drive to Apt, a charming provencal village and a Site of Exceptional Culinary taste because of its fruits confits, candied fruits. The theme for our visit? "The Colors of Provence." In the middle of a natural park and the Luberon region of the Massif Central, we'll discover the magnificent countryside, the "ochre pathway." Blood-red and bright gold colors of the earth have been used as coloring agents since ancient Roman times. Our guide will enlighten us about the color that defines the cuisine and pottery of Provence. A visit to a workshop lets us see the creation of Provencal pottery, la faience provencale. Take home some of the colorful and uniquely layered pieces. Watch an artisanal candy maker as she explains and demonstrates the candy making process, using fresh fruits such as melons, strawberries, cherries and apricots. A master Chef will perform his magic by demonstrating and offering his cuisine based on the colors of Provence and candied fruit.
Day 6, St-Paul-Trois-Chateaux, Montelimar and Auvergne
Before our departure for the Auvergne region, learn about truffles near the small village of St-Paul-Trois- Chateaux, an up and coming exceptional taste site. This is just the beginning as the adventure continues in Montelimar with a visit to the nougat factory, a candy-making demonstration and, most importantly, a tasting. As we pass through the ochre countryside of Provence, small villages offer breathtaking views in the Parc des Monts d'Archeche, the deep volcanic heartland of France. A stop in a beautiful 18th century village perched atop a dormant volcano is the perfect place for lunch. Then we'll settle into our countryside retreat in the unspoiled and long-unknown land of Haut Allier. Musical chimes announce our dinner, masterfully made with ingredients from the Haute Loire. Take delight in culinary specialties like fresh soup of artichoke hearts with smoked bacon mousse, shoulder of lamb Haute Loire basted in spices for seven hours and carrotte grelot confite with homemade cumin ice cream.
Day 7, Le-Puy-en-Velay
Awaken to a copious country breakfast of fresh grain bread, homemade marmalade and fresh goat's cheese, compliments of Monsieur the Mayor's young goat. Our epicurean journey begins this day in Le-Puy-en-Velay, a small town of lentils, lace and liqueur and a departure point on the pilgrimage route to Saint Jacques de Compostella. Le Puy is recognized as one of France's Pays d'Art et Histoire, town of art and history. Options today include visits to the Cathedral, a UNESCO monument, a tour of the town, a stop at a lace-making school or a visit to the Pages Liqueur Factory followed by an aperitif of Verveine du Velay. For lunch, Francois Gagnaire, a master of creating intricate flavors with the simplest products of the region, welcomes us at his starred restaurant. In his hands, the lentilles de Le Puy become the green pearls of haute cuisine We'll learn more about the production of the lentille verte du Puy, the green lentil, also known as the grain of life. Lentils play a vital role in the history, architecture and gastronomy of this volcanic region of central France. Later in the day, enjoy a specialty tea, chocolate, pastries at La Chanterelle where the baker, Julien, will explain how he makes his tart with chestnut, "le Saint-Bonnet," and offers a taste of his praline chocolates made with cepe mushrooms.
Day 8, Dinner in a three-star restaurant
What a way to complete our culinary pilgrimage. Today offers an incredible opportunity to savor the cuisine of 3-starred chef. Specialties of the chefs include a cassoulet of blue lobster with green lentils, a menu of champignons, local mushrooms, along with artic char fried with almonds and artichokes. After our diner d'adieu, we'll rest peacefully in the comfortable accommodations chez Marcon.
Day 9,
Depart for the Lyon airport or continue your stay in France at your leisure.
More information from Tour de Forks - Uncommon Epicurean Adventures: