Journeys Within Tour Company - vacations and travel
Cambodia Conservation Tour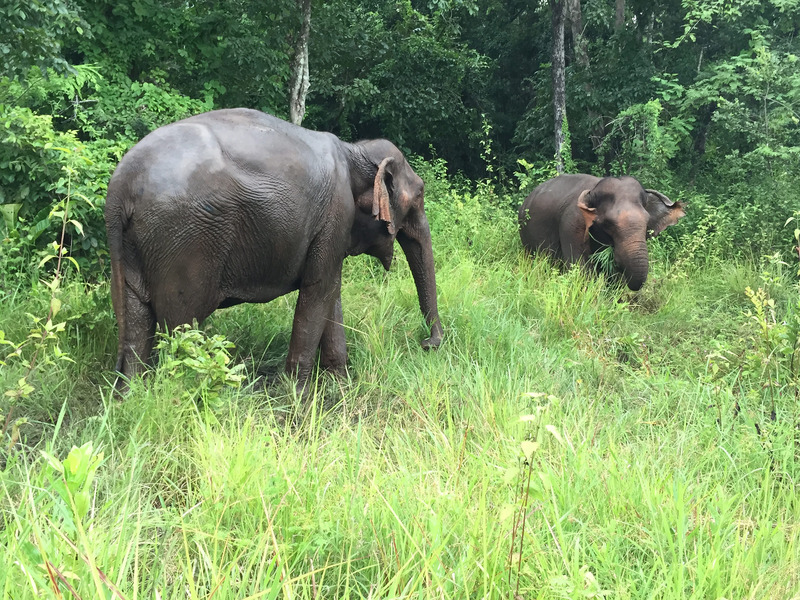 Cambodia
Active & Adventure trips
Get to know the unique sights and places that make Cambodia special while actively promoting the conservation of the species and places that make it such an amazing place.
On the Cambodia Conservation Tour you will tour the country's national monuments and war memorials in Phnom Penh, and also look in at the world's biggest Sun Bear sanctuary. Leaving the big city, experience a day at the Elephant Valley Project, followed by an immersive zipline tour of the forest environment. Next up you will get to see the critically endangered Irrawaddy dolphins in their natural habitat of the Mekong River, before heading to Siem Reap and the cultural heritage sites around Angkor Wat. Finally, get out of the major tourist zones and explore the floating village of Prek Toal for a homestay with local villagers and an authentic glimpse into local life.
Locations visited/nearby
Cambodia
0 testimonials about this trip.
Reviewer:

Leslie

located in

USA

Journeys Within provided us with the travel experience of a lifetime. Our trip was full of contrast—adventure, wonder, relaxation, history, emotion, excitement, connection with new cultures and people. Journeys Within is not just another tour company. They take the work out of traveling. We loved the quiet of their B & B in Siem Reap and were spoiled by the care and service their staff provided. We traveled with another couple and we are still speaking which attest to how stress free and enjoyable our trip was.

5

Reviewer:

Edna and Steve

located in

New York

USA

Steve and I have travelled extensively world-wide but never to SE Asia and we rarely rely on agencies. I put feelers out for organizations within the US as well as in this region of the world. From the first conversation with Andrea of Journeys Within there was an immediate connection, a comfort level in terms of their knowledge, warmth, experience, listening skills, suggestions and their patience for answering all of my many and on-going questions. Being a curious and detail-oriented person I was constantly finding areas and events that i just "had to see" and would ask another question. Realizing that time and money was somewhat of a factor Andrea was a magician and always was able to make it all happen. Their humanitarian goals, through Journeys Within Our Community, in a country that has so many needs, was also a large part of why we chose them.

Through the many conversations we had they were able to focus on our main interests (photography, seeing the cultures of each country by viewing the people within their daily life in rural villages that many times showcased their handicrafts, the Buddhist religion and seeing the monks in their saffron robes) and created an extensive itinerary with memorable experiences. We don't go on tours that include large groups of people and so love being able to go off the beaten track on our own with just a guide and driver. Their guides are exceptional, both knowledgeable and so proud of their country and wanting to share it with us. They were all very astute as to what would give us the best experience.

There were numerous instances where unplanned additions were spontaneously added to our day. For example, we remember getting up at 4 AM in Siem Reap because our guide, Sima, had a special relationship with the abbot in one one the wats and knew that we would enjoy seeing the monks meditate. We ran across fields in Angkor Wat and up steep stairs to listen to monks chanting. Throughout, our guides also knew the best vantage points for us to get that "perfect" photograph. We, also, laughingly remember getting out of our car on the way to the ferry in order to cross the Mekong to view the floating markets at Cai Be and Cai Rang and our guide, Kha, arranging for each of us to hop on the back of a motor bike in order to to whiz along and circumvent the 7 km backup which would have taken hours. We definitely appreciated his problem-solving skills. The challenge of successfully crossing the streets in Hanoi and Saigon amid the cacophony of horns and disregard for the traffic lights was masterfully taught and we took great pleasure when we were able to do this on our own. Obviously, we are alive to tell the tale!

If we had to single out (an impossiblity) our favorite places one would have to be the idyllic Luang Prabang, a totally unspoiled area of Laos. Another would be Hoi An, in Vietnam, and it's beautiful walking areas along the Perfume River and throughout the village. Getting up at 5 AM and watching the fishing boats come in and the markets being set up was amazing. When we took the overnight Victoria Express train in our private berth from Hanoi to get to the Sunday Bac Ha market north of Sapa we felt as if we were in a foreign film. The market was an experience in itself that was extraordinary. Seeing the ethnic minority tribes come together in their colorful attire where each group is easily identified put my head on a swivel. My camera continually snapped away. There was so much to see. I think I bought Steve a water buffalo for his birthday! Everything imaginable was sold there.

One very important highlight was the time we spent with Journeys Within Our Community (JWOC) and learning about and from them. It happened to be Valentine's Day and about 130 children wandered in, first carefully washing their hands, to take part in an arts and crafts project of making heart baskets using paper plates. We were privileged to be able to participate and help. Although we could not verbally communicate, our faces and bodies spoke volumes and we all got along so well. Each child left with a basket to bring home, a smile and an orang e to eat. JWOC focuses on basic needs such as clean water, education, health and many other community-based issues. There is even a program that they started in the local prison where the women are taught how to use a sewing machine and make clothing. This will enable them, upon their release, to be productive and contributing members of their community. By breaking this cycle of poverty and building self-esteem by giving them the tools to enrich their lives by making them independent bodes well for their future, their children's future, and ultimately, the future of their country. We plan on being a contributing part of making this part of the world and it's people a better place via JWOC.

Journeys Within provided us with a trip of a lifetime!

5

Reviewer:

Tricia

Hi Andrea:

We're home and had a wonderful trip so thanks for all of your guidance. As you suggested, The Nam Hai exceeded our expectations and was the perfect ending to our busy and extremely hot trip. We all loved our time there. Considering the heat and Charlie's ongoing struggle with stomach issues, I'm not sure I'd attempt the Hanoi bikeride again -- though our sweaty morning and lunch with Vinh will doubtless provide great stories for years to come. The kids were not up for another waltz through a pagoda, so we did the Hoi An market instead. It was the first market exploration of our entire trip and was fascinating, especially the area with fresh seafood and veggies. We bought some bamboo placements and small pottery. Vinh seemed to relax a lot once we were settled down for lunch at his home, beautifully prepared by his wife and mother-in-law. Lunch was delicious.....if only it weren't so hot out. Cold beers helped a lot.

yes, it was extremely disappointing to miss Halong Bay. If we were to do it again, as an alternative plan because of the typhoon, I think we'd drive out to Halong Bay for the day (around 3 hours) instead of the excursion we chose to Perfume Pagoda. Perfume Pagoda ended up being much longer and more strenuous than we were prepared for because of the heat, though I'll bet it's a very different experience in the fall or winter. (I really should send you the photos of our sweaty group midway and following the hike.) when I spoke first with Du, we loved the idea of a one-hour drive to a 45-min. boatride to a one-hour hike. unfortunately, the drive was more like 2.5 hours and the boatride was stifling hot (not that interesting) with a difficult climb at the end. In the end, of course, we definitely are proud of what we accomplished that day and will be talking about our adventure for years to come. We loved Du and really enjoyed the time we spent with him in Hanoi.

finally, Cambodia was a huge hit with the kids. The temples were incredible and I would recommend the short balloon ride to anyone with kids. We got terrific photos. Plus, we loved your Journeys Within, which made the visit extremely special. Your staff there were magnificent and we felt like we had our own private pool -- perfect for cooling off. (The whole experience reminded me of some places we stayed in Zimbabwe --then Rhodesia --more than 30 years ago.) Leap was a charming guide and we enjoyed our time with him as well.

All in all, a wonderful trip for all of us. I think the weather in August is truly a challenge at every step. But, we loved being there in the off-season (it was already WAY more crowded in HK when we returned in mid-August) and would visit again if only it weren't SO FAR away.

Best,




5
Comments from Facebook
Special information
This is a custom departure, meaning this trip is offered on dates that you arrange privately with the provider. Additionally, you need to form your own private group for this trip. The itinerary and price here is just a sample. Contact the provider for detailed pricing, minimum group size, and scheduling information. For most providers, the larger the group you are traveling with, the lower the per-person cost will be.
May accommodate certain types of disabilities. Contact the operator for more information.
Itinerary
Day 1 Phnom Penh: Arrival and City Tour
Arrive in Phnom Penh where you will be met by an air conditioned van and driver and will be transferred to your hotel.
This afternoon take a tour of the Royal Palace, which to this day is still the royal residence. See the amazing royal collection and the beautiful architecture before heading to the National Museum, where you will be taken around by a trained museum guide who will show you some wonderful pre-Angkorean pieces as well as a number of special pieces from the temples. Return to your hotel for dinner or have your guide drop you off in town where they can help you find a good dinner spot. Remember to take a look at our Cheat Sheet which lists a number of our favorite restaurant recommendations!
Meals Included: None
Overnight at Rambutan Resort – 1 Double Deluxe Pool Room
Day 2 Phnom Penh: Tuol Sleng and The Killing Fields
This morning head to the Tuol Sleng Prison Museum where your guide will explain the history of the Khmer Rouge and walk you through the different museum displays. You might even get the chance to meet one of the survivors, Mr. Chum Mey, who will enlighten you further on the sordid history of this once peaceful school. After watching the movie they show every day, continue on to the Choeung Ek Memorial, the site of one of the country's many killing fields, where a memorial stupa and shallow pits remind visitors of the thousands killed under the Pol Pot Regime. There is an excellent audio headset on site which includes firsthand survivor stories, accounts from guards, traditional music, as well as a guided tour of the site. We recommend using this thoughtful and well-produced audio tour as most visitors to the Choeung Ek Memorial use the personalized headset tours, leaving the somber grounds quiet allowing for introspection. Your JW guide will be on hand if you would prefer to explore the site with them or have any additional questions after you have completed your audio tour. Return to your hotel for lunch or have your guide drop you off in town where they can help you find a good lunch spot. Remember to take a look at our Cheat Sheet which lists a number of our favorite restaurant recommendations!
Meals included: Breakfast
Overnight at Rambutan Resort – 1 Double Deluxe Pool Room
Day 3 Phnom Penh: Bear Care Tour
After breakfast, your guide and driver will pick you up at your hotel and transfer you to the Phnom Tamao Wildlife Rescue Centre for your Bear Care Tour. This is a fun and fascinating behind-the-scenes tour at the world's biggest Sun bear sanctuary! Find out what it takes to care for over 130 rescued Sun bears and Moon bears on the Bear Care Tour; an exciting behind-the-scenes tour with the Free the Bears team at Phnom Tamao Wildlife Rescue Centre. You will learn why the bears are threatened in Cambodia, while touring the world class facilities, Education Program, Research Program, and what Free the Bears are doing to build a brighter future for bears in the wild. You will help the Bear Care Team to prepare food and special treats to keep the bears happy and healthy in their forest enclosures. Best of all, by taking part in this unique experience you'll be contributing directly towards helping care for bears rescued from the illegal wildlife trade.
Meals included: Breakfast, Lunch
Overnight at Rambutan Resort – 1 Double Deluxe Pool Room
Day 4 Phnom Penh to Sen Monorom
Your driver and guide will meet you at your hotel and will drive you to Sen Monorom., a drive that should take between 5-6 hours depending on the traffic. After arrival, check into your hotel and spend the afternoon at your leisure.
Meals included: Breakfast
Overnight at Mayura Hill Hotel & Resort – 1 Double Superior Villa
Day 5 Sen Monorom: Elephant Valley Project Full Day
Your guide will meet you after breakfast and you will depart for the Hefalump Café, the meeting point for the Elephant Valley Project. After a brief induction, you'll depart for the short journey to the Elephant Valley Project where you'll be immersed in the simple yet amazing daily routine of the elephants and their mahouts. These magnificent animals are retired from work and make up the heart of the beautiful elephant sanctuary. You will spend the day observing the elephants in their natural habitat while learning about their lives, personalities and amazing progress and recovery since their arrival at the Elephant Valley Project.
Meals included: Breakfast, Lunch
Overnight at Mayura Hill Hotel & Resort – 1 Double Superior Villa
Day 6 Sen Mornorom: Bousra Waterfall and Mayura Zipline and Drive to Kratie
Your guide will meet you after breakfast and you will drive to Bousra Waterfall. Mondulkiri's rolling green scenery marks it out as a special destination within Cambodia and the Bousra Waterfall is a hidden gem amongst the greenery. Set in Bousra Eco Park, a beautiful protected forest that is home to diverse wildlife, the waterfall has dramatic upper and lower sections with spectacular views. Take a dip in the fresh cold water or simply enjoy the view! There are also market vendors selling local products, food and drinks. After taking in the scenery and Bousra Waterfall, you will be introduced to the team at Mayura Zipline and get kitted up for your exhilarating Zipline experience. Mayura Zipline consists of 7 ziplines through the treetops, starting in the highest sections of forest and finishing with a dramatic zipline across the Bousra Waterfall – yes, a zipline across the waterfall!
After you have finished exploring the waterfall you will continue on to Kratie, a journey that will take 3 hours. After arrival in Kratie you will board a small boat that will take you to Koh Trong, an island in the middle of the Mekong River, where you can check into your hotel.
Meals included: Breakfast
Overnight at Rajabori Villas – 1 Double Deluxe Room
Day 7 Kratie: Irrawaddy Dolphins with Mekong Turtles and Sunset at Phnom Sam Bok
Your guide will meet you after breakfast and you will drive to the river location to embark on your Irrawaddy Dolphin cruise. Listed as critically endangered in 2004, the Mekong Irrawaddy Dolphin is part of Cambodia's national heritage and symbolizes the magnificence of the Mekong River and its biodiversity. The Irrawaddy is a shy, small dolphin that is dark grey in color with a small rounded dorsal fin and a bluntly rounded head. You will take a small boat out on the Mekong River and sit quietly as the boat rests amongst the Irrawaddy Dolphins; watching them feeding and playing in their natural habitat. Return to town where your guide can assist in choosing a local restaurant for lunch, or you can return to your hotel for lunch.
After lunch, you will drive north of Kratie town to Sambor district where you will visit The Mekong Turtle Conservation Center (MTCC), located at the beautiful and historic 100 Pillar Pagoda (Wat Sor Sor Muoy Roy). The MTCC was opened by Conservation International to increase the wild population of the endangered Cantor's Softshell Turtle (Pelochelys cantorii) in the nearby Mekong River, through head-starting turtle hatchlings from the community-led turtle nest program. The facility has over forty indoor tanks containing juvenile turtles which are kept for a 10 month period before releasing into their natural habitat. There are also many other Asian turtle species at the facility to see. After your visit to the MTCC, you can wander the grounds of the magnificent 100 Pillar Pagoda - a priceless architectural structure built at the site of the old Royal Palace Temple of Sambor District.
As dusk approaches, you'll drive to Phnom Sam Bok (Sam Bok Mountain) and climb the steps to the Phnom Sam Bok Pagoda to watch the beautiful sunset over the mighty Mekong River and surrounding countryside.
Meals included: Breakfast
Overnight at Rajabori Villas – 1 Double Deluxe Room
Day 8 Kratie to Siem Reap
Your guide and driver will meet you at your hotel and drive you to Siem Reap. This journey will take about 7 hours depending on the traffic and will take you through countless Cambodian villages and rice fields. Arrive in Siem Reap and check into your hotel.
Meals included: Breakfast
Overnight at Sokkhak Boutique Resort – 1 Double Deluxe Room
Day 9 Siem Reap: Angkor Wat and Angkor Thom: Sunrise to Sunset
Wake up early and head to Angkor Wat for sunrise and a morning tour of the temple before the crowds arrive. Mid-morning head back to your hotel for breakfast before relaxing in the garden, by the pool, or in your own room through the heat of the day.
In the early afternoon head to Angkor Thom, the famous walled city and see the many temples within its borders, including the fascinating Bayon temple with its many magnificent faces smiling out. There are several beautiful spots from which to watch the sunset. Discuss with your guide where you would like to be and then relax and enjoy a memorable end to your day at the temples.
Meals included: Breakfast
Overnight at Sokkhak Boutique Resort – 1 Double Deluxe Room
Day 10 Siem Reap: Kulen Mountain Forest Discovery Trail
Today you will take a guided hike at 7:00am with Indochine Exploration through the protected Cambodian jungle of Phnom Kulen National Park. Located about an hour and a half north of Siem Reap, Phnom Kulen is home to a community-protected area of mainly intact evergreen and boulder forest. You will leave early in the morning for this forest that surrounds Preah Ang Thom, the largest community on the mountain. As you drive to the village, your guide will talk to you about how this conservation initiative involves local villagers who maintain the trails. By including them in the tour development, locals are provided with an income and therefore an incentive to help stop deforestation and protect the wildlife. After arriving and walking through the village, the trail heads into the forest with the canopy high above providing shade even in Cambodia's hottest months. Hike along the cleared trails, while you keep your eyes open for the wildlife that inhabits the area - in addition to the flying squirrels and birds, rare Silver Langurs were recently discovered in Kulen. After passing over a boulder passageway and through an active bat cave, you will stop for lunch along the banks of the Kulen River before heading back to Preah Ang Thom to visit Cambodia's largest reclining Buddha, and if you still have energy, take in the beauty of the Kulen Waterfall.
Meals included: Breakfast, Lunch
Overnight at Sokkhak Boutique Resort – 1 Double Deluxe Room
Day 11 Siem Reap: Banteay Srei, Land Mine Museum and Other Temples
This morning set off with your guide to Banteay Srei, the intricately carved temple located just 30km beyond Angkor Wat. Continue on to visit the Land Mine Museum, a rather humble look at the land mine problem, past and present, in Cambodia. Enjoy lunch in the temple complex overlooking Sra Srang, followed by a visit to the nearby Banteay Kdei and Ta Prohm, two of the prettiest temples in the complex. Return to your hotel mid-afternoon.
Meals included: Breakfast, Lunch
Overnight at Sokkhak Boutique Resort – 1 Double Deluxe Room
Day 12 Prek Toal: Floating Village and Kayak Adventure Day 1
After breakfast, your guide and driver will meet you at your hotel and you will drive approximately 1 hour to Meychrey. From Meychrey, you will take a boat on the Tonle Sap Lake; enjoying lunch onboard as you head to a suitable location to launch the kayaks. After lunch, you will kayak through the seasonally flooded forests and the floating village of Prek Toal as you paddle to your homestay - a floating house. After you have met your homestay family and settled in, your guide will take you to the Saray platform, an initiative that gives the poorest women in the village employment by weaving the stems of Water Hyacinth into handicrafts. This is where you will enjoy a wonderful local dinner, before returning to your homestay. Enjoy leisure time, and an early night, before rising early for the birding spectacle in the morning.
Meals included: Breakfast, Lunch, and Dinner
Overnight at Homestay
Day 13 Prek Toal: Floating Village and Kayak Adventure Day 2
Rise early to catch the incredible spectacle inside the Core Bird Reserve, home to approximately 200 species of bird, making it South East Asia's largest fresh water bird colony. Grab a quick breakfast, and local coffee if you need a caffeine buzz, and head out on a local boat into the bird reserve, observing the birds and wildlife at your leisure. Return to Prek Toal in the late morning, then the motorboat journey and drive back to Siem Reap.
Meals included: Breakfast
Overnight at Sokkhak Boutique Resort – 1 Double Deluxe Room
Day 14 Siem Reap: Departure
Your driver will meet you at your hotel for your private transfer to the airport, where you will arrive in time for your onward flight.
Meals included: Breakfast
PLEASE NOTE
This itinerary is currently in progress and does not reflect hotel room availability. The pricing is not final until the itinerary has been confirmed and booked.
Price includes:
· Boat tickets as specified above
· Accommodation as specified above
· Air-conditioned car/van with driver
· Licensed English speaking guides
· Tours and admission fees as mentioned above
· Meals as specified in itinerary, including water
Price excludes:
· Personal expenses
· Visa fees
· Airport tax
· Drinks (except water) and meals not mentioned in itinerary
· Tips
More information from Journeys Within Tour Company: