Journeys Within Tour Company - vacations and travel
Myanmar First Class Tour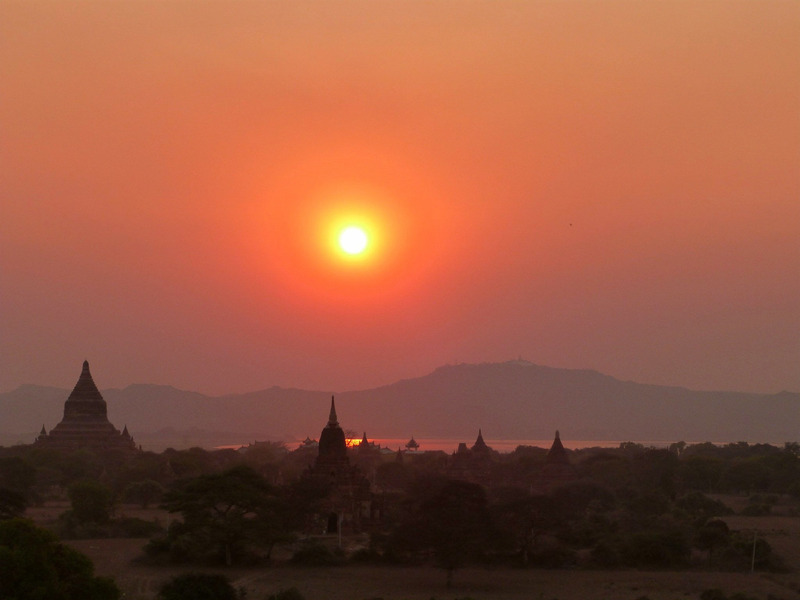 Myanmar (Burma)
Active & Adventure trips
Come travel First Class through this astounding country. This tour features luxury hotel options such as the Governor's Residence in Yangon. Marvel at the wonders of Yangon before heading to Bagan to take in the incredible views of the many ancient Pagodas and Stupas at sunrise with a hot air balloon ride. Relax on the classic RV Paukan as you cruise down the Irrawaddy River to Mandalay. Explore beautiful Inle Lake and relish the hospitality for which Myanmar is famous. Finish off your journey with some time relaxing on the Bay of Bengal at Ngapali Beach – a beautiful and tranquil spot overlooked by most travelers.
Locations visited/nearby
Myanmar (Burma)
0 testimonials about this trip.
Reviewer:

Leslie

located in

USA

Journeys Within provided us with the travel experience of a lifetime. Our trip was full of contrast—adventure, wonder, relaxation, history, emotion, excitement, connection with new cultures and people. Journeys Within is not just another tour company. They take the work out of traveling. We loved the quiet of their B & B in Siem Reap and were spoiled by the care and service their staff provided. We traveled with another couple and we are still speaking which attest to how stress free and enjoyable our trip was.

5

Reviewer:

Edna and Steve

located in

New York

USA

Steve and I have travelled extensively world-wide but never to SE Asia and we rarely rely on agencies. I put feelers out for organizations within the US as well as in this region of the world. From the first conversation with Andrea of Journeys Within there was an immediate connection, a comfort level in terms of their knowledge, warmth, experience, listening skills, suggestions and their patience for answering all of my many and on-going questions. Being a curious and detail-oriented person I was constantly finding areas and events that i just "had to see" and would ask another question. Realizing that time and money was somewhat of a factor Andrea was a magician and always was able to make it all happen. Their humanitarian goals, through Journeys Within Our Community, in a country that has so many needs, was also a large part of why we chose them.

Through the many conversations we had they were able to focus on our main interests (photography, seeing the cultures of each country by viewing the people within their daily life in rural villages that many times showcased their handicrafts, the Buddhist religion and seeing the monks in their saffron robes) and created an extensive itinerary with memorable experiences. We don't go on tours that include large groups of people and so love being able to go off the beaten track on our own with just a guide and driver. Their guides are exceptional, both knowledgeable and so proud of their country and wanting to share it with us. They were all very astute as to what would give us the best experience.

There were numerous instances where unplanned additions were spontaneously added to our day. For example, we remember getting up at 4 AM in Siem Reap because our guide, Sima, had a special relationship with the abbot in one one the wats and knew that we would enjoy seeing the monks meditate. We ran across fields in Angkor Wat and up steep stairs to listen to monks chanting. Throughout, our guides also knew the best vantage points for us to get that "perfect" photograph. We, also, laughingly remember getting out of our car on the way to the ferry in order to cross the Mekong to view the floating markets at Cai Be and Cai Rang and our guide, Kha, arranging for each of us to hop on the back of a motor bike in order to to whiz along and circumvent the 7 km backup which would have taken hours. We definitely appreciated his problem-solving skills. The challenge of successfully crossing the streets in Hanoi and Saigon amid the cacophony of horns and disregard for the traffic lights was masterfully taught and we took great pleasure when we were able to do this on our own. Obviously, we are alive to tell the tale!

If we had to single out (an impossiblity) our favorite places one would have to be the idyllic Luang Prabang, a totally unspoiled area of Laos. Another would be Hoi An, in Vietnam, and it's beautiful walking areas along the Perfume River and throughout the village. Getting up at 5 AM and watching the fishing boats come in and the markets being set up was amazing. When we took the overnight Victoria Express train in our private berth from Hanoi to get to the Sunday Bac Ha market north of Sapa we felt as if we were in a foreign film. The market was an experience in itself that was extraordinary. Seeing the ethnic minority tribes come together in their colorful attire where each group is easily identified put my head on a swivel. My camera continually snapped away. There was so much to see. I think I bought Steve a water buffalo for his birthday! Everything imaginable was sold there.

One very important highlight was the time we spent with Journeys Within Our Community (JWOC) and learning about and from them. It happened to be Valentine's Day and about 130 children wandered in, first carefully washing their hands, to take part in an arts and crafts project of making heart baskets using paper plates. We were privileged to be able to participate and help. Although we could not verbally communicate, our faces and bodies spoke volumes and we all got along so well. Each child left with a basket to bring home, a smile and an orang e to eat. JWOC focuses on basic needs such as clean water, education, health and many other community-based issues. There is even a program that they started in the local prison where the women are taught how to use a sewing machine and make clothing. This will enable them, upon their release, to be productive and contributing members of their community. By breaking this cycle of poverty and building self-esteem by giving them the tools to enrich their lives by making them independent bodes well for their future, their children's future, and ultimately, the future of their country. We plan on being a contributing part of making this part of the world and it's people a better place via JWOC.

Journeys Within provided us with a trip of a lifetime!

5

Reviewer:

Tricia

Hi Andrea:

We're home and had a wonderful trip so thanks for all of your guidance. As you suggested, The Nam Hai exceeded our expectations and was the perfect ending to our busy and extremely hot trip. We all loved our time there. Considering the heat and Charlie's ongoing struggle with stomach issues, I'm not sure I'd attempt the Hanoi bikeride again -- though our sweaty morning and lunch with Vinh will doubtless provide great stories for years to come. The kids were not up for another waltz through a pagoda, so we did the Hoi An market instead. It was the first market exploration of our entire trip and was fascinating, especially the area with fresh seafood and veggies. We bought some bamboo placements and small pottery. Vinh seemed to relax a lot once we were settled down for lunch at his home, beautifully prepared by his wife and mother-in-law. Lunch was delicious.....if only it weren't so hot out. Cold beers helped a lot.

yes, it was extremely disappointing to miss Halong Bay. If we were to do it again, as an alternative plan because of the typhoon, I think we'd drive out to Halong Bay for the day (around 3 hours) instead of the excursion we chose to Perfume Pagoda. Perfume Pagoda ended up being much longer and more strenuous than we were prepared for because of the heat, though I'll bet it's a very different experience in the fall or winter. (I really should send you the photos of our sweaty group midway and following the hike.) when I spoke first with Du, we loved the idea of a one-hour drive to a 45-min. boatride to a one-hour hike. unfortunately, the drive was more like 2.5 hours and the boatride was stifling hot (not that interesting) with a difficult climb at the end. In the end, of course, we definitely are proud of what we accomplished that day and will be talking about our adventure for years to come. We loved Du and really enjoyed the time we spent with him in Hanoi.

finally, Cambodia was a huge hit with the kids. The temples were incredible and I would recommend the short balloon ride to anyone with kids. We got terrific photos. Plus, we loved your Journeys Within, which made the visit extremely special. Your staff there were magnificent and we felt like we had our own private pool -- perfect for cooling off. (The whole experience reminded me of some places we stayed in Zimbabwe --then Rhodesia --more than 30 years ago.) Leap was a charming guide and we enjoyed our time with him as well.

All in all, a wonderful trip for all of us. I think the weather in August is truly a challenge at every step. But, we loved being there in the off-season (it was already WAY more crowded in HK when we returned in mid-August) and would visit again if only it weren't SO FAR away.

Best,




5
Comments from Facebook
Special information
This is a custom departure, meaning this trip is offered on dates that you arrange privately with the provider. Additionally, you need to form your own private group for this trip. The itinerary and price here is just a sample. Contact the provider for detailed pricing, minimum group size, and scheduling information. For most providers, the larger the group you are traveling with, the lower the per-person cost will be.
May accommodate certain types of disabilities. Contact the operator for more information.
Itinerary
Day 1 Yangon: Arrival
Arrive in Yangon where you will be met by your guide and transferred to your hotel.
Meals Included: None
Overnight at The Governor's Residence – 1 Double Deluxe Room
Day 2 Yangon: Full Day City Tour
Enjoy a full day tour of the city center, taking in some of the highlights such as the National Museum, BogyokeAung San Museum, Chaukhtatgyi (a colossal reclining Buddha), and Karaweik Hall on Kandawgyi Lake. You will also get the chance to explore the famous Bogyoke (Scott) Market, home to hundreds of stalls selling local souvenirs.
No visit to Yangon would be complete without spending some time at the stunning Shwedagon Pagoda, one the most venerable places of worship in Myanmar. Take in the array of gold and gems which light up around the giant golden dome as the sun slowly sets around you. Watch as the locals come here to make offerings before they return home for the day. Return to your hotel in the early evening.
Meals included: Breakfast, Lunch
Overnight at The Governor's Residence – 1 Double Deluxe Room
Day 3 Yangon to Bagan
In the morning catch your flight to the ancient city of Bagan - where you will spend the day exploring the city. (Yangon to Bagan flight included) Visit Nyaung U Market, Shwezigon Pagoda (the prototype for later Myanmar Stupas), Kyansittha Umin, Wet-Kyi-Inn Gubyaukgyi Temple with its exquisite mural painting from the 13th Century, and Htilominlo Temple. After lunch, visit a fascinating lacquer-ware workshop before continuing on to Manuha Temple, built by the exiled King Manuha, before stopping at Nanphaya, said to have been the residence of King Manuha. You will also visit Ananda Temple, an architectural masterpiece, as well as the Oakkyaung Monastery, which is decorated with multi-colored mural paintings. End the day with some breathtaking sunset views from the terraces of an ancient temple.
Meals included: Breakfast, Lunch
Overnight at Bagan Lodge – 1 Double Villa Room
Day 4 Bagan: Balloons Over Bagan and City Tour
This morning you will begin the day with the extraordinary experience of 'Balloons Over Bagan'. As the sun slowly rises, you will be treated to spectacular views as you float over hundreds of pagodas, which dot the landscape as far as the eye can see, and most of which date back to over a thousand years ago. Once you have returned to land, you will be taken back to your hotel for breakfast. After breakfast, continue your exploration of this archaeological city and its unique sites. This will include a visit to Lawkananda Pagoda, East and West Phet Leik, Thatbyinnyu Temple, Shwegugyi Temple, the Palace site and Tharaba Gate.
After lunch and a short rest, continue on this afternoon to visit Apeyadana Temple, which holds some well-preserved paintings of Mahayana. Also stop at Dhamayangyi Temple, one of the bigger temples with some of the finest brickwork in the area. End your day with a peaceful sunset cruise along the Ayeyarwaddy River, before returning to you hotel.
Meals included: Breakfast, Lunch
Overnight at Bagan Lodge – 1 Double Villa Room
Day 5 RV Paukan Cruise: Day 1
You will be transferred to the Bagan Aye Yar Jetty at 11:30am to board the RV Paukan cruise ship. After a welcome cocktail and briefing by the crew you will enjoy lunch onboard, while cruising upriver. In the late afternoon you will disembark the ship to visit a typical river village before docking on a sandbank for overnight.
Meals included: Breakfast, Lunch, Dinner
Overnight at RV Paukan
Day 6 RV Paukan Cruise: Day 2
Cruise all day with stop en route in the morning to visit Yandabo, a village specializing in handmade pottery and where the peace treaty of the First Anglo-Burmese war was signed on Feb. 24, 1826. In Yandabo you will visit pottery workshops, the monastery and school. You will overnight in either the Ywar Thit Gyi or Pauk Myaing Pauk Taw village, which are a few miles away from the Ava Bridge.
Meals included: Breakfast, Lunch, Dinner
Overnight at RV Paukan - Main Deck
Day 7 RV Paukan Cruise: Day 3 and Mandalay Arrival
Cast off early in the morning and enjoy a sunrise breakfast for the last leg of our journey. At approximately 9:30am you will reach the Gawein or Sagaing Jetty where your guide and private van will be waiting to greet you.
Today you will explore the city of Mandalay where you will take a sightseeing tour which includes Mahanumi, a life like Buddha image; visiting a gold leaf making center, to see the gold leaf still being made by hand; marble sculpture and tapestry workshops and Zaycho Market. In the afternoon visit the Old Palace grounds; Kuthodaw Pagoda, known as the world's largest book for its 729 marble slabs inscribed with the Buddha's Doctrine; Golden Palace Monastery, noted for its exquisite wood carvings; Atumashi Monastery; and Kyauktawgyi Pagoda, where a huge image is carved out of a single block of marble. At sunset enjoy the panoramic view of the city from Mandalay Hill.
Meals included: Breakfast, Lunch
Overnight at Mandalay Hill Resort – 1 Double Deluxe Hill View Room
Day 8 Mandalay to Inle Lake
You will be transferred to the airport in time to catch the morning flight to Heho - . (Mandalay to Heho flight included) Continue by car for about an hour (30km) to the famous Inle Lake, the residence of the Intha people who live their lives on the water. Check into your beautiful, lakeside hotel before taking a boat trip around the lake. You will see the unique method locals use to row their boats, fishermen with their own style of fishing, floating farms and gardens and a handloom weaving cottage with its own showroom. You will visit Phaungdawoo Pagoda which houses the five most revered Buddha Images in the southern Shan States and Nga Phe Cheung Monastery, formerly known as the Cat Jumping Monastery, which got its name from formerly teaching cats to do tricks but has hence stopped this practice due to overly worked cats. You can still enjoy the many roaming cats while learning about the Shan style Buddhas at the beautiful mid nineteenth century teak monastery. It is a great location to witness monastery life on the lake, as it is located right on the outskirts of a massive floating garden.
Meals included: Breakfast, Lunch
Overnight at Inle Princess Resort – 1 Double Mountain View Chalet Room
Day 9 Inle Lake: Indein
Your guide will meet you at your hotel and you will take a boat to Indein, a small village on the western bank of Inle Lake. To get there you pass through a channel, one of the prettiest boat rides on the lake. You can visit some of the village houses to see their day to day lives. It takes about 30 minutes to walk up the hill of Indein Pagoda complex, as you pass through the bamboo forest where you will see the ruined temples under renovation. Return the way you came, by boat, and once again enjoy the picturesque ride. On your way back you will stop along the way to learn about and witness some of the locals' distinct handicrafts of lotus weaving, cigar rolling, blacksmithing and silverwares.
Meals included: Breakfast, Lunch
Overnight at Inle Princess Resort – 1 Double Mountain View Chalet Room
Day 10 Inle Lake to Ngapali Beach
You will be transferred to the Heho airport in time for your flight to Thandwe - (Heho to Thandaw flight included) When you arrive in Thandwe, you will be met and transferred to your hotel in Ngapali.
Meals included: Breakfast
Overnight at Amata Resort – 1 Double Cabana Cottage
Day 11 & 12 Ngapali Beach: Days at Leisure
You have two days free to relax and explore at the beach.
Meals included: Breakfast
Overnight at Amata Resort – 1 Double Cabana Cottage
Day 13 Nagapali Beach to Yangon
You will be met at your hotel for your private transfer to the Thandwe airport, where you will arrive in time for your onward flight to Yangon. On arrival you will be met and transferred to your hotel. (Thandwe to Yangon flight included).
Meals included: Breakfast
Overnight at The Governor's Residence – 1 Double Deluxe Room
Day 14 Yangon: Departure
Y?our guide will meet you at your hotel for your private transfer to the airport in time for your onward flight.
Meals included: Breakfast
PLEASE NOTE
This itinerary is currently in progress and does not reflect hotel room availability. The pricing is not final until the itinerary has been confirmed and booked.
Price includes:
· Air tickets as Yangon - Bagan/ Mandalay - Heho - Thandwe - Yangon
· Boat tickets as specified above
· Accommodation as specified above
· Air-conditioned car/van with driver
· Licensed English speaking guides
· Tours and admission fees as mentioned above
· Meals as specified in itinerary, including water
Price excludes:
· Personal expenses
· Visa fees
· Airport tax
· Drinks (except water) and meals not mentioned in itinerary
· Tips
More information from Journeys Within Tour Company: