Tour de Forks - Uncommon Epicurean Adventures - vacations and travel
A Royal Taste Of The Countryside: Normandy And Brittany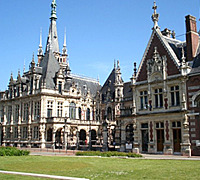 Airport near paris, france
Culinary & Wine Travel trips
This uncommon epicurean adventure was designed by our tour guides Kathryn Morton and Debra Fioritto, who are winners of the 2006 Culinary Trust's Julia Child Endowment Fund Scholarship.It is more than a gourmet's dream journey - it epitomizes the philosophy of today's Slow Food movement as we pay homage to six of France's Sites of Exceptional Culinary Taste and discover the time- honored traditions of artisans, producers, and growers.

As we tour the mythical coast and lush countryside, we will savor wine and food at its source, prepare local cuisine and be welcomed by great chefs of the region. Our culinary adventure begins like royalty - we'll take a private tour of Louis XIV's Kitchen Garden, Le Potager du Roi, and then continue on to the Normandy countryside to stroll through a pear orchard and visit a cheese making dairy farm. On Brittanys coast we will travel out to the oyster beds and have a tasting in situ. Join us on this extraordinary epicurean adventure to these special destinations.
Locations visited/nearby
France, Europe
0 testimonials about this trip.
Reviewer:

Chef Anita Lo

located in

New York

,

NY

USA

"I'd recommend Tour de Forks to my own mother. I'd even require it for all serious foodies and food professionals if I could, so they all would experience the fresh new ideas of 'Mod Oz' (modern Australian cuisine: a cutting edge, urban cuisine influenced by nearby Asia), and the exceptional cheeses, wines, meat and produce from that continent.

You could do it on your own, but chances are, even if you have several good guide books, you're going to be disappointed with more than just a couple of meals, and you won't get the personalized, VIP treatment you get from having a few famous, local food professionals showing you around as you do on Tour de Forks. I wish every country I've visited had a Meera Freeman, a George Biron, and a Melissa Joachim to take me out to dinner. These are people whom chefs want to impress and who routinely get the best tables and the best service-these are the people you want at your dinner table. Not only are they your insider's ticket to the culinary cognoscenti circle, they are also passionate teachers who give illuminating demonstrations throughout the tour and take you to find the best jamon, the best lobster, and the best cheeses the country has to offer.

The tour, however, is not just about food. The accommodations are luxurious. You stay at only the most fabulous hotels. Some of the highlights didn't even have anything to do with food. If you go on your own, try not to miss a private plane ride over the "12 Apostles"-12 stunning rock formations off the south-eastern coast on the way to King Island, home to award winning cheeses, fabulous seafood and fantastic beach views. Also don't miss the wild kangaroos that hang out in the golf courses on the way to Sunnybrae, George Biron's home, farm and former restaurant in some of the most beautiful, unspoiled countryside left in the world. And don't forget to take a boat ride with local dolphins on your way back to Melbourne from wine tastings at local vineyards. Or, just sign up for the tour, relax, and let Meera, George and Melissa guide you through a trip to remember."


5

Reviewer:

Jackie Chasey

located in

New York

,

NY

USA

My Tour de Forks culinary adventure was a foodie dream come true. Of course, the Tour de Forks team arranged every detail to please the most sophisticated, discriminating traveler-that was expected, although probably shouldn't have been taken for granted-but what was unique about this trip was the access to experiences you could never have traveling on your own unless you're a celebrity or restaurant royalty.

My fellow travelers were a diverse lot, interesting, accomplished and extremely congenial, and our small group felt like a bunch of friends enjoying each other's company and not like everyone's stereotype of a tour group. I'm sure this was due largely to our tour organizers and guide who did an amazing job of taking individual needs and preferences into account and dealing with every situation with humor and the utmost flexibility.
I will travel with Tour de Forks again, and I recommend it without reservation to anyone who loves food and wine and wants a luxurious, informative and uniquely pleasurable vacation experience.

5
Comments from Facebook
Special information
This is a custom departure, meaning this trip is offered on dates that you arrange privately with the provider. Additionally, you need to form your own private group for this trip. The itinerary and price here is just a sample. Contact the provider for detailed pricing, minimum group size, and scheduling information. For most providers, the larger the group you are traveling with, the lower the per-person cost will be.
Itinerary
Day 1 Versailles
Arrive in Paris and transfer by private
car to a luxury hotel and spa. Occupying seven acres in a tree-filled park and bordering Louis XIV's Palace of Versailles, has always been a magnet for fashionable society and lovers of cuisine. After settling into the luxury hotel, the afternoon is yours to explore the garden, the palace or the town. You may want to book a relaxing massage in the spa. In the early evening, a welcome reception of champagne cocktails and amuse bouches is followed by an exceptional gourmet dinner at famed Chef Gordon Ramsey's La Veranda Brasserie that begins our epicurean adventure.
Day 2 Potager du Roi, King's Kitchen Garden of Versailles
Take advantage of the late morning with a stroll in the King's Garden - a perfect way to start the day before a private tour of the King's Garden in Versailles. The garden, Le Potager du Roi, a Site of Exceptional Culinary Taste, open to the public since 1991, is exactly as Louis XIV would have known it. Not only does it provide over 300 varieties of fruits and vegetables, it's aesthetically and artistically pleasing to wander through the immaculately cared-for rows. A team of 30 gardeners harvest over 80 tons of fruits and vegetables from the garden each year. After lunch, our journey into the heart of Normand Cider Country unfolds. An enchanting chateau filled with Impressionist and Cubist paintings and Chinese works of art, is set in the serenity of meadows, apple trees and horse farms. As we follow the Route du Cidre, we'll visit cider, pommeau and calvados makers. Of course, we'll taste their products and learn about the AOC Calvados du Pays d'Auge. At our chateau, surrounded by beautiful gardens, owner and chef Philippe Harfaux welcomes us with courses and cuisine to accompany the region's offerings of artisanal ciders.
Day 3 Domaine St. Hippolyte and Behind the Scenes of a Chef's Kitchen
A visit to the farm of an artisanal cheesemaker at the Domaine St. Hippolyte, is an occasion to learn about the making of livarot, pont l'eveque and fresh pave d'auge cheeses, made exclusively from the milk of Race Normand "happy" cows. The Domaine St.Hipployte recently won a gold medal for it's artisanal pont l'eveque cheese at the 2008 Paris Agricultural Fair. Our visit of this Site of Exceptional Culinary Taste is followed by a stream-side picnic on the plush grounds of the Domaine. Once back at our chateau, it's time to become members of the equipe de cuisine (kitchen team). Chef Harfaux will divide us into teams as he teaches us how to use seasonal products grown and gathered from his back-yard potager (vegetable garden) while he explains what happens behind the scenes in a French restaurant and kitchen.
Day 4 Cooking Demonstration and Lunch at the home of Sophie Dudemaine and Shopping in Villedieu-les-Poeles
Sophie Dudemaine is a best-selling author and TV cooking star in France. Her new book, Cooking with Ducasse, has just been translated into English and released in the USA. We're invited to her home for a cooking demonstration of her famously created "cakes" followed by lunch. In the afternoon, on our way to Cancale, we make a stop to visit the town of Villedieu-les-Poeles, home of the well-known Mauviel copperworks. Watch the artisans at work and visit village stores with owners who make and sell "anything" copper. Gourmands will be happy to save packing room for a pot, pan or copper souvenir. After settling into a luxury spa hotel on the Brittany coast, enjoy a pleasant evening on the beach or free in the bustling port town of St. Malo.
Day 5 Cancale
After breakfast, a late morning affords opportunities to walk on the beach or enjoy a healthy spa treatment at the extensive thermal spa. Then we'll travel along the windswept coast to the port of Cancale, a Site of Exceptional Culinary Taste known the world over for its oysters, les huitres cancalaises. The local president of this Site Remarquable du Gout will guide us on a visit of her oyster farm. Then we'll learn all about the production and harvesting of cancalaise oysters and what makes them so exceptional. A special oyster and wine tasting from the local wine expert unveils the art of pairing the various oysters with French wine. The rest of the evening is free to discover your surroundings.
Day 6 Bocage Domfrontais
e We'll drive through the Bocage Domfrontais, home to a pear variety grown no where else in the world and used to produce a unique poire and calvados Domfrontais. Our stop is in the heart of the lush Andaines Forest, former stomping grounds of that old heart-throb, Sir Lancelot du Lac. We'll savor lunch from a panier, a picnic basket brimming with local lamb, sausage, Normand cheese and even a mushroom sandwich - but we won't be looking for the Knights of the Round Table. Instead, we're accompanied by a mycologue, a scientist who specializes in mushrooms. These perfect mushroom specimens will grace our table as we enjoy a dinner in the restaurant gastronomique of our hotel. The luxurious hideaway hotel is a gem...you'll feel a true sense of serenity and place as food, land and culture intertwine in the middle of the forest. Just a few minutes away is Bagnoles-de-l'Orne, the only spa town in western France. The lakeside Belle-époque town is like no other found in France. In the evening discover the town's quaint shops, fine dining and even a casino.
Day 7 Route du Poire, Calvados Domfrontais
A morning visit to the market in Bagnoles de l'Orne is just the beginning of this exceptional day. Our meeting with a local farmer includes a degustation of pommeau - the local aperitif made from apple juice and calvados, hard cider and, of course, the local specialty, calvados. We'll be introduced to the regional cuisine and learn why the trou Normand, a digestif of flavorful brandy distilled from apple cider, is served between courses of la cuisine Normand. In the afternoon, Michelin-starred chef Franck Quintin takes us into his kitchen for a hands-on cooking course using the fresh spring products from the morning's market visit. Dining on our own creations with just the right wine is a convivial way to end the day.
Day 8 Mortagne au Perche and Chocolatrium in Damvielle
After lunch in the small town Mortagne au Perche, there's no place like Michel Cluizel's Chocolatrium, in Damvielle, for the perfect dessert. The museum and factory provides a glimpse into the world of chocolate. Tonight, a small luxury chateau hotel set in a magnificent flower-filled park, is a natural setting for our farewell dinner of flavorful regional cuisine. We end our culinary journey of Brittany and Normandy just as it began - dining comme un roi, like a king, in the refined restaurant of the small castle. Our farewell dinner will include Normand specialties like seafood prepared with mustard and tomatoes, and le demoiselle de Cherbourg, small lobsters with a sauce of white wine. Normandy apples weave their way into in many of the dishes offered by the chef, along with a fine selection of calvados. The chateau boasts an excellent cellar with prestigious wines. This final royal feast of fresh products from the Pays d'Auge tops off a grand adventure!
Day 9 Depart for Paris
Morning transfer to the Paris Airport.
More information from Tour de Forks - Uncommon Epicurean Adventures: