Tour de Forks - Uncommon Epicurean Adventures - vacations and travel
Emilia Romagna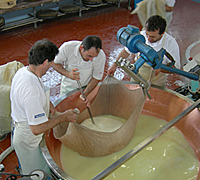 Bologna airport, bologna, italy
Culinary & Wine Travel trips
Many consider Emilia Romagna to be the geographical and gastronomic belly of Italy and that would make the region's capital - the enchanting Bologna, nicknamed La Grassa (the fat) - its navel. This is the city that gave the world tortellini and mortadella and the food is truly amazing. Home to one of the world's first universities, Bologna is steeped in history and loaded with medieval charm.

Locations visited/nearby
Italy, Europe
0 testimonials about this trip.
Reviewer:

Chef Anita Lo

located in

New York

,

NY

USA

"I'd recommend Tour de Forks to my own mother. I'd even require it for all serious foodies and food professionals if I could, so they all would experience the fresh new ideas of 'Mod Oz' (modern Australian cuisine: a cutting edge, urban cuisine influenced by nearby Asia), and the exceptional cheeses, wines, meat and produce from that continent.

You could do it on your own, but chances are, even if you have several good guide books, you're going to be disappointed with more than just a couple of meals, and you won't get the personalized, VIP treatment you get from having a few famous, local food professionals showing you around as you do on Tour de Forks. I wish every country I've visited had a Meera Freeman, a George Biron, and a Melissa Joachim to take me out to dinner. These are people whom chefs want to impress and who routinely get the best tables and the best service-these are the people you want at your dinner table. Not only are they your insider's ticket to the culinary cognoscenti circle, they are also passionate teachers who give illuminating demonstrations throughout the tour and take you to find the best jamon, the best lobster, and the best cheeses the country has to offer.

The tour, however, is not just about food. The accommodations are luxurious. You stay at only the most fabulous hotels. Some of the highlights didn't even have anything to do with food. If you go on your own, try not to miss a private plane ride over the "12 Apostles"-12 stunning rock formations off the south-eastern coast on the way to King Island, home to award winning cheeses, fabulous seafood and fantastic beach views. Also don't miss the wild kangaroos that hang out in the golf courses on the way to Sunnybrae, George Biron's home, farm and former restaurant in some of the most beautiful, unspoiled countryside left in the world. And don't forget to take a boat ride with local dolphins on your way back to Melbourne from wine tastings at local vineyards. Or, just sign up for the tour, relax, and let Meera, George and Melissa guide you through a trip to remember."


5

Reviewer:

Jackie Chasey

located in

New York

,

NY

USA

My Tour de Forks culinary adventure was a foodie dream come true. Of course, the Tour de Forks team arranged every detail to please the most sophisticated, discriminating traveler-that was expected, although probably shouldn't have been taken for granted-but what was unique about this trip was the access to experiences you could never have traveling on your own unless you're a celebrity or restaurant royalty.

My fellow travelers were a diverse lot, interesting, accomplished and extremely congenial, and our small group felt like a bunch of friends enjoying each other's company and not like everyone's stereotype of a tour group. I'm sure this was due largely to our tour organizers and guide who did an amazing job of taking individual needs and preferences into account and dealing with every situation with humor and the utmost flexibility.
I will travel with Tour de Forks again, and I recommend it without reservation to anyone who loves food and wine and wants a luxurious, informative and uniquely pleasurable vacation experience.

5
Comments from Facebook
Special information
This is a custom departure, meaning this trip is offered on dates that you arrange privately with the provider. Additionally, you need to form your own private group for this trip. The itinerary and price here is just a sample. Contact the provider for detailed pricing, minimum group size, and scheduling information. For most providers, the larger the group you are traveling with, the lower the per-person cost will be.
Itinerary
Day 1 - Bologna–Private transfer from Bologna airport to hotel. This afternoon, visit Bologna's temple of Emilia-Romagna cuisine,Tamburini. Overnight at Hotel Corona D'Oro.
Day 2 - Bologna–Breakfast at the hotel. Visit Bologna's oldest cafe for a coffee tasting, then wander through Bologna's Market District whose narrow streets contain produce stands, upscale food shops, vendors selling locally made grappa and balsamic vinegar, and bustling sidewalk cafes serving up tagliatelle, Bologna's specialty pasta. This afternoon, you will have a guided walking tour of historic Bologna and time for shopping.There are 15th century churches, 16th century fountains, miles of porticoes, feudal towers, and beneath the cobblestone streets lies an ancient network of canals originally used for travel and transport. Overnight at Hotel Corona D'Oro.
Day 3 - Modena - Parma - Polesine Parmense–Breakfast at the hotel. Pick up rental car and drive to Modena for a tour and lunch at an Acetaio Balsamico Tradizionale di Modena (Traditional Balsamic Vinegar Maker of Modena). This vinegar is made from a reduction of cooked white Trebbiano grape juice and can be aged for up to 25 years. Continue to Parma to see the historic center, the Cathedral and the Baptistry. A short drive to Polesine Parmense and you will arrive at your hotel on the banks of the Po River, Relais Corte Pallavicini. Dinner at Cavallo Bianco.
Day 4 - Polesine Parmense–Breakfast at the relais. Hands-on pasta making class and lunch with Chef Massimo Spigaroli at Corte Pallavicina. Massimo is an acclaimed chef and president of the renowned Italian prosciutto consortium (Culatello di Zibello). Overnight at Relais Corte Pallavicini.
Day 5 - Polesine Parmense - Bologna– Breakfast at the relais. Early morning visit to a caseificio, a Parmigiano-Reggiano producer, for a guided tour and tasting. Drive to Bologna. Afternoon at leisure. Overnight at Hotel Corona D'Oro.
Day 6 - Departure– Private transfer to Bologna airport.
More information from Tour de Forks - Uncommon Epicurean Adventures: