Sights and Soul Travels - Tours and Vacations for Women - vacations and travel
Ha Long Bay To Mekong Delta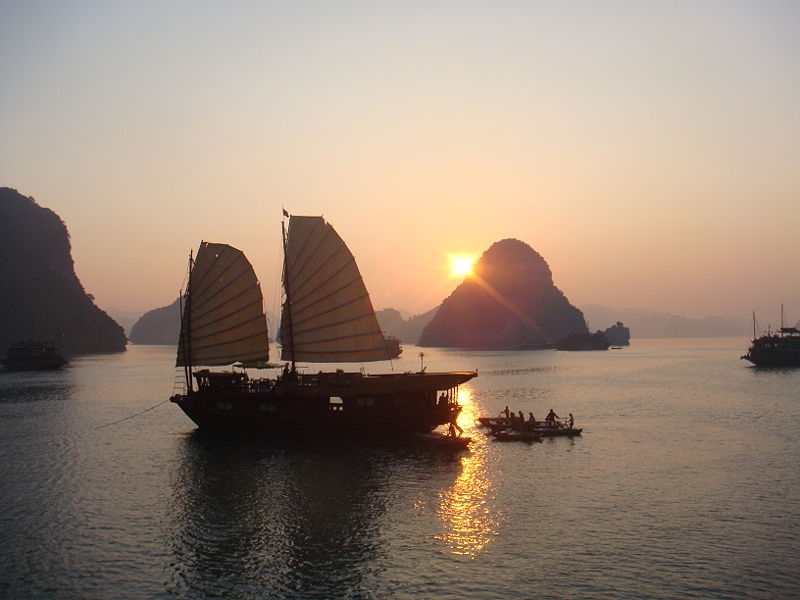 Hanoi airport, vietnam
Culture & Nature trips
With its sublime physical beauty, mysteries of the ancient cultures and enduring traditions, Vietnam provides travelers with a wealth of treasures. From the traditional junks on Ha Long Bay, the exotic basket boats on the South China Sea, and the dragon boats on the Perfume River to Hue's imperial treasures and Mai Chau serene rural landscapes of vibrant, terraced rice fields tended by graceful women in straw conical hats, you will find Vietnam's tangle of sensory experiences mesmerizing.
With the Ha Long Bay to Mekong Delta Tour of Vietnam, you'll set on an exotic and luxurious journey into the heart of Indochina and explore the world of ancient cultural traditions and experience some of the most mesmerizing scenery in the world: from French-influenced Hanoi and Saigon, which has figured so prominently in recent history and is now a spirited and cosmopolitan city to imperial Hue, once home to emperors and mandarins and the atmospheric royal village of Hoi An. See thousands of limestone islands as you sail on Ha Long Bay in a luxury junk, spend a day in colorful floating markets of the Mekong River Delta, study local cuisine during a private cooking class, enjoy a traditional water puppet show, witness hundreds of Buddhist pilgrims pray in the Perfume pagoda, marvel at the hospitality of tribal villages in the Mai Chau Valley, take a cyclo tour through the French colonial architecture of Hanoi, and explore Viet Cong's Cu Chi Tunnels.

Locations visited/nearby
Vietnam, Southeast Asia
0 testimonials about this trip.
Reviewer:

Elizabeth

located in

Ohio

USA

Travel with Yolanta is simply in a class of its own. It's like traveling with a friend who passionately wants to share not only the sights but also the "soul" of the people - the culture, the history, their values and passions. At the same time, Yolanta tries to anticipate and meet your needs as a traveler. From the time she welcomes you with flowers when you arrive at an airport, train or bus station to the time of departure when she personally escorts you to the airport or train station, you feel special and well taken care of.

5

Reviewer:

Gail

located in

Illinois

USA

I loved our trip, and really felt like I came away from it, relaxed, happy, and more knowledgeable about another part of our wonderful world. Thank you for making the experience one that will forever be in my memory as a 'highlight' of my life.

5

Reviewer:

Danuta

located in

Nova Scotia

I had a great time in Tuscany. I liked the way you planned the trip, and have great memories and pictures to remind me of the beauty of Tuscany. Thank you so much for making my dream come true, I will definitely keep Sights and Soul in mind when planning future vacations.


5
Comments from Facebook
Special information
Offers some women-only departures.
Itinerary
Day 1: On arrival in Hanoi, you will be met by a private chauffeur for a transfer to our luxurious hotel in the city center. After some rest, we'll attend a Water Puppet show, a Vietnamese art form whose tradition goes back a thousand years, followed by a fine restaurant welcome dinner where we'll get to know our fellow travelers, share some laughs and sample Hanoi specialty dishes.
Meals: D
Day 2: We'll spend our first full day in Vietnam exploring Hanoi. This thousand year old city, the political and cultural capital of Vietnam, is filled with French colonial architecture, tree-lined boulevards and thousand-years old landmarks. We'll explore the complex of cultural and historic sites of Ba Dinh Square, visit Ho Chi Minh Mausoleum, the One Pillar Pagoda, the Confucian Temple of Literature and the Hanoi "Hilton". We'll stop for lunch and try some freshly prepared Vietnamese dishes, then take a cyclo tour by the Lake of the Restored Sword and through the narrow streets of the diverse Old Quarter.
Meals: B, D
Day 3: Today, we'll leave the fast pace and the energy of Hanoi and travel through the serene Red River Delta to the Perfume Pagoda, a series of Buddhist shrines and sanctuaries built into a limestone hillside. We'll access the pagoda by taking a rowing boat on the Yen Vi River, then ascend the mountain by a cable car. Once at the Perfume Pagoda, we'll witness a prayer ceremony for luck, happiness and longevity. Afterwards, we'll continue through verdant, green mountains and surreal rice fields to our destination, the Mai Chau Valley. We'll be welcomed by the ethnic minority people and get settled in stilt houses where we'll spend the night as their honored guests. We'll enjoy dinner, prepared specially for us, then a village performance of local music and dance.
Meals: B, L, D
Day 4: In the morning, we'll visit a colorful village market in Mai Chau, where we can admire and shop for local handicrafts displayed by different ethnic groups, stop at a local school and take a leisurely walk through the rice fields, stopping at several houses to meet the people, learn about their life and take in different Vietnamese cultures, traditions and costumes. In the afternoon, we'll take a scenic route past tea plantations and rice fields back to Hanoi, and check back into our hotel.
Meals: B, L, D
Day 5: After breakfast, we'll travel to one of Vietnam's natural wonders: Halong Bay, a breathtaking waterway dotted with over 3,000 limestone islands. On arrival, we'll board a traditional junk, an exact replica of a junk that navigated Halong Bay's shallow waters a century ago, and we'll sail on the clear waters of the Bac Bo Gulf through the fairytale landscape of dramatic cliffs, secret grottoes, and lush vegetation. From our luxury vessel, we'll enjoy the eternally green scenery of the Red River Delta checkered with endless rice paddies, water buffalo plowing the fields and villagers riding to the market with produce piled high on their bicycles. We'll visit Cua Van village, explore the Surprise Cave, and have free time for swimming, kayaking or enjoying the beach.
Meals: B, L, D
Day 6: Today, we'll wake up early to witness the spectacle of the first daylight filtering through the mist and lighting up the towering rock formations - what a dreamy memory to take from Halong Bay! We'll enjoy a brunch on the boat before disembarking in the early afternoon. After we arrive at the Hanoi airport, we'll take a flight to the imperial city of Hue, and transfer to our hotel.
Meals: B, L
Day 7: Today, we'll experience Hue, Vietnam's most traditional city whose monuments evoke its past grandeur as home to emperors and mandarins. We'll tour the ancient Imperial Citadel and the Forbidden Purple City, then take a dragon boat trip across the Perfume River to visit the serene Thien Mu Pagoda and the majestic Royal Tombs, Hue's best preserved Buddhist monuments. In the evening, we'll stop for dinner at the lovely Lang Co beach overlooking a turquoise lagoon and beautiful beaches facing the South China Sea. In the evening, we'll arrive at our resort hotel in Hoi An, an atmospheric 17th century trading port on the banks of the Thu Bon River.
Meals: B, D
Day 8: In the morning, we'll set out to experience Hoi An's colorful market, with its amazing sights, sounds and aromas, and buy produce for our cooking class. During this hands-on experience, we'll learn the secrets of Vietnamese cuisine, then prepare some great dishes and enjoy them for lunch. Later, we'll take a cyclo tour of the World Heritage town of Hoi An. Lost to time a half millennium ago, the town reflects many ancient traditions as well as the diverse architectural styles from the Dutch, Chinese, Portuguese, and Japanese traders who helped build it. We'll explore the town's exotic markets, the 400 year-old Japanese Covered Bridge and narrow streets lined with low, tiled roof houses from the 17th century. Spend the afternoon at leisure, visiting the tailor shops or join a sunset cruise on the Thu Bon River.
Meals: B, L
Day 9: In the morning, we'll ride our bicycles along the scenic route to Tra Que village, where we'll meet farmers growing organic vegetables and using seaweed from the local lake to fertilize the soil. We'll tour the farm and can even join in with some farm work. In the afternoon, we'll transfer to the airport and fly to Saigon (Ho Chi Minh City). After checking into our hotel, we'll enjoy dinner on town in a contemporary Vietnamese restaurant.
Meals: B, D
Day 10: We'll start our exploration of the Saigon region with a trip to visit the unusual Cao Dai Temple, one of the most striking structures in south-east Asia. The temple is the center of Dadaism, a curious religious mix of Buddhism, Confucianism, Taoism, Christianity and Islam. After touring the site, we'll attend the colorful noon mass. In the afternoon, we'll tour the Cu Chi tunnels, the infamous underground network from which North Vietnamese forces operated during the American War in Vietnam.
Meals: B, L
Day 11: After breakfast, we'll set out to explore the fascinating Mekong Delta. We'll enjoy the scenic journey through the iconic landscapes of Southern Vietnam, then board a private boat to explore the river life up close. We'll watch the bustle of the Cai Be floating market, with hundreds of colorful boats filled with fruit and vegetables, cruise along the maze of Mekong River's tributaries and narrow channels, walk through tiny villages and fruit orchards and stop for lunch at a restaurant featuring Mekong Delta specialties. After lunch, there will be time to relax on a hammock, stroll through the orchards or row a small sampan on the river, before returning to Saigon.
Meals: B, L
Day 12: Today, we'll tour Saigon, and visit the former Presidential Palace, the Notre Dame Cathedral, the Central Post Office, the Opera House, and the Reunification Palace. We'll finish with a leisurely stroll down Rue Catinat of Graham Greene's The Quiet American to reveal more colonial classics and through the bustling Ben Thanh Market for last minute shopping. Our farewell dinner will be at a fine restaurant specializing in Indochina cuisines.
Meals: B, D
Day 13: This is our last day in Vietnam, and if you're ending your journey here, you'll have a free morning before your private transfer to Saigon's airport. If you're joining us for the optional excursion to Angkor Wat, you'll have an early transfer to the airport.
Meals: B
More information from Sights and Soul Travels - Tours and Vacations for Women: