Tour de Forks - Uncommon Epicurean Adventures - vacations and travel
A Taste Of The Big Apple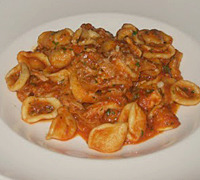 Airport near new york, ny, united states
Culinary & Wine Travel trips
New York, New York, lays claim to a cornucopia of ethnic foods - a legacy from the waves of immigrants that settled here over centuries. The Eastern European history that accompanies the city's foodie icons -a bagel with a schmear, pastrami sandwiches at Katz's Deli and egg creams is fascinating, fun and well, delicious. Legions of produce-laden Old-World push carts have been supplanted today by urban green markets and cuisines from newer countries are layered in. With all the history there is lots of hoopla too. There is Eataly, the extravagant emporium devoted to Italian food and culinary traditions and Michelin star celebrity chefs create well-reviewed signature dishes in their own restaurants.

Locations visited/nearby
New York, United States, North America
0 testimonials about this trip.
Reviewer:

Chef Anita Lo

located in

New York

,

NY

USA

"I'd recommend Tour de Forks to my own mother. I'd even require it for all serious foodies and food professionals if I could, so they all would experience the fresh new ideas of 'Mod Oz' (modern Australian cuisine: a cutting edge, urban cuisine influenced by nearby Asia), and the exceptional cheeses, wines, meat and produce from that continent.

You could do it on your own, but chances are, even if you have several good guide books, you're going to be disappointed with more than just a couple of meals, and you won't get the personalized, VIP treatment you get from having a few famous, local food professionals showing you around as you do on Tour de Forks. I wish every country I've visited had a Meera Freeman, a George Biron, and a Melissa Joachim to take me out to dinner. These are people whom chefs want to impress and who routinely get the best tables and the best service-these are the people you want at your dinner table. Not only are they your insider's ticket to the culinary cognoscenti circle, they are also passionate teachers who give illuminating demonstrations throughout the tour and take you to find the best jamon, the best lobster, and the best cheeses the country has to offer.

The tour, however, is not just about food. The accommodations are luxurious. You stay at only the most fabulous hotels. Some of the highlights didn't even have anything to do with food. If you go on your own, try not to miss a private plane ride over the "12 Apostles"-12 stunning rock formations off the south-eastern coast on the way to King Island, home to award winning cheeses, fabulous seafood and fantastic beach views. Also don't miss the wild kangaroos that hang out in the golf courses on the way to Sunnybrae, George Biron's home, farm and former restaurant in some of the most beautiful, unspoiled countryside left in the world. And don't forget to take a boat ride with local dolphins on your way back to Melbourne from wine tastings at local vineyards. Or, just sign up for the tour, relax, and let Meera, George and Melissa guide you through a trip to remember."


5

Reviewer:

Jackie Chasey

located in

New York

,

NY

USA

My Tour de Forks culinary adventure was a foodie dream come true. Of course, the Tour de Forks team arranged every detail to please the most sophisticated, discriminating traveler-that was expected, although probably shouldn't have been taken for granted-but what was unique about this trip was the access to experiences you could never have traveling on your own unless you're a celebrity or restaurant royalty.

My fellow travelers were a diverse lot, interesting, accomplished and extremely congenial, and our small group felt like a bunch of friends enjoying each other's company and not like everyone's stereotype of a tour group. I'm sure this was due largely to our tour organizers and guide who did an amazing job of taking individual needs and preferences into account and dealing with every situation with humor and the utmost flexibility.
I will travel with Tour de Forks again, and I recommend it without reservation to anyone who loves food and wine and wants a luxurious, informative and uniquely pleasurable vacation experience.

5
Comments from Facebook
Itinerary
Day 1, Friday
Arrive in New York City, and check-in at the luxurious Carlton Hotel. You are at leisure for the afternoon; we recommend a short walk to the Union Square Market, the city's pre-eminent Green Market.

Start the evening with welcome cocktail at the hotel and an orientation of the weekend. Then enjoy a 4-course dinner at the noted Italian Ristorante I Trulli. Dishes from Italy's Puglia region, including an artisanal pasta course, will be accompanied with regional wines.

Day 2, Saturday
Breakfast at the hotel and then meet mid-morning for a guided culinary tour of the Lower East Side. This storied neighborhood was once home to nearly a half million Eastern European Jews, whose pushcarts lined the teaming streets. The tour will provide a fascinating history of the neighborhood and feature stops at revered eateries like Russ & Daughters for exceptional smoked salmon and Katz's for lunch (founded in 1888, this Jewish style deli is NYC's oldest and arguably its best), a fun nosh at the Essex Street Market - and more. The rest of Saturday will be at your leisure.

Day 3, Sunday
Breakfast at the hotel. This afternoon, visit a chocolate atelier for a hands-on chocolate making class. The Master Chocolatier is Ilene Shane of Sweet Bliss and she makes artisanal chocolates for Bergdorf Goodman and Barneys. Champagne will be served and you'll get to take home your creations.

Day 4, Monday
Breakfast at the hotel. This morning a short walk will bring you to Eataly. Italian food writer and cookbook author Michele Scicolone will show you around this 50,000 square-foot multi-level emporium, devoted to the food and culinary traditions of Italy. It boasts seven restaurants, a rooftop beer garden and an on-site mozzarella maker. If your schedule permits, stay on to shop and lunch on your own. Departure.

More information from Tour de Forks - Uncommon Epicurean Adventures: