The International Kitchen - vacations and travel
Italy: A Mediterranean Cooking Experience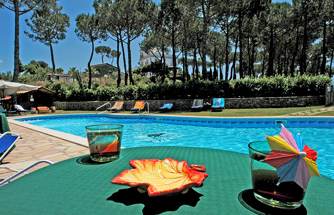 from $3,750* per person
7 Days
April-October
Boutique accommodations

Exertion level: 1

Operator:

The International Kitchen

12 people max
Naples, italy
Culinary & Wine Travel trips
About the location: Sant' Agata sui due Golfi is situated about 10 km from Sorrento. It is one of the "pearls" in the Gulf of Naples and the Gulf of Salerno, facing Capri. The site of your Amalfi Coast culinary vacation will be a lovely four-star relais hotel of only six rooms (and five suites) situated on one of the hills of Sant' Agata sui due Golfi. The villa was originally built in 1892 for a rich German aristocrat as a luxurious residence. It has recently been painstakingly restored and is now a splendid hotel, complete with impeccably furnished interiors and a fine ambiance. There are also three recently completed apartments on the property. The facilities include a gorgeous 15 meter swimming pool with jacuzzi and sauna, tennis court, outdoor dining, wine bar, exercise room, and lush vegetation. Just completed is a charming cantina in the main building (complete with Cuban cigars) and an incredible wine cave with premium wines from Italy, France and Australia. The relais has also acquired a breathtaking private beach, with shuttle service from the hotel.

The Amalfi region is truly one of the most idyllic on earth. From the time of Etruscans to present movie stars, this has been area that has long enchanted travelers. Sundry excursions during this week-long Amalfi culinary vacation will take you from the posh island of Capri to the ancient ruins of Pompeii, and the cobblestoned medieval streets of Amalfi at the cliff's base. An expanse of precarious road will take you between villages, running through lush greenery and vineyards nestled in the folds of the jagged cliffs.

About the cooking lessons: Your cooking classes will be held in the large teaching kitchen built specifically for your culinary vacation with The International Kitchen. It features spacious granite counters, a large professional range and an outdoor veranda, where you can enjoy a break between courses. Your Mediterranean cooking classes will be led by Chef Carmen. Carmen will teach you such typical southern Italian dishes as Sorrento-style gnocchi, stuffed calamari, and Neapolitan-style artichokes. All dishes use the freshest ingredients and recipes that have been passed down for many generations. Your final cooking lesson of the week will teach you the essentials of preparing true Neapolitan style pizza! After your cooking lesson you will feast on what you have made, so be prepared to cook, eat, drink and laugh!

Locations visited/nearby
A Mediterranean Cooking Experience at Relais Oasi Olimpia - BEST SELLER, Italy
0 testimonials about this trip.
Reviewer:

Thomas & Christine L.

located in

NC

USA

I'd like to start by saying, this was the best vacation of our lives. The Relais Oasi Olimpia is a five star hotel with a four star rating. Every member of the staff was warm hearted and friendly, and totally dedicated to our needs and well being. The rooms were large and comfortable, especially compared to the so-called four star hotel we stayed at in Rome. Carmen Mazzola the general manager was extremely competent, resourceful, and accommodating. Whenever we made a request, or a scheduling change was necessary due to weather or some other reason, she handled all with speed and good nature, always exclaiming, "It's nothing!" when we thanked her. The cooking lessons with Marco the Chef were just what we had hoped them to be. Nothing too intense, (after all we were on vacation) but informative and easy to execute. I'm happy to say, Christine and I are quite competent now in producing a variety of delectable dishes we would be proud to serve anyone. Our boat tour to Positano was wonderful, our host Antonio piloted the boat to the picturesue little town, and later stopped at a cove where we swam in the Mediterranean and had an expertly prepared lunch. Our favorite tour was of the Mozzarella Factory, I won't say anymore as I don't want to spoil it for anyone. Suffice to say, don't miss it. Being Italian-American, this vacation awakened feelings in me long hidden. Personality traits that I have are prevalent in Southern Italy. I felt like I was among my own kind at last. I want to go back.

5

Reviewer:

Katie P

located in

UK

I just wanted to let you know that Chris and I had a wonderful time at Chateau de Berne last week. Mayung took very good care of us as ourhostess, and Jean-Louis is great! And of course the location is absolutely beautiful, as you know. We were made to feel very welcome the whole time we were there. I'm a few months pregnant, and Mayung did a great job of juggling our schedule so that I got some rest when I needed it but we also managed to fit in a lot of activities (including a visit to the market, a winery tour and wine tasting and a visit to a local abbey as well as some shopping on our own).And the cooking lessons were very well done. Chris and I were the only students (and in truth, Chris was the only one really cooking with Jean-Louis -- my job was to take notes and pictures!), so it felt like a one-on-one tutorial. Jean-Louis is a patient teacher and he did a good job of explaining everything he was doing. As the week progressed, Chris took a more and more active role in the food preparation, and the hands-on approach was very educational too. Everyone at Chateau de Berne was warm and friendly, and they really did make us feel very welcome there. This program was Chris's birthday present (his 40th) and I'm very pleased with how well it worked out! Thank you!

5
Comments from Facebook
Special information
This is a custom departure, meaning this trip is offered on dates that you arrange privately with the provider. Additionally, you need to form your own private group for this trip. The itinerary and price here is just a sample. Contact the provider for detailed pricing, minimum group size, and scheduling information. For most providers, the larger the group you are traveling with, the lower the per-person cost will be.
Offers some women-only departures.
Itinerary
Day One Of Four - Or Six - Night Program
Pickup from the Naples airport (around 12:00 noon) or train station (around 2:30 pm).
Arrival at the charming Oasi Olimpia Relais where you check in to your deluxe room.
Time on your own. If you are not jet-lagged, you may wish to take a short walk into Sant'Agata to do a little exploring. This is a charming little town; perhaps stop with the locals for a coffee and one of the pastry specialties of the region, or just stroll along the old streets.
Welcome dinner at the hotel's elegant restaurant, Villa Oasi, enjoying a superb dinner of local cuisine.
Day 2
A lovely buffet breakfast awaits you.
In the morning you will head to a local farm, where they have been producing top quality olive oil for years, and where the matriarch has been making mozzarella cheese by hand for six decades; she is one of the true local food artisans. If you like, you can try your hand with the preparation. A light lunch including this wonderfully fresh cheese follows, along with a tasting of olive oil and the tasty limoncello liqueur.
Return to the hotel for an afternoon of relaxation. If weather permits, you might want to take a dip in the pool. You can also schedule a massage in the massage room (advance reservations of at least 48 hours is required).
This evening at 5:00 PM, your first cooking lesson with Chef Carmen, followed by dinner based on your culinary efforts with wine.
Day 3
Buffet Breakfast.
Today will be a full-day visit to the enchanting isle of Capri, weathering permitting. (Traditionally the hydrofoils to Capri run approximately mid-May to mid-October, and during the winter only if the temperature is mild and the water calm.) You can visit the magical Blue Grotto, walk private paths past secluded villas, and gaze across the aqua water from the harbors.
Today's lunch will be on your own.
Return to the hotel mid-afternoon, and begin your next cooking class followed by dinner with wine.
(Please note that in the event of bad weather, Capri excursion will be replaced by an alternate excursion.)
Day 4
Fantastic buffet breakfast followed by an excursion to the enchanting Amalfi Coast.
Amalfi is a town that seems to have climbed up from the sea like froth and crystallized onto the land. The town is dominated by the impressive Duomo, rivaling in size the cliffs that rise up behind it. You can sit and observe in the Piazza Duomo or wind upwards through the cobblestone streets, exploring the little shops along the way. Positano clings to the mountainside, navigable by a narrow winding road set against the backdrop of palms and citrus groves. At the city's center is the magnificent Santa Maria Assunta Church with its gaily-colored dome. And Ravello is a charming town also perched on the cliffs overlooking the sea. It is home not only to the best Amalfi ceramics, but also the lovely gardens of the historic Villa Cimbrone.
Free time for shopping and leisure.
Today's lunch will be on your own.
Return to the hotel for a bit of relaxation before dinner out tonight at a charming restaurant.
Day 5
Breakfast. For those on the four-night program, transfer back to Naples.
Third cooking class with lunch to follow based on your efforts.
Afternoon on your own. Perhaps take an optional tour to Pompeii (for transportation costs, see 'Price per person.')
Dinner on your own.
Day 6
Breakfast.
In the morning, learn how to make pizza dough for your pizza dinner in the evening!
Depart for a pasta factory tour and lunch. You will also stop at the chocolate factory.
Time on your own in the afternoon.
Pizza dinner tonight at the hotel.
Day 7
Breakfast and departure from the hotel to the Naples airport or train station for those ending the six-night program.
More information from The International Kitchen: