The International Kitchen - vacations and travel
Italy: A Food Lover's Adventure in Bologna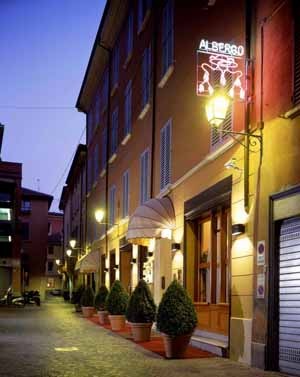 from $3,400* per person
6 Days
February-December
Boutique accommodations

Exertion level: 1

Operator:

The International Kitchen

12 people max
Bologna, italy
Culinary & Wine Travel trips
About the location: Emilia Romagna; just the name conjures up visions of gastronomic wonders. It is often said to be the food capital of Italy, and the center of it all is Bologna. Best known, of course, for its Bolognese sauce, this famed university town is not only wealthy, but rich in its traditions and lifestyle. Don't forget to walk with the locals under the city's famed porticos (or arcades), which stretch for many miles throughout the center of town and to explore the medieval roads and red buildings of one of Italy's most beautiful cities. Your base will be the four-star Hotel Al Cappello Rosso, located 50 meters from the main square of Piazza Maggiore.

Your hosts for the week are Marcello and Raffaella. From their base in Bologna, they spent years assembling a circle of friends, collaborators, and artisans that provide the absolute best from their storehouse of knowledge — traditions, flavors and recipes — the secrets that make the difference between good and great. These characters enliven each day with stories, prized sources and time proven practices woven into hands-on cooking sessions, epicurean tastings and cultural visits. They escort you to appointments, shop the markets together, walk herb fields with you and the local grower and see you to your hotel at the end of each marvelous day. Smaller, tasteful accommodations with an intimate atmosphere not sparing comfort or style are their preference, as is dining at trattorias and out-of-the-way restaurants with chefs they know. You are not likely to find these venues in guidebooks or on other programs.

About the cooking lessons: You class with Nicola is held in his kitchen's restaurant. It is mostly demonstration, but you will learn many wonderful recipes that are easy to reproduce at home. A very good chef and outgoing person, Nicola is very passionate about his work, where he runs the family restaurant. He started cooking at the age of 16 and being from the South of Italy, he has adapted the cuisine of his native region to the cuisine of Emilia-Romagna region, specializing in the use of aromatic herbs, always freshly picked from the garden! Some dishes you make make include garganelli pasta with prosciutto and arugula, risotto with nettles, robespierre beef fillet with aromatic herbs, veal scaloppine with chives, baked tomatoes with oregano and roast potatoes with aromatic herbs.

The class in Bologna is held at a private home in the center of town. It is hands-on and lasts about three hours, followed by dinner with the family. Usually the menu is decided together prior to the class and your food market visit. The class is a complete menu with one or two pastas, one second course, one or two side dishes and a dessert. Pastas may be tortellini or passatelli in meat broth, gnocchi with sausage ragu, or strozzapreti (strangle-the-priest pasta) with vegetable sauce or others. Second courses may include meat or eggplant rolls, stuffed zucchini, or artichokes with peas. Parmigiana spinach, baked leeks with béchamel sauce, gratin fennel, or tomatos with rosemary salt are some of the side dishes. The meal will end with such delights as home-made gelato, semifreddo, tiramisu, pannacotta, or zuppa inglese, a traditional dessert of the region made with custard cream and cookies dipped in sweet liquor.

The class with Elena is held at her gracious agriturismo in the hills of Romagna. Elena runs her agriturismo together with her daughter, where they grow chickens, olive trees (and produce a very good extra virgin olive oil), vegetables and fruits. Of course, she makes her own tomato sauce, jams, wine and liquors. She is a great family chef and an expert on hand-made pasta; you will learn how to make pasta the traditional way and roll it with a rolling-pin. At Elena's, you will make tortelli with ricotta and spinach filling, tagliatelle with ragu alla bolognese and other preparations such as pollo alla cacciatora and apple cake. These are amazing cooking experiences!

Locations visited/nearby
Italy
0 testimonials about this trip.
Reviewer:

Thomas & Christine L.

located in

NC

USA

I'd like to start by saying, this was the best vacation of our lives. The Relais Oasi Olimpia is a five star hotel with a four star rating. Every member of the staff was warm hearted and friendly, and totally dedicated to our needs and well being. The rooms were large and comfortable, especially compared to the so-called four star hotel we stayed at in Rome. Carmen Mazzola the general manager was extremely competent, resourceful, and accommodating. Whenever we made a request, or a scheduling change was necessary due to weather or some other reason, she handled all with speed and good nature, always exclaiming, "It's nothing!" when we thanked her. The cooking lessons with Marco the Chef were just what we had hoped them to be. Nothing too intense, (after all we were on vacation) but informative and easy to execute. I'm happy to say, Christine and I are quite competent now in producing a variety of delectable dishes we would be proud to serve anyone. Our boat tour to Positano was wonderful, our host Antonio piloted the boat to the picturesue little town, and later stopped at a cove where we swam in the Mediterranean and had an expertly prepared lunch. Our favorite tour was of the Mozzarella Factory, I won't say anymore as I don't want to spoil it for anyone. Suffice to say, don't miss it. Being Italian-American, this vacation awakened feelings in me long hidden. Personality traits that I have are prevalent in Southern Italy. I felt like I was among my own kind at last. I want to go back.

5

Reviewer:

Katie P

located in

UK

I just wanted to let you know that Chris and I had a wonderful time at Chateau de Berne last week. Mayung took very good care of us as ourhostess, and Jean-Louis is great! And of course the location is absolutely beautiful, as you know. We were made to feel very welcome the whole time we were there. I'm a few months pregnant, and Mayung did a great job of juggling our schedule so that I got some rest when I needed it but we also managed to fit in a lot of activities (including a visit to the market, a winery tour and wine tasting and a visit to a local abbey as well as some shopping on our own).And the cooking lessons were very well done. Chris and I were the only students (and in truth, Chris was the only one really cooking with Jean-Louis -- my job was to take notes and pictures!), so it felt like a one-on-one tutorial. Jean-Louis is a patient teacher and he did a good job of explaining everything he was doing. As the week progressed, Chris took a more and more active role in the food preparation, and the hands-on approach was very educational too. Everyone at Chateau de Berne was warm and friendly, and they really did make us feel very welcome there. This program was Chris's birthday present (his 40th) and I'm very pleased with how well it worked out! Thank you!

5
Comments from Facebook
Special information
This is a custom departure, meaning this trip is offered on dates that you arrange privately with the provider. Additionally, you need to form your own private group for this trip. The itinerary and price here is just a sample. Contact the provider for detailed pricing, minimum group size, and scheduling information. For most providers, the larger the group you are traveling with, the lower the per-person cost will be.
Itinerary
Day 1
Meet at Bologna airport or train station. Private transfer to your hotel, situated in the heart of Bologna.
In the late afternoon drive to Dozza, a small and charming medieval hilltown.
Welcome dinner at a typical Italian restaurant frequented by local families to enjoy traditional dishes of the area.
Day 2
In the morning drive to the hills of Romagna, border with Tuscany, to visit a privately owned aromatic herb garden, with more than 40 different kinds of plants.
The young owner will explain how the herbs are used in cooking and for our lunch she will prepare delicious samplings of her products.
After lunch, drive to visit a family-owned factory of aprons, tablecloths and other table linens hand-printed with traditional decorations of the Romagna area.
In the late afternoon, enjoy an Italian cooking lesson demonstration at a restaurant.
The owner and chef, Nicola, is very passionate about his work and will prepare a special dinner based on dishes featuring local herbs. You will learn a lot of little secrets to take home to your own kitchen! Aperitif in the lovely garden of the restaurant before dinner.
Day 3
In the morning depart for Ravenna, a city famous for its Byzantine mosaics and architecture. Enjoy a walking tour, during which you will visit San Vitale and Galla Placidia and their spectacular and unique mosaics.
After the tour, free time to stroll, admire the wonderful art and shop at mosaic and other stores.
Light lunch in Ravenna at a local osteria.
After lunch, we will drive to a beautiful country agriturismo for a 3 hour-hour, hands-on cooking class with a signora who is both a great Italian family chef and also an expert on homemade pasta. You will learn to make the pasta traditional of Emilia-Romagna: tagliatelle with ragù alla bolognese (Bolognese sauce), tortellini in broth and tortelli with ricotta and herb filling.
Dinner will follow in her 150 year old farmhouse nestled among the olive trees.
Day 4
Early morning departure to visit a family-cooperative where you will watch all the stages in the production of parmigiano reggiano, learn all about parmigiano and finish this excursion with a cheese tasting!
Transfer to Modena to visit another family-owned representative business, producer of traditional balsamic vinegar of Modena. The owner will explain where and how balsamic vinegar is made; we will have a tasting of the product at various ages and learn how and when to use them.
Drive to a beautiful restaurant in Modena where we will have an aperitif in the kitchen with the chef, Luigi.
You will see how Luigi prepares lunch based on dishes featuring parmigiano and balsamico and accompanied by Lambrusco, the red sparkling wine typical of the Modena area. All of his dishes are a feast for the eye as well as delectable.
Back to Bologna. Afternoon and dinner on your own, after a busy morning.
Day 5
In the morning visit the central market of Bologna, a couple of ancient narrow streets lined with colorful, delectable Italian food shops, delis and stands, a treat for the eyes and the apetite! Here we will purchase the ingredients for our afternoon cooking class.
Enjoy some leisure time for shopping, or just strolling about the charming medieval town.
Lunch on your own in town (we can make recommendations).
In the afternoon, your next hands-on cooking class in a private Italian home. The family cook will teach you traditional dishes of the region. Farewell dinner to follow based on your efforts.
Day 6
Departure for the Bologna airport or train station after breakfast.
More information from The International Kitchen: