The International Kitchen - vacations and travel
Italy: Amore Siciliano
"We had a fabulous experience and have come back as food snobs... I went to a wedding on the Saturday… "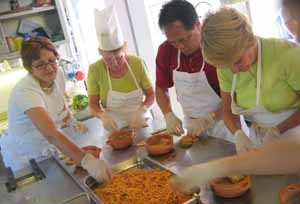 from $2,750* per person
7 Days
March-June, September, October
Boutique accommodations

Exertion level: 2

Operator:

The International Kitchen

12 people max
Catania, italy
Culinary & Wine Travel trips
About the location: Sicily is an island rich in culinary tradition that produces some of the finest quality food the Mediterranean has to offer. We invite you on this cookery to see, taste and try all this richness through hands-on experience in the kitchen and visits to the producers and towns from which the recipes originate.

For the past two years your hosts have been hard at work restoring a wonderful house right in the historical centre of Modica where they have designed a great kitchen environment for the cookery courses. The cookery school offers three double en-suite, air-conditioned rooms with telephone access, and flat-panel TVs. The main living area is divided into a large kitchen (designed specifically for the Italian cooking courses) and a large living room, with both offering access to the terazza. You can sit back and enjoy the views with a nice glass of wine from your hosts' wide collection. The building is located right in the center of Modica. Shops, bars and restaurants as well as the main sites of Modica are within easy walking distance, and from the terrazza of the house you can enjoy the duomo of San Giorgio with the scalinata (stairs) that lead from the heart of Modica up to the duomo.

Your host Katia was born in Modica, and grew up just 20 minutes away in Ispica, and her partner and husband Ronald was born and grew up in Limassol, Cyprus (another beautiful Mediterranean island). They got married in Sicily on a gorgeous sunny April day in 2003 and decided that the southeast region of Sicily is a place they love and and want to stay, after having lived for several years in the UK, working as university researchers in ethnic relations and artificial intelligence, respectively.

About the cooking courses: Classes will be in the new kitchen of your accommodations, which also boasts an herb garden on the terrace. The vegetables, fish and meat that you will work with are all from local producers. Your chefs for your classes share a deep passion for Sicilian cuisine and they will introduce you to the wonders of Sicilian cooking, which is based on a solid understanding of main ingredients and fundamental techniques, alongside an uncompromising attention to detail. You are sure to come away with a better understanding of Sicilian cooking and a great range of recipes and skills to try out back home!
Locations visited/nearby
Amore Siciliano, Italy
1 testimonial about this trip
Reviewer:

Joanna N.

We had a fabulous experience and have come back as food snobs... I went to a wedding on the Saturday (yes the dress just about fitted!) and they served up tomato, mozzarella and basil with olive oil for the starter... and it was rubbish. Far too cold, wrong type of tomato, almost no oil and it was poor quality and the basil was plonked on the side as if it was an addition instead of being integral to the dish.... so you see what a wonderful food critic I have become. My husband keeps apologising whenever he cooks anything... which is silly of course because he is a great chef and also I'm not so stupid to take his efforts for granted!!!

5
Reviewer:

Thomas & Christine L.

located in

NC

USA

I'd like to start by saying, this was the best vacation of our lives. The Relais Oasi Olimpia is a five star hotel with a four star rating. Every member of the staff was warm hearted and friendly, and totally dedicated to our needs and well being. The rooms were large and comfortable, especially compared to the so-called four star hotel we stayed at in Rome. Carmen Mazzola the general manager was extremely competent, resourceful, and accommodating. Whenever we made a request, or a scheduling change was necessary due to weather or some other reason, she handled all with speed and good nature, always exclaiming, "It's nothing!" when we thanked her. The cooking lessons with Marco the Chef were just what we had hoped them to be. Nothing too intense, (after all we were on vacation) but informative and easy to execute. I'm happy to say, Christine and I are quite competent now in producing a variety of delectable dishes we would be proud to serve anyone. Our boat tour to Positano was wonderful, our host Antonio piloted the boat to the picturesue little town, and later stopped at a cove where we swam in the Mediterranean and had an expertly prepared lunch. Our favorite tour was of the Mozzarella Factory, I won't say anymore as I don't want to spoil it for anyone. Suffice to say, don't miss it. Being Italian-American, this vacation awakened feelings in me long hidden. Personality traits that I have are prevalent in Southern Italy. I felt like I was among my own kind at last. I want to go back.

5

Reviewer:

Katie P

located in

UK

I just wanted to let you know that Chris and I had a wonderful time at Chateau de Berne last week. Mayung took very good care of us as ourhostess, and Jean-Louis is great! And of course the location is absolutely beautiful, as you know. We were made to feel very welcome the whole time we were there. I'm a few months pregnant, and Mayung did a great job of juggling our schedule so that I got some rest when I needed it but we also managed to fit in a lot of activities (including a visit to the market, a winery tour and wine tasting and a visit to a local abbey as well as some shopping on our own).And the cooking lessons were very well done. Chris and I were the only students (and in truth, Chris was the only one really cooking with Jean-Louis -- my job was to take notes and pictures!), so it felt like a one-on-one tutorial. Jean-Louis is a patient teacher and he did a good job of explaining everything he was doing. As the week progressed, Chris took a more and more active role in the food preparation, and the hands-on approach was very educational too. Everyone at Chateau de Berne was warm and friendly, and they really did make us feel very welcome there. This program was Chris's birthday present (his 40th) and I'm very pleased with how well it worked out! Thank you!

5
Comments from Facebook
Special information
This is a custom departure, meaning this trip is offered on dates that you arrange privately with the provider. Additionally, you need to form your own private group for this trip. The itinerary and price here is just a sample. Contact the provider for detailed pricing, minimum group size, and scheduling information. For most providers, the larger the group you are traveling with, the lower the per-person cost will be.
Itinerary
Day 1
Transfer from the Catania airport to your accommodation in Modica, where you will experience a real slice of Sicilian life.
After you've settled in, enjoy a welcome dinner where you will be introduced to the itinerary for your cooking vacation.
Day 2
This morning, wake up to the smell of dark, rich, Sicilian coffee and a traditional Italian breakfast.
Next, straight to the kitchen of the cooking school for your first cooking lesson. The class begins around 9 a.m. and typically lasts for 3-4 hours with lunch afterwards.
You will learn authentic Sicilian recipes using fresh, simple ingredients. Depending on the season, dishes might include Sfuogghiu (sausage and ricotta pie), pasta alla picurara (potatoes cooked in milk) and maccarunna (macaroni).
In the afternoon, a walking tour of the beautiful Baroque city of Modica. Your guide will show you the main points of interest but also some of the lesser known back streets that offer an authentic taste of the city.
Return to Modica for dinner on your own (your hosts can make recommendations).
Day 3
After breakfast, your second lesson at the cooking school, followed by your meal with local wine.
The afternoon is devoted to an exploration of the coast. You will begin at a lovely winery near the sea and continue on for a walk at the Vendicari Nature Reserve, where you will visit the newly restored Tonnara (the site of the traditional tuna fishing of Sicily, and archaic practice that dates back many centuries).
Next we will travel to the nearby town of Noto, which is known for its magnificent architecture and its many culinary specialties such as wonderful honey, sweet wines and almond-based desserts.
Return to Modica for a dinner based on the town's rustic dishes and artisinal cheeses.
Day 4
After breakfast, we will head to the historical city center of Siracusa on the island of Ortygia with its maze of narrow, picturesque, Baroque streets and piazzas. One of the most important cities in ancient Greek civilization, Siracusa today contains a wealth of historical ruins and ancient archeological sites.
Here you will be free to wonder around the fish market and explore the town center where you can see the ancient Temple of Apollo, the cathedral with its superlative Baroque façade and Doric temple columns (the structure was originally a Doric temple), the legendary Fountain of Arethusa, and the Norman Maniace Castle. Perhaps stop at a seafront cafe and or shop at the charming boutiques for local products and crafts.
After lunch, return to Modica with free time to relax and dinner on your own in town. (Your hosts would be happy to make recommendations.)
Day 5
Your final cooking lesson with your local chef. Again, you'll experiment with local ingredients and regional recipes and the combinations of the freshest of foods combine for a delicious luncheon.
In the afternoon, time to pay tribute to one of the most important and famous products of south-east Sicily — chocolate.
Modica is especially famous for its chocolate and sweets, thanks to the Mexican tradition of chocolate brought to Sicily via the Spaniards centuries before. Visit Bonajuto's famous chocolate laboratory in town. After a private factory tour, sample the amazing sweets.
Next, it is time to visit the unique Mulino Cavallo, where the current owners have restored their family's traditional nineteenth-century water mill. You will see how they use the still functioning mill to produce excellent whole meal durum wheat flour.
Dinner this evening in the sea-side village of Pozzallo.
Day 6
Today enjoy a visit of an organic winery, where you will explore their wine-making process and choice of producing organic wines in terracotta jars.
After a tasting of their best wines, enjoy a lunch of local products.
After lunch, visit the Ragusa area, renowned for its caciocavallo ragusano cheese along with decadently creamy ricotta, both produced using traditional methods on farms.
Don't miss seeing the Piazza San Giovanni and its Baroque cathedral, while Via Roma and Corso Italia are ideal shopping streets for local products.
Tonight, a farewell dinner back in Modica.
Day 7
Transfer back to Catania airport. Arrivederci!
More information from The International Kitchen: