The International Kitchen - vacations and travel
Italy: A Classic Tuscan Table With Chef Claudio - Best Seller
"I have never been on a trip like this one and wasn't sure what to expect. When we arrived immediately… "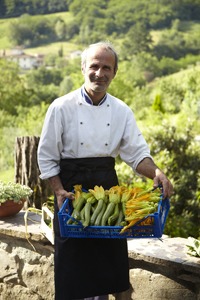 from $3,195* per person
7 Days
February-November
Boutique accommodations

Exertion level: 1

Operator:

The International Kitchen

12 people max
Florience, italy
Culinary & Wine Travel trips
About the location: Tuscany…a landscape of wooded hills, olive groves, vineyards, and hill towns. Vistas that have barely changed since Renaissance artists first beheld them. On this culinary tour of Tuscany you will see and experience the treasures of this rich region, learning its cuisine and culture, and taking authentic Tuscan cooking school like lessons.

Your week in Tuscany takes place in the medieval town of Figline Valdarno, set in the triangle formed by the great cities of Florence, Arezzo and Siena. Your home will be the charming relais property of Chef Claudio.

Chef Claudio's charming relais is located just 5 minutes outside of town, amidst the Chef's own vineyards and olive groves. The setting is quite wonderful, with panoramic views of the valley. The five cottages are small, simple and rustic, but generating a country charm. The bathrooms are stylish, but also small. The rooms are air conditioned and equipped with hairdryers and telephones and two of the cottages have small bathtubs. Claudio's restaurant is now also located at the property, and a beautiful pool completes the setting. If you are prefer luxury accommodations, this is not the place; but if you looking for a most authentic experience with an incredibly warm and welcoming Tuscan family, this is it! (Please click here to see images of the chef's property.)

About the unique cooking courses in Tuscany: The lessons are led by Chef Claudio Piantini. Claudio grew up in a typical Italian home, where the quality of food and cooking was very important. At the tender age of 14, Claudio worked secretly as a waiter in a fine restaurant and this was the beginning of an illustrious career. He recognized how the pleasures of good food could unite people from all different backgrounds. Following his formal chef training, he became a professional sommelier and managed a restaurant in Florence. His dream, of course, was to have his own restaurant, and he returned to his home town to open Torre Guelfa Restaurant, which immediately put his rising star on the culinary horizon. In 1995 The International Kitchen was fortunate to begin a collaboration with this wonderful, passionate and charming chef, whose delight in his art is totally contagious! During your Italian cooking school style lessons, you will learn classic dishes of Tuscan cuisine, known for its refined simplicity. You will prepare classic dishes such as ribollita and crostini, along with more unusual dishes such as castagnaccio. Whether you are an advanced cook, or an eager beginner, Claudio is able to manage every level, much like a conductor with each section of the orchestra. You will come away with a vast number of recipes from the hands of a true Tuscan chef, imparting his knowledge with infinite kindness, patience and generosity. We truly love Chef Claudio!
Locations visited/nearby
A Classic Tuscan Table with Chef Claudio - BEST SELLER, Italy
2 testimonials about this trip
Reviewer:

Rosanne M.,

located in

Madison

,

Alabama

USA

I have never been on a trip like this one and wasn't sure what to expect. When we arrived immediately the service began. From the moment we came off the plane to the last day of our trip everyone was wonderful. We did not have one problem. Our rooms out at Claudio's B&B were excellent with modern individual bathrooms and air conditioning. Our drivers were informative and spoke english. Claudio was fantastic and I have already discussed with other family members another trip to his place next summer. The food was incrediable and Claudio does not allow you to mess up a receipe. He watches and guides you through the entire receipe. His restaurant was beautiful and again the food was out of the world. He personally escorted us through the market pointing out all kinds of interesting things. You knew he loved what he was doing and I would recommend his culinary experience to anyone. The only mistake we made was not staying longer....

5

Reviewer:

Nicole J.,

located in

Ireland

This was the first trip that I booked, and needed, to do on my own. I learned excellent Italian dishes, had the best Chef teaching us,toured the most beautiful places in Italy, and met some fantastic women that I will be keeping in touch with. It was the most memorable experience!

5
Reviewer:

Thomas & Christine L.

located in

NC

USA

I'd like to start by saying, this was the best vacation of our lives. The Relais Oasi Olimpia is a five star hotel with a four star rating. Every member of the staff was warm hearted and friendly, and totally dedicated to our needs and well being. The rooms were large and comfortable, especially compared to the so-called four star hotel we stayed at in Rome. Carmen Mazzola the general manager was extremely competent, resourceful, and accommodating. Whenever we made a request, or a scheduling change was necessary due to weather or some other reason, she handled all with speed and good nature, always exclaiming, "It's nothing!" when we thanked her. The cooking lessons with Marco the Chef were just what we had hoped them to be. Nothing too intense, (after all we were on vacation) but informative and easy to execute. I'm happy to say, Christine and I are quite competent now in producing a variety of delectable dishes we would be proud to serve anyone. Our boat tour to Positano was wonderful, our host Antonio piloted the boat to the picturesue little town, and later stopped at a cove where we swam in the Mediterranean and had an expertly prepared lunch. Our favorite tour was of the Mozzarella Factory, I won't say anymore as I don't want to spoil it for anyone. Suffice to say, don't miss it. Being Italian-American, this vacation awakened feelings in me long hidden. Personality traits that I have are prevalent in Southern Italy. I felt like I was among my own kind at last. I want to go back.

5

Reviewer:

Katie P

located in

UK

I just wanted to let you know that Chris and I had a wonderful time at Chateau de Berne last week. Mayung took very good care of us as ourhostess, and Jean-Louis is great! And of course the location is absolutely beautiful, as you know. We were made to feel very welcome the whole time we were there. I'm a few months pregnant, and Mayung did a great job of juggling our schedule so that I got some rest when I needed it but we also managed to fit in a lot of activities (including a visit to the market, a winery tour and wine tasting and a visit to a local abbey as well as some shopping on our own).And the cooking lessons were very well done. Chris and I were the only students (and in truth, Chris was the only one really cooking with Jean-Louis -- my job was to take notes and pictures!), so it felt like a one-on-one tutorial. Jean-Louis is a patient teacher and he did a good job of explaining everything he was doing. As the week progressed, Chris took a more and more active role in the food preparation, and the hands-on approach was very educational too. Everyone at Chateau de Berne was warm and friendly, and they really did make us feel very welcome there. This program was Chris's birthday present (his 40th) and I'm very pleased with how well it worked out! Thank you!

5
Comments from Facebook
Special information
This is a custom departure, meaning this trip is offered on dates that you arrange privately with the provider. Additionally, you need to form your own private group for this trip. The itinerary and price here is just a sample. Contact the provider for detailed pricing, minimum group size, and scheduling information. For most providers, the larger the group you are traveling with, the lower the per-person cost will be.
Itinerary
Day 1
Arrival transfer from the Florence airport or railway station to Figline Valdarno.
Check in to your accommodation and get settled.
Time to relax before your amazing welcome dinner.
Dinner tonight will be around 8:00 pm.
Overnight.
Day 2
Breakfast.
After breakfast, participate in your first cooking class with Chef Claudio Piantini. The lesson will be held at Claudio's teaching kitchen at his B&B. During the class, which will last about 3 hours, you will learn to prepare many traditional and seasonal Tuscan dishes.
Lunch to follow based on your efforts.
This afternoon, enjoy a guided wine tasting at Claudio's private cellar. You will learn to judge the color, flavor, and smoothness of the wines, and to distinguish between an aged Chianti Classico and a Supertuscan blend. Afterwards, learn how to combine the wines with Italian cheeses in the Chef's Kitchen.
Light dinner to follow.
Day 3
After breakfast, meet with Chef Claudio or assistant for a brief visit of the very authentic outdoor food market in Figline.
Afterwards you will participate in your second cooking class with Chef Claudio, with lunch to follow based on your efforts.
In the afternoon meet with your English-speaking driver-guide for a half-day excursion to the delightful town of Arezzo. The Renaissance architect and artist Vasari hails from this town, and the famous frescoes of Piero della Francesca can be found in the church of San Francesco. Enjoy a two-hour guided tour through the historical center and picturesque alleys where the Oscar-winning film "Life Is Beautiful" was filmed. Your visit of this beautiful but lesser-known Tuscany jewel will be led by a licensed guide who also took part in the restoration of the Piero della Francesca frescoes.
Free time to shop or stroll around town, with dinner around 7:30 pm in a local pizzeria in Arezzo.
Return to Figline following your meal and overnight.
Day 4
After breakfast, enjoy a special pizza class with Claudio, with lunch to follow based on your efforts.
In the early afternoon departure with your English speaking driving guide for a half day excursion into the famous Chianti Classico region.
Visit the charming village of Greve in Chianti with its covered archways and browse the quaint shops, visiting the famous Falorni butcher shop.
Afterwards it is on to the nearby castle village of Montefioralle, with a spectacular view of the valley, a great "photo op."
Dinner today is at the delightful restaurant "Le Antiche Scuderie" (local wine included), surrounded by Tignanello and Solaia vineyards and owned by the Antinori family.
Before dinner you will have the chance to walk through the cellars of Fattoria di Montecchio; the farm produces their own Chianti Classico, an interesting SuperTuscan and a significant production of olive oil.
Return to Figline and overnight.
Day 5
Breakfast. (For those of you on the four-night program, return transfer to Florence airport or train station.)
After breakfast, you will have your final cooking class with Chef Claudio, followed by lunch.
Afternoon free for leisure activities. If you would like, we can arrange a trip to the Prada and other outlets (you can make arrangements with our Florence office once you are in Italy).
Dinner tonight in downtown Figline, with roundtrip transfers from the Relais.
Overnight.
Day 6
Breakfast.
Afterwards, meet your driver-guide for a full-day excursion to Siena and San Gimignano discovering the beauties of these perfectly preserved medieval towns. You will be on your own in Siena and San Gimignano, although your driver-guide can make recommendations of places to see and where to eat.
After lunch on your own, return to Figline in the late afternoon.
Farewell dinner tonight at Relais Torre Guelfa.
Overnight.
Day 7
Breakfast and return transfer to Florence airport or railway station.
More information from The International Kitchen: