The International Kitchen - vacations and travel
France: Robert Ash Cookery School
"I'd like you to know how much I appreciated -- and learned from -- the week of cooking we did.… "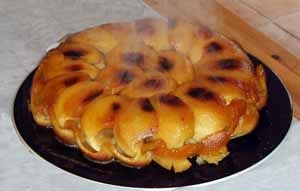 from $1,950* per person
6 Days
April-September
Boutique accommodations

Exertion level: 3

Operator:

The International Kitchen

12 people max
Lyon, france
Culinary & Wine Travel trips
About the location: Southern Burgundy is especially rich in history – from the prehistoric site of the Solutré rock with vineyards carpeting its lower slopes (below left), to the famous Abbey of Cluny and the Château of Pierreclos (right). The River Saône runs through a landscape which includes the famous vineyards of St. Vérand (home of St. Véran without the 'd'), Pouilly-Fuissé, the southern Mâconnais and the hills of the Beaujolais. Mâcon itself is a fascinating town at the river's edge. The Pont St. Laurent crosses the Saône (below) to reach the département of the Ain, where you shall visit Bourg-en-Bresse and the extraordinarily beautiful lakes of the Dombes. Rue du Lac is an enormous converted farmhouse standing in two acres of grounds a few miles south of Mâcon, southeast France.

Rooms are basic but comfortable, (with ensuite bathrooms if desired). There is a swimming pool and sun terrace, and plenty of room for relaxing in or out doors. If weather permits, breakfast can be served poolside — other meals can be enjoyed on one of the two garden terraces.

About the cooking lessons: Robert Ash, chef-patron of London's legendary and award-winning Blythe Road Restaurant proposes an incredible Burgundy cooking school vacation. Join him in the very heart of France for an all-inclusive cuilnary tour that combines expert hands-on cooking lessons, fabulous food, and fascinating visits. The main teaching kitchen is equipped to a high standard, with every conceivable tool of haute cuisine. There is a second kitchen which is also for the use of guests.
Locations visited/nearby
Robert Ash Cookery School at Rue Du Lac , France , Burgundy , Wine , Food , Cooking Class , Cooking Vacation , Macon, France
1 testimonial about this trip
Reviewer:

Bob S.

I'd like you to know how much I appreciated -- and learned from -- the week of cooking we did. As you know, I went to fourteen cooking schools over the next three months, many of them long-established and many of them glittering. But you were, hands down, the best cooking teacher I encountered and I probably learned more from you than the others combined. No offense, but I wish you hadn't been the first cooking teacher on my agenda. Nevertheless, I got more out of that week than you can imagine, and I wanted you to know what a great teacher you are.

5
Reviewer:

Thomas & Christine L.

located in

NC

USA

I'd like to start by saying, this was the best vacation of our lives. The Relais Oasi Olimpia is a five star hotel with a four star rating. Every member of the staff was warm hearted and friendly, and totally dedicated to our needs and well being. The rooms were large and comfortable, especially compared to the so-called four star hotel we stayed at in Rome. Carmen Mazzola the general manager was extremely competent, resourceful, and accommodating. Whenever we made a request, or a scheduling change was necessary due to weather or some other reason, she handled all with speed and good nature, always exclaiming, "It's nothing!" when we thanked her. The cooking lessons with Marco the Chef were just what we had hoped them to be. Nothing too intense, (after all we were on vacation) but informative and easy to execute. I'm happy to say, Christine and I are quite competent now in producing a variety of delectable dishes we would be proud to serve anyone. Our boat tour to Positano was wonderful, our host Antonio piloted the boat to the picturesue little town, and later stopped at a cove where we swam in the Mediterranean and had an expertly prepared lunch. Our favorite tour was of the Mozzarella Factory, I won't say anymore as I don't want to spoil it for anyone. Suffice to say, don't miss it. Being Italian-American, this vacation awakened feelings in me long hidden. Personality traits that I have are prevalent in Southern Italy. I felt like I was among my own kind at last. I want to go back.

5

Reviewer:

Katie P

located in

UK

I just wanted to let you know that Chris and I had a wonderful time at Chateau de Berne last week. Mayung took very good care of us as ourhostess, and Jean-Louis is great! And of course the location is absolutely beautiful, as you know. We were made to feel very welcome the whole time we were there. I'm a few months pregnant, and Mayung did a great job of juggling our schedule so that I got some rest when I needed it but we also managed to fit in a lot of activities (including a visit to the market, a winery tour and wine tasting and a visit to a local abbey as well as some shopping on our own).And the cooking lessons were very well done. Chris and I were the only students (and in truth, Chris was the only one really cooking with Jean-Louis -- my job was to take notes and pictures!), so it felt like a one-on-one tutorial. Jean-Louis is a patient teacher and he did a good job of explaining everything he was doing. As the week progressed, Chris took a more and more active role in the food preparation, and the hands-on approach was very educational too. Everyone at Chateau de Berne was warm and friendly, and they really did make us feel very welcome there. This program was Chris's birthday present (his 40th) and I'm very pleased with how well it worked out! Thank you!

5
Comments from Facebook
Itinerary
Day 1
Note: though the daily programs shown here are typical, the actual dishes prepared will vary from week to week according to market supply. The intention is to use the very best and freshest ingredients, and to demonstrate as many useful techniques as time allows.
Guests will be picked up from Lyon (St. Exupéry) airport (approximately one hour transfer time to rue du Lac), Mâcon-Loché TGV or Mâcon-Ville rail stations (approx. 15 minute transfer time).
Guests using their own transport should arrive by 6:00 p.m. at the latest.
Enjoy a welcome drink with Chef Robert Ash. After you have settled in your room, a delicious supper will be served at 7:30 p.m. This meal, in common with all others at rue du Lac, will be accompanied by selected wines from Burgundy and the Mâconnais region.
Overnight.
Day 2
Breakfast served from 8:00 a.m. to 9:30 am.
At the beginning of the course, participating guests will be presented with a welcome packet including recipes, personalized folder and an apron (to keep). At the end of the course there will be a presentation of certificates of achievement.
First hands-on class at 10:00 a.m. for lunch of bar à la crème de fenouil avec ses pommes dauphinoises (roast fillet of sea bass, cream fennel sauce and potatoes dauphinoise) followed by tarte tatin, plus a preparatory lesson for confit de canard (duck confit).
Lunch will be served at the house at 1:00 p.m.
The afternoon session features saumon en papillotte (salmon in paper parcels) and a selection of desserts including Italian biscotti.
Dinner will be served at 7:30 p.m.
Overnight.
Day 3
Breakfast.
Morning class of oeufs carême (devised by Queen Victoria's personal chef) followed by confit de canard. The accompanying lesson is for profiteroles au chocolat.
Lunch at the house at 1:00 p.m.
Afternoon optional visit to le Hameau du Vin wine museum at Romanèche (about 10 minutes away) for tour and tasting, followed by a visit to the nearby Maison Jacoulot, makers of liqueurs and eaux-de-vie.
Dinner at the house at 7:30 p.m.
Overnight.
Day 4
Breakfast.
Set off early for Bourg-en-Bresse market for extensive displays of fruit, vegetables, cheese and livestock — including the celebrated Bresse chicken. There will be time for a full exploration of this busy market, followed by lunch in a typical regional restaurant in the area of the Dombes lakes.
Back at the house, there will be a tasting of wines and cheeses.
Chef's supper at the house at 8:00 p.m.
Overnight.
Day 5
Breakfast.
Morning class: preparation of lunch – pintade rôtie avec pancetta, rosti et sauce chanterelles (guinea fowl wrapped in pancetta with rosti potatoes and chanterelle sauce) followed by millefeuille de fraises (strawberry millefeuille) or mousse au chocolat grand marnier.
Lunch at the house at 1pm.
In the afternoon, you can take an optional trip to the wineries of Pouilly Fuissé and St. Véran.
Return to the house for dinner at 7:30 p.m.
Overnight.
Day 6
Late breakfast and morning at leisure.
The chef will be available throughout the morning for review of the recipes and techniques.
During the morning guests will be transfered to Lyon airport or either of the Mâcon rail stations. Guests leaving by air can alternatively be taken to the center of Lyon if requested — there is an efficient coach service to the airport, thus allowing several hours in this fascinating city before an evening flight.
Guests using their own transport should ensure their departure by midday.
More information from The International Kitchen: