The International Kitchen - vacations and travel
France: Walnut Grove Cooking School
"I chose Walnut Grove because the program promised more learn-by-doing cooking than other other cooking schools, whose approach seemed to… "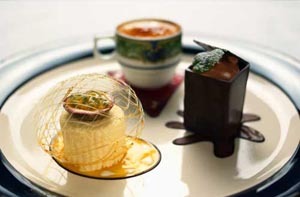 from $2,470* per person
6 Days
March-June, September-November
Boutique accommodations

Exertion level: 3

Operator:

The International Kitchen

12 people max
Mayenne, france
Culinary & Wine Travel trips
About the location: Walnut Grove is strategically located in the Loire, not far from the borders of Normandy and Brittany and a short drive to the Chateaux country of the Loire Valley. Set in an unspoiled area of the French countryside, you will enjoy all amenities, which owners Maynard Harvey and Benedict Haines have included for the comfort and needs of their guests when they renovated their charming farmhouse. With beautiful views over an expanse of walnut trees (thus the name!), this property ensures a relaxing and comfortable stay.

About the lessons: Your hosts and teachers for the course are Maynard Harvey and Benedict Haines. They believe the best way to learn is in a relaxed atmosphere, where you will have the confidence and understanding to skillfully combine flavors, textures and presentation, enhanced by your own flair and imagination. Each day will be an experience in combinations of the freshest local ingredients with techniques that will enable you to build your knowledge and understanding of modern cooking.

The lessons are held in a professionally equipped, yet warm and inviting kitchen that has been exclusively designed for the classes. Maynard's experience includes working with the late Princess Diana's personal chef, as well as at the prestigious Savoy Hotel in London and the Royal Bath House. Most recently, Maynard was the chef/patron of the award-winning restaurant Seland Newydd. Benedict Haines also has had a distinguished career, including his work with Michelin star chef Ian McAndrews. Having worked together for the last ten years, Benedict and Maynard have developed their own style using the freshest of ingredients, with an emphasis on distinct flavors and clean, meticulous presentation. They bring a great passion and enthusiasm for their work, which is sure to inspire and stimulate your own love of food.

Locations visited/nearby
Walnut Grove Cooking School , Loire , France , Cooking Class , Cooking Vacation , Normandy , Brittany , France
1 testimonial about this trip
Reviewer:

C D

located in

Michigan

USA

I chose Walnut Grove because the program promised more learn-by-doing cooking than other other cooking schools, whose approach seemed to be learn-by-watching. The course lived up to its promise, with plenty of personal coaching by Maynard and Benedict.

5
Reviewer:

Thomas & Christine L.

located in

NC

USA

I'd like to start by saying, this was the best vacation of our lives. The Relais Oasi Olimpia is a five star hotel with a four star rating. Every member of the staff was warm hearted and friendly, and totally dedicated to our needs and well being. The rooms were large and comfortable, especially compared to the so-called four star hotel we stayed at in Rome. Carmen Mazzola the general manager was extremely competent, resourceful, and accommodating. Whenever we made a request, or a scheduling change was necessary due to weather or some other reason, she handled all with speed and good nature, always exclaiming, "It's nothing!" when we thanked her. The cooking lessons with Marco the Chef were just what we had hoped them to be. Nothing too intense, (after all we were on vacation) but informative and easy to execute. I'm happy to say, Christine and I are quite competent now in producing a variety of delectable dishes we would be proud to serve anyone. Our boat tour to Positano was wonderful, our host Antonio piloted the boat to the picturesue little town, and later stopped at a cove where we swam in the Mediterranean and had an expertly prepared lunch. Our favorite tour was of the Mozzarella Factory, I won't say anymore as I don't want to spoil it for anyone. Suffice to say, don't miss it. Being Italian-American, this vacation awakened feelings in me long hidden. Personality traits that I have are prevalent in Southern Italy. I felt like I was among my own kind at last. I want to go back.

5

Reviewer:

Katie P

located in

UK

I just wanted to let you know that Chris and I had a wonderful time at Chateau de Berne last week. Mayung took very good care of us as ourhostess, and Jean-Louis is great! And of course the location is absolutely beautiful, as you know. We were made to feel very welcome the whole time we were there. I'm a few months pregnant, and Mayung did a great job of juggling our schedule so that I got some rest when I needed it but we also managed to fit in a lot of activities (including a visit to the market, a winery tour and wine tasting and a visit to a local abbey as well as some shopping on our own).And the cooking lessons were very well done. Chris and I were the only students (and in truth, Chris was the only one really cooking with Jean-Louis -- my job was to take notes and pictures!), so it felt like a one-on-one tutorial. Jean-Louis is a patient teacher and he did a good job of explaining everything he was doing. As the week progressed, Chris took a more and more active role in the food preparation, and the hands-on approach was very educational too. Everyone at Chateau de Berne was warm and friendly, and they really did make us feel very welcome there. This program was Chris's birthday present (his 40th) and I'm very pleased with how well it worked out! Thank you!

5
Comments from Facebook
Special information
This is a custom departure, meaning this trip is offered on dates that you arrange privately with the provider. Additionally, you need to form your own private group for this trip. The itinerary and price here is just a sample. Contact the provider for detailed pricing, minimum group size, and scheduling information. For most providers, the larger the group you are traveling with, the lower the per-person cost will be.
Centered around activities for grandparents and their grandchildren.
Itinerary
Day 1
* Arrive to Walnut Grove on your own.
* Around 4:00 p.m. there will be an introduction to the program and a discussion of the aims and structure of the course.
* Following the introduction, Champagne is served, followed by a six-course gourmet dinner.
* Sample menu:
* Spinach and cream cheese roulade with a gazpachio dressing
* Caramelised scallops with a cauliflower purée scented with truffle oil
* Sorbet
* Pan-fried breast of duck with stir-fried vegetables and an oriental sauce
* Passion-fruit and orange bavois with orange crisps and a passion-fruit sauce
* Selection of cheese and biscuits
* Coffee and truffles
* Overnight.
Day 2
* Breakfast in the morning. Every day, you will be presented with croissants and breads, preserves, cereals, juices, yogurt and coffee or tea.
* Your first day in the kitchen will start with a welcome and an exploration of the kitchen and the equipment. The class will include:
* Hands-on: Basic knife skills; care of knives, safety, sharpening, chop and slice onion, brunoise of carrot, julien of leek.
* Demonstration: Leek and potato soup, cheese croutons.
* Hands-on: Bread making; plain, sun-dried tomato and parmesan, basil and olive oil, onion and cumin.
* Hands-on: Seasoning techniques
* Hands-on: Chicken butchery, chicken stock (white and brown), beef and chicken glace.
* Lunch will follow your cooking class: Leek and potato soup, cheese, pickles, salads, home-made bread, olives, and chocolate truffles.
* After lunch, return to the kitchen for:
* Demonstration: Preparation of salmon, Gravadlax of salmon.
* Hands-on: Filleting assortment of fish and prep mussels.
* Tea and home-made biscuits.
* Demonstration: Seafood Chowder, fish stock, home-smoked trout and crab bisque sauce.
* Aperitifs to follow.
* Tonight's dinner menu: Seafood Chowder, Warm salad of quail, foie gras and wild mushrooms with a puy lentil dressing, Sorbet, Seared fillet of salmon served on a bed of crushed new potatoes, with fresh spinach, poached egg and a crab bisque sauce split with a lemon vinaigrette, Iced banana parfait, Cheese and biscuits, Coffee and truffles.
* Overnight.
Day 3
* Breakfast followed by your next lesson, which will consist of:
* Demonstration: Pasta dough, salmon, egg and herb terrine, chicken mousse, and rich sweet pastry.
* Hands-on: Tortellini, ravioli filled with sun-dried
* tomato and basil and tagliatelli.
* Menu explanation: baked goats cheese soufflé with a roquette, poached pear and walnut salad, salmon, egg and herb terrine with a vierge dressing, sorbet, pan-fried breast of chicken wrapped in parma ham served on a bed of char-grilled vegetables with sun-dried tomato and basil ravioli, glazed lemon tart with iced lime parfait served in a honey wafer basket, selection of cheese and biscuits, coffee and truffles.
* Hands-on menu for group 1: sorbet, chicken dish, fresh pesto, ceasar salad.
* Hands-on menu for group 2: sorbet plates, lemon tart, iced lime parfait, honey wafer baskets, lemon zest.
* Today's lunch menu: Tagliatelli with a bacon, tomato and onion sauce, fresh bread and salad, followed by cheese and biscuits.
* After lunch, depart for an excursion (can vary according to availability) to an 18th century windmill, producing buckwheat flour in the traditional method, or a local cider farm with tasting.
* Return to Walnut Grove for aperitifs and to finish dinner prep, followed by dinner.
* Overnight.
Day 4
* Breakfast.
* Today's class will consist of:
* Demonstration and hands-on: Confit of rabbit, ice-creams (caramelised banana and pecan, cinnamon, and raspberry), sugar work, chocolate piping, honey wafer baskets plus tuille work.
* Tea and home-made biscuits.
* Menu explanation: Duo of smoked salmon and guacamole with a chilli and lime dressing, chicken liver parfait served with a sweet and sour sauce, spiced monkfish served with crushed new potatoes, spinach and a mussel cream sauce, Gin and Tonic sorbet, Rum and honey bread and butter pudding with cinnamon ice cream, cheese and biscuits, coffee and petit-fours.
* Hands-on menu prep for group 1: smoked salmon, guacamole, chilli dressing, bread and butter pudding, tuile work, orange zest, sugar work, cinnamon ice cream, gin and tonic sorbet.
* Hands-on menu prep for group 2: chicken liver parfait, sweet and sour sauce, monk-fish dish, deep-fried veg, leaves.
* Lunch to follow your cooking class. Today's lunch menu: cold meats, salads, homemade bread and pickles followed by ice creams.
* Today's excursion is to a local fromagerie, with a demonstration of cheese making.
* Return to the property for aperitives and to finish dinner prep, with dinner to follow and overnight.
Day 5
* Breakfast followed by your last cooking class, which will consist of:
* Menu explanation: Crispy duck and vegetable spring rolls with a sweet chilli sauce, Gravadlax of salmon with a prawn and cucumber dressing, sorbet, assiette of pork, coffee and baileys cheesecake with chocolate and earl grey tea ice cream, selection of cheeses, coffee and petit fours.
* Hands-on prep for group 1: spring roll starter, main course.
* Hands-on prep for group 2: Gravadlax dish, pudding, sorbet and petit-fours.
* Lunch: Barbeque.
* After lunch, time at leisure for croquet, boules and general relaxing.
* Return to the kitchen to finish the final touches of dinner.
* Aperitifs, followed by dinner.
* Overnight.
Day 6
* Breakfast followed by departure before midday.
* Au revoir!
More information from The International Kitchen: