The International Kitchen - vacations and travel
France: Provençal Dream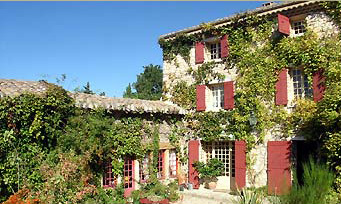 from $3,200* per person
7 Days
September-June
Boutique accommodations

Exertion level: 2

Operator:

The International Kitchen

12 people max
Avignon, france
Culinary & Wine Travel trips
About the location: In the hills of the Vaucluse, facing the white range of the Alpilles and the beautiful perched village of Velleron, the Hostellerie la Provence backs on to its very own woodland of oak trees. The hotel is a selection of the Rivage Hotels of Charm, and Jean and Brigitte—the owners and your hosts— are ready to take care of your every need as they welcome you into their home, with its quaint red shutters, ensconsed in a sea of green. There are many idyllic places to relax both indoors and out. You can relax at the beautiful large pool, set amidst an English style garden, which is open from mid April to November. If you prefer more activity, you can hike along the picturesque canal to the next town. The former grain attics are now charming and cosy bedrooms, decorated in true and historical Provençal style, with beautiful scenic views.

About the lessons: The Hostellerie has an excellent gastronomic restaurant, very popular with local residents. Chef Brigitte is very creative and she will lead you in the hands-on lessons, which will take you through a range of Provençal and French specialties. You will use Mediterranean herbs and spices and the freshest locally grown vegetables to prepare light and tasty dishes with a focus on fresh vegetables and fish. You will go home armed with wonderful, healthy recipes that can easily be reproduced at home.
Locations visited/nearby
A Provençal Dream, France
0 testimonials about this trip.
Reviewer:

Thomas & Christine L.

located in

NC

USA

I'd like to start by saying, this was the best vacation of our lives. The Relais Oasi Olimpia is a five star hotel with a four star rating. Every member of the staff was warm hearted and friendly, and totally dedicated to our needs and well being. The rooms were large and comfortable, especially compared to the so-called four star hotel we stayed at in Rome. Carmen Mazzola the general manager was extremely competent, resourceful, and accommodating. Whenever we made a request, or a scheduling change was necessary due to weather or some other reason, she handled all with speed and good nature, always exclaiming, "It's nothing!" when we thanked her. The cooking lessons with Marco the Chef were just what we had hoped them to be. Nothing too intense, (after all we were on vacation) but informative and easy to execute. I'm happy to say, Christine and I are quite competent now in producing a variety of delectable dishes we would be proud to serve anyone. Our boat tour to Positano was wonderful, our host Antonio piloted the boat to the picturesue little town, and later stopped at a cove where we swam in the Mediterranean and had an expertly prepared lunch. Our favorite tour was of the Mozzarella Factory, I won't say anymore as I don't want to spoil it for anyone. Suffice to say, don't miss it. Being Italian-American, this vacation awakened feelings in me long hidden. Personality traits that I have are prevalent in Southern Italy. I felt like I was among my own kind at last. I want to go back.

5

Reviewer:

Katie P

located in

UK

I just wanted to let you know that Chris and I had a wonderful time at Chateau de Berne last week. Mayung took very good care of us as ourhostess, and Jean-Louis is great! And of course the location is absolutely beautiful, as you know. We were made to feel very welcome the whole time we were there. I'm a few months pregnant, and Mayung did a great job of juggling our schedule so that I got some rest when I needed it but we also managed to fit in a lot of activities (including a visit to the market, a winery tour and wine tasting and a visit to a local abbey as well as some shopping on our own).And the cooking lessons were very well done. Chris and I were the only students (and in truth, Chris was the only one really cooking with Jean-Louis -- my job was to take notes and pictures!), so it felt like a one-on-one tutorial. Jean-Louis is a patient teacher and he did a good job of explaining everything he was doing. As the week progressed, Chris took a more and more active role in the food preparation, and the hands-on approach was very educational too. Everyone at Chateau de Berne was warm and friendly, and they really did make us feel very welcome there. This program was Chris's birthday present (his 40th) and I'm very pleased with how well it worked out! Thank you!

5
Comments from Facebook
Special information
This is a custom departure, meaning this trip is offered on dates that you arrange privately with the provider. Additionally, you need to form your own private group for this trip. The itinerary and price here is just a sample. Contact the provider for detailed pricing, minimum group size, and scheduling information. For most providers, the larger the group you are traveling with, the lower the per-person cost will be.
Itinerary
Day 1
Arrival in the afternoon, with pickup at the Avignon TGV station or airport. Transfer to your accommodation.
Time to settle in to your lovely room before you meet with your hosts for a Welcome aperitif and review the program for the week. If you are not too tired, a visit of the famous fruit and vegetable market in Velleron.
Dinner tonight in the gastronomic restaurant of the hotel.
Day 2
Country breakfast.
At approximately 9:30 a.m. this morning your first hands-on lesson. Followed by lunch with wine.
This afternoon an excursion to the Luberon region. A visit to some of the wonderful characteristic towns such as Fontaines de Vaucluse, the village of Gordes, the village des Bories, Senanque Abbaye.
A stop at Oppède le Vieux (made famous by Peter Mayle in A Year in Provence) for a visit of the olive oil mill with a tasting.
On the return home, if there is time, a stop in Venasque Saint Didier and Pernes les Fontaines.
Dinner at the Hostellerie.
Day 3
Following breakfast, departure for St. Remy de Provence for a visit of the famous market in St. Remy. Meander the narrow streets where local farmers provide the freshest produce.
A stop for lunch on your own in one of the famous bistros.
Afterwards, a walk along the path of Van Gogh and a visit to the Oppidum (the Roman ruins).
On the way back, a stop in Les Baux de Provence.
Return to the hotel. Dinner tonight is on your own—you might dine at the hotel, or if you prefer your hosts will take you to a restaurant in one of several nearby towns.
Day 4
Breakfast, followed by your next cooking lesson and lunch.
In the afternoon, departure for a tour of Avignon to include a visit of the renowned Palais des Papes (Popes' Palace) and some time for great shopping!
Return to the hotel, with perhaps some time for a rest, or a walk or swim before dinner. If you like, there is very nice nice walk of around 3 kms along the canal to the village of Pernes Les Fontaine.
Day 5
Breakfast and your third cooking lesson and lunch. (For those doing the 4-night option, departure after lunch.)
This afternoon it is time for wine tasting! From Carpentras to the Dentelle de Monmirail, you will pass beautiful mountain scenery with a tasting of its original Muscat wine at Beaumes de Venise. Another stop at the famous Chateauneuf du Pape and on the way back a visit to a wonderful Gigondas vineyard.
Dinner tonight, maybe with only Perrier!
Day 6
Breakfast and your final cooking lesson, followed by lunch.
Afternoon is free. Perhaps relax by the lovely pool, or schedule a massage or beauty treatment, If you desire a more active afternoon, you might take a scenic hike along the river.
Tonight your Farewell Dinner at the Hostellerie.
Day 7
After breakfast, a visit to visit the alluring town of I'Isle sur Sorgue, famous for its food and flea market and more than 500 antique shops, the second largest in Europe. This is a wonderful experience, great fun to visit the different stalls and fill in on those last-minute gifts.
Lunch on your own, followed by transfer to the Avignon TGV station or airport.
More information from The International Kitchen: