The International Kitchen - vacations and travel
Chateau De Berne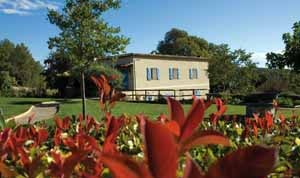 from $3,375* per person
6 Days
March-December
Boutique accommodations

Exertion level: 3

Operator:

The International Kitchen

12 people max
Lorgues, provence, france
Culinary & Wine Travel trips
About the location: This cooking school is located in the heart of Provence, between Nice and Marseille near Lorgues, Chateau de Berne's heart beats to the rhythm of the vines and wine. Here the tradition of winemaking has been deeply rooted since 1750; the winemakers live out their passion and give of their knowledge with generosity, talent and care. Entering onto the property is really like coming to a small Provencal village. The Chateau de Berne and its Auberge are a luxurious, calm, and sophisticated place, having hosted events for such large international companies as Mazda, L'Oreal, Ferrari. Each bedroom is uniquely decorated with elegant accents, and has its own balcony or sun terrace. The grounds are complete with a luxurious outdoor pool, gardens, tennis and boules courts, and miles of wonderful biking trains. Or, if you prefer, there is workout equipment in a glass enclosure by the pool, where you can watch TV or simply soak in the glorious vistas. A newly renovated spa with a hamman and beauty services, a gorgeous new restaurant in the auberge, a charming bistro in the winery (complete with a Provencal boutique filled with enticing local products) complete some new additions to this amazing estate. And in the afternoon, enjoy a stop in the lounge by the fireplace for afternoon tea! Although due to the size of the property this is a somewhat isolated setting in the beautiful Provencal countryside, you will have the feeling of spending time in on of the little charming spots throughout Provence.

About the cooking lessons: Chef Sebastien Nouveau and his team will introduce you to his own style of cooking; an instinctive and intuitive creative cuisine, with his credo of simplicity and authenticity. Chef Sebastien worked in famous and recognized gourmet restaurants, gaining recognition for his work in many Relais & Chateaux restaurants, and ending up at the Michelin recognized "Jacques Chibois." Chef Sebastien speaks English (he spent many months in England), and will transmit his respect for raw ingredients. He will work closely with the head gardener of the newly installed—and quite spectacular—vegetable, herb and flower garden on the property of the Chateau, choosing the best and freshest ingredients for your hands-on class, as well as seasonal products from the famous market in Lorgues.

Locations visited/nearby
Chateau De Berne Ecole De Cuisine - BEST SELLER , France , Provence , Cote d'Azur , Cooking Class , Cooking Vacation, France
0 testimonials about this trip.
Reviewer:

Thomas & Christine L.

located in

NC

USA

I'd like to start by saying, this was the best vacation of our lives. The Relais Oasi Olimpia is a five star hotel with a four star rating. Every member of the staff was warm hearted and friendly, and totally dedicated to our needs and well being. The rooms were large and comfortable, especially compared to the so-called four star hotel we stayed at in Rome. Carmen Mazzola the general manager was extremely competent, resourceful, and accommodating. Whenever we made a request, or a scheduling change was necessary due to weather or some other reason, she handled all with speed and good nature, always exclaiming, "It's nothing!" when we thanked her. The cooking lessons with Marco the Chef were just what we had hoped them to be. Nothing too intense, (after all we were on vacation) but informative and easy to execute. I'm happy to say, Christine and I are quite competent now in producing a variety of delectable dishes we would be proud to serve anyone. Our boat tour to Positano was wonderful, our host Antonio piloted the boat to the picturesue little town, and later stopped at a cove where we swam in the Mediterranean and had an expertly prepared lunch. Our favorite tour was of the Mozzarella Factory, I won't say anymore as I don't want to spoil it for anyone. Suffice to say, don't miss it. Being Italian-American, this vacation awakened feelings in me long hidden. Personality traits that I have are prevalent in Southern Italy. I felt like I was among my own kind at last. I want to go back.

5

Reviewer:

Katie P

located in

UK

I just wanted to let you know that Chris and I had a wonderful time at Chateau de Berne last week. Mayung took very good care of us as ourhostess, and Jean-Louis is great! And of course the location is absolutely beautiful, as you know. We were made to feel very welcome the whole time we were there. I'm a few months pregnant, and Mayung did a great job of juggling our schedule so that I got some rest when I needed it but we also managed to fit in a lot of activities (including a visit to the market, a winery tour and wine tasting and a visit to a local abbey as well as some shopping on our own).And the cooking lessons were very well done. Chris and I were the only students (and in truth, Chris was the only one really cooking with Jean-Louis -- my job was to take notes and pictures!), so it felt like a one-on-one tutorial. Jean-Louis is a patient teacher and he did a good job of explaining everything he was doing. As the week progressed, Chris took a more and more active role in the food preparation, and the hands-on approach was very educational too. Everyone at Chateau de Berne was warm and friendly, and they really did make us feel very welcome there. This program was Chris's birthday present (his 40th) and I'm very pleased with how well it worked out! Thank you!

5
Comments from Facebook
Special information
This is a custom departure, meaning this trip is offered on dates that you arrange privately with the provider. Additionally, you need to form your own private group for this trip. The itinerary and price here is just a sample. Contact the provider for detailed pricing, minimum group size, and scheduling information. For most providers, the larger the group you are traveling with, the lower the per-person cost will be.
Family oriented trip.
Itinerary
Day 1
Depending on season and theme, itinerary details and order of activities may vary.
* Arrive on your own and settle in to your deluxe bedroom at the Auberge in the afternoon.
* Explore the beautiful grounds on your own.
* Dinner tonight in the Auberge dining room.
Day 2
* Breakfast buffet.
* After breakfast, visit the Chateau's vegetable garden with the chef or the gardener.
* After the garden visit is your first cooking class. Prepare the courses of your lunch, which you will eat after the class at the Auberge or the winery terrace.
* Afternoon: vineyard visits in the domain and wine tasting.
* Dinner at the Auberge and overnight.
Day 3
* Breakfast.
* Next, transfer around 8:30 am to Lorgues to explore the Provençale market (one of the most famous in Provence), which has everything from fresh fruits and vegetables to meats, seafood, clothing, and local products such as herbs and soaps.
* Transfer back the the Auberge around 10:00 am for your next cooking lesson, lunch to follow.
* Afternoon and evening on your own.
* Overnight.
Day 4
* Breakfast buffet.
* Cooking lesson in the morning.
* Lunch to follow based on your efforts. Afternoon: visit of a local olive oil mill.
* Dinner at the Auberge.
* Overnight.
Day 5
* Breakfast buffet.
* Morning cooking class to prepare lunch.
* Lunch at the cooking school.
* Afternoon at leisure.
* Tonight's dinner will be on your own. You may wish to enjoy the a la carte menu at the Auberge's gastronomic restaurant, or try one of the area's many superior restaurants.
* Overnight.
Day 6
* Breakfast buffet.
* Departure at your convenience.
More information from The International Kitchen: