The International Kitchen - vacations and travel
France: Cooking Passport to Provence
"he setting was magical, like out of a dream. We approached the entrance to the Bastide where our room was… "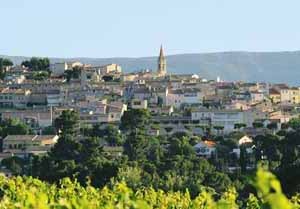 from $2,175* per person
6 Days
May-July, September-November
Boutique accommodations

Exertion level: 2

Operator:

The International Kitchen

12 people max
La cadière-d'azur, provence-alpes-côte d'azur, france
Culinary & Wine Travel trips
About the location: La Cadiere d'Azur is a charming ancient Provencal hilltop village in the heart of the Bandol vineyards, where you will find the love of tradition, good living, fine food and wine has been preserved over the centuries. You home for your five-night culinary tour, the Hostellerie Berard and Spa is a delightful country inn in the heart of the village, set amid a cluster of beautifully restored old buildings, including an eleventh-century monastery with vaulted rooms, all surrounding the pool. The Hostellerie boasts two wonderful restaurants: one an elegant gastronimic restaurant, the other a more casual but equally charming bistro. The Berard family have owned the property since it opened, and running the hotel is truly a family affair. The lovely and charming Madame Berard may be the person who welcomes you to the hotel; Sandra, her daughter, will assist you with any request, and Chef Rene Berard and his son Jean-Francois will oversee your cooking lessons.

About the cooking lessons: Born in this very village, Chef Rene Berard's richly innovative cuisine is based on the traditional flavors and fragrances of Provence and the Mediterranean, and cooked using the finest local products. The "cuisine of the sun" is Chef Berard's passion and a formidable way of sharing his love of the Provencal terroir and traditions with his guests. The chef's cuisine reflects to perfection the seasons of Provence, and the program offers an exceptional introduction to his skill and craft. Although Chef Berard has won numerous awards and is held in the highest esteem by his peers, his true love is teaching and creating the same passion in his students. Lessons are taught a couple kilometers outside the village in the "Bastide des Saveurs," a small house wonderfully outfitted and used exclusively for the cooking lessons, surrounded by exquisite herb and vegetable gardens.
Locations visited/nearby
Passport to Provence, France
1 testimonial about this trip
Reviewer:

Cecilia H.

located in

California

USA

he setting was magical, like out of a dream. We approached the entrance to the Bastide where our room was and where the classes are held, we entered through gates on a road lined with Irises ( white, purple, blue and purple/white) in full bloom, we looked to the right of the road and we encountered the most amazing display of roses that I have ever seen, all of them growing on trellises. The cherry trees were loaded with ripe fruit, strawberries ready for picking. We arrived to the Provencal style house built in the 12th century that overlooks the lavender, the olive trees, swimming pool, grape vines. Our rooms were beautiful and very comfortable. Chef Berard was charming and a great teacher, everybody in the group was nice. The classes are really "hands on" with phenomenal food. All in all a "10". Truly a wonderful experience. (The breakfast on the veranda was faboulous and delicious!)

5
Reviewer:

Thomas & Christine L.

located in

NC

USA

I'd like to start by saying, this was the best vacation of our lives. The Relais Oasi Olimpia is a five star hotel with a four star rating. Every member of the staff was warm hearted and friendly, and totally dedicated to our needs and well being. The rooms were large and comfortable, especially compared to the so-called four star hotel we stayed at in Rome. Carmen Mazzola the general manager was extremely competent, resourceful, and accommodating. Whenever we made a request, or a scheduling change was necessary due to weather or some other reason, she handled all with speed and good nature, always exclaiming, "It's nothing!" when we thanked her. The cooking lessons with Marco the Chef were just what we had hoped them to be. Nothing too intense, (after all we were on vacation) but informative and easy to execute. I'm happy to say, Christine and I are quite competent now in producing a variety of delectable dishes we would be proud to serve anyone. Our boat tour to Positano was wonderful, our host Antonio piloted the boat to the picturesue little town, and later stopped at a cove where we swam in the Mediterranean and had an expertly prepared lunch. Our favorite tour was of the Mozzarella Factory, I won't say anymore as I don't want to spoil it for anyone. Suffice to say, don't miss it. Being Italian-American, this vacation awakened feelings in me long hidden. Personality traits that I have are prevalent in Southern Italy. I felt like I was among my own kind at last. I want to go back.

5

Reviewer:

Katie P

located in

UK

I just wanted to let you know that Chris and I had a wonderful time at Chateau de Berne last week. Mayung took very good care of us as ourhostess, and Jean-Louis is great! And of course the location is absolutely beautiful, as you know. We were made to feel very welcome the whole time we were there. I'm a few months pregnant, and Mayung did a great job of juggling our schedule so that I got some rest when I needed it but we also managed to fit in a lot of activities (including a visit to the market, a winery tour and wine tasting and a visit to a local abbey as well as some shopping on our own).And the cooking lessons were very well done. Chris and I were the only students (and in truth, Chris was the only one really cooking with Jean-Louis -- my job was to take notes and pictures!), so it felt like a one-on-one tutorial. Jean-Louis is a patient teacher and he did a good job of explaining everything he was doing. As the week progressed, Chris took a more and more active role in the food preparation, and the hands-on approach was very educational too. Everyone at Chateau de Berne was warm and friendly, and they really did make us feel very welcome there. This program was Chris's birthday present (his 40th) and I'm very pleased with how well it worked out! Thank you!

5
Comments from Facebook
Itinerary
Day 1
Arrival on your own, followed by a fabulous Welcome Dinner in the beautiful hotel restaurant.
Overnight.
Day 2
Breakfast and your first cooking lesson in the Bastide (you will need a car to get yourself back and forth between the Hostellerie and the Bastide). Today, if in season, you will pick some fresh herbs from the garden for use in your recipes.
Lunch with wine to follow.
In the afternoon visit to a local food artisan, such as a local cheese maker.
Dinner on your own, maybe choose to dine in the hotel restaurant or in one of the local restaurants in town.
Overnight.
Day 3
Following breakfast, an excursion to Sanary Harbour to check out all the fabulous fresh fish selections, as well as the fresh produce market. You will choose the ingredients for the fish dish to be prepared in your second lesson, following the market visit.
Lunch of your efforts with fine local wine.
In the afternoon a visit to a local producer of Bandol wine for a tasting.
Dinner on your own.
Overnight.
Day 4
Breakfast, and your next cooking lesson with the freshest Provencal vegetables.
Lunch with wine to follow.
An afternoon visit to an elegant estate where top quality olive oil is produced, concluding with a tasting of tapenade made especially for you.
Dinner on your own.
Overnight.
Day 5
Breakfast, followed by your final cooking lesson, devoted to pastries and bread.
Lunch with wine.
Afternoon visit, perhaps to a honeybee farm.
Dinner on your own.
Overnight.
Day 6
Breakfast, followed by a reluctant adieu!
More information from The International Kitchen: